Found January 23, 2012 on Fox Sports Southwest:
If there's an NBA story I never expected to read, it's that Dallas Mavericks star Dirk Nowitzki became so tired of playing basketball that he failed to get in proper shape for the start of this season. But that's exactly what the greatest European player of all-time and one of the league's most celebrated gym rats told us this past week. It's even led normally sane NBA observers to wonder if Nowitzki, at age 33, has suddenly hit the proverbial wall. But no matter where you stand, it had to raise some eyebrows when Mavs coach Rick Carlisle and the team's medical staff decided to remove the 7-footer from the lineup for a four-game stretch to allow him a chance to improve his conditioning, as well as his ailing knee. The fact that Nowitzki didn't put up much of a fight tells you the gravity of the situation. This season was supposed to be about whether the Mavs could somehow compensate for the loss of free agents Tyson Chandler and J.J. Barea. Nowitzki's brilliance has been such a constant over the past decade that it seemed foolish to worry how the lockout might affect his performance. Now, all the excitement over Deron Williams or Dwight Howard potentially coming to Dallas this summer has been tempered by Nowitzki's precipitous and shocking decline. We'd all assumed that Nowitzki could play at an elite level for at least three more seasons, but he hasn't looked anything like himself in the first 17 games. And with a straight face, he made the comment over the weekend that his teammates are better off without him right now. That may be a bit of an overstatement, but it's not far from the truth. Carlisle wanted to make it clear that Nowitzki won't be resting his aching knees this week. He wants to give his star player a chance to work on his conditioning and try to regain his leg strength and overall endurance during what he called an eight-day "training camp." Nowitzki says he's unable to put the ball on the floor and go past anyone right now, which makes him much easier to defend. Opposing players can focus on trying to affect his jump shots. With Nowitzki out for the next three games, this team is a mess. Vince Carter's trying to recover from an ankle injury and Jason Kidd recently missed three games because of an aching back. Kidd's returned to the lineup, but he's still mired in a horrid shooting slump and is turning the ball over at an alarming rate. Fortunately for him, his army of apologists continues to surround him with love and affirmation based on his inflated assist totals. Perhaps the one upside to Nowitzki's absence is that it could thrust Lamar Odom into relevance. The Mavs need him to be a lot more active without Nowitzki, and for once Odom seemed up to the task with 16 points in Saturday's 83-81 win in New Orleans. "It's definitely an opportunity for more minutes at the 4," Carlisle said of Odom's opportunity. "But, he's still going to be playing some 3 and we've got to maximize his size at 3 and his quickness and playmaking ability at 4. He made some good things happen offensively against the Hornets. Defensively, there's still some things we're working on. He's still got to get more aggressive, more active, but all in all he's making progress." Nowitzki indicated over the weekend that some of the accounts of his demise had lit a "fire" in him. You'd think the opportunity to defend his first title might do the trick, but then, it's hard to criticize a man who has worked as hard as anyone in the league throughout his career. If he needs a few more doubters to regain his motivation, so be it.Last season, the Mavs were completely lost without Nowitzki during a nine-game stretch when he was recovering from a sprained knee. And that's why it's remarkable everyone seems to think that sitting him down for a week is a terrific idea. Times have changed. But let's hope it's not a permanent thing.
Original Story:
http://www.foxsportssouthwest.com/01/...
THE BACKYARD
BEST OF MAXIM
RELATED ARTICLES
Dirk Nowitzki said he should have rested after the Mavs won the title.
Dallas Mavericks coach Rick Carlisle says Dirk Nowitzki will sit out for at least the next four games, starting with Saturday night's contest in New Orleans, so the star forward can get in better game shape. Carlisle says Nowitzki needs ''an uninterrupted eight days of work to resolve some physical issues and conditioning issues.'' The Mavs coach says Nowitzki...
For at least half of Monday night's game in Dallas, it looked like the Suns could finish a daunting five-city road trip with more wins than losses. With Dirk Nowitzki in street clothes due to a knee injury, it seemed a perfect opportunity to topple the defending champion Mavericks. After trailing by as many as 15 points in the second half, the Suns climbed back to within striking...
Dirk Nowitzki has been noticeably struggling with his condition in the early going of the season.
No Dirk Nowitzki, oh no what are we going to do? Well according to Rick Carlisle, other guys are going to have to step up to the plate and cover both ends of the court and pull off the win without their all-star player. Prior to tonight's game, Carlisle advised the media that he was sitting Dirk for the next four games due to knee issues or should I say, conditioning issues and...
Reigning NBA Finals MVP Dirk Nowitzki is battling a sore right knee and will need some time off to get back to last season's championship form.
Just prior to Dallas' game against New Orleans, Mavs coach Rick Carlisle informed the media that Dirk Nowitzki would miss four straight games to work on "conditioning issues" according to multiple sources.   BREAKING: Mavs coach Rick Carlisle says Dirk Nowitzki will be out at least four games to work on his conditioning.Sat Jan 21…
Short-handed Mavericks, playing without Dirk Nowitzki, defeat Suns, extending home win streak.
If there is any one place that doesn't and I mean doesn't like the Dallas Mavericks, especially their number one star, Dirk Nowitzki, it's in Utah; and lo and behold Dallas narrowly escaped playing the Jazz with a win, but it wasn't a pretty win. During the first part of this game, it was a back and forth situation, runs here and runs there and Dallas barely got the edge...
OK, let's dispense with the nonsense about Nuggets forward Danilo Gallinari. Please stop with the comparisons to Dirk Nowitzki before somebody strains all credibility or a back muscle.
Lamar Odom scored 16 points in his first start of the season and the Dallas Mavericks overcame the absence of Dirk Nowitzki to send the New Orleans Hornets to a seventh-straight loss, 83-81 on Saturday night.
NBA News

Delivered to your inbox

You'll also receive Yardbarker's daily Top 10, featuring the best sports stories from around the web. Customize your newsletter to get articles on your favorite sports and teams. And the best part? It's free!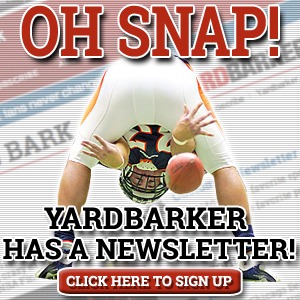 Latest Rumors
The Backyard

Today's Best Stuff

For Bloggers

Join the Yardbarker Network for more promotion, traffic, and money.

Company Info

Help

What is Yardbarker?

Yardbarker is the largest network of sports blogs and pro athlete blogs on the web. This site is the hub of the Yardbarker Network, where our editors and algorithms curate the best sports content from our network and beyond.