Found November 27, 2012 on Fox Sports West:
The continuing chronicle of Dwight Howard versus The Free Throw Line hit a new rut for the Los Angeles Lakers center on Tuesday when Howard, at the end of the team's morning shootaround, was defeated by Bailey, the Los Angeles Kings lion mascot, in a shooting contest Repeatedly. Upon Baileys invitation, according to Dave McMenamin of Sulia.com, Howard was challenged to a free throw shooting battle while the six-foot-tall lion visited the Lakers practice facility along with the MLS Cup in a promotional exchange. After Bailey won that contest, Howard nullified the victory by saying that it didnt happen on the regulation court at the Toyota Sports Center, the El Segundo training facility shared by the Lakers and Kings. Once on the main court, Bailey again beat Howard from beyond the charity stripe and then defeated the NBA All-Star in a shooting contest from outside the three-point line. "Don't worry about losing to me in a shooting contest @dwighthoward you and the @lakers will be much happier," the mascot tweeted. But give Howard credit for keeping his sense of humor one month into a tumultuous start to his Lakers career. Los Angeles is 7-8 on the year, while Howards 3-for-12 free throw performance contributed to the Lakers 20 missed free throws in a two-point loss Tuesday night, and lowered his free throw shooting to 47.8 percent on the season. It doesnt matter. Its just a friendly game. I want him to feel good about himself, Howard told Sulia.com. Thats why I let him win. Kings are winners. See, we all are winners. He won. And were going to win tonight. Which means, that were all winners. Sometimes you got to lose to win. I would rather lose tonight than win now. It doesnt count. He then called Pau Gasol over to offer a defense on his behalf, according to Sulia.com. Free throws . . . Yeah, he was just a little off. Hell get it together tonight, Gasol told Sulia.com. Because the Kings players have been locked out since Howards arrival in Los Angeles, he hasnt had the opportunity to catch the defending Stanley Cup champions in action. Yeah, I actually went on NHL 99 on Sega Genesis. Thats the last time I saw the Kings play. Thats the last time I saw Bailey, he said to reporters. As for Bailey, he made sure to articulate a difference he had with his portrayal in the original story. I agree with everything but the "man in a suit" I am a LION!!!! Bailey tweeted at McMenamin after the story broke. In his own questionable defense, Howard wasnt apparently trying to make his shots. Anything I can do to help the team. I was being a team player today, missing shots. Allowing him to get his shots off so he can feel good about himself, he said. Sometimes you have to lose to win.
Original Story:
http://www.foxsportswest.com/11/27/12...
THE BACKYARD
BEST OF MAXIM
RELATED ARTICLES
Los Angeles Lakers star Dwight Howard's ex-girlfriend and baby mama wants him to pay her more than $100,000 in legal fees. Howard and former "Basketball Wives" star Royce Reed are battling it out after Howard filed for sole custody of their young son. TMZ reports that Reed's attorneys have asked a Florida judge to make Howard pay her legal bills. After all the Lakers...
New team, same old Dwight Howard. After starting the 2012 NBA season at 1-4, the Los Angeles Lakers have bounced back nicely as they currently stand with a record of 7-7 in the Western Conference. During a recent team flight, Howard somehow gained control of the in-board intercom and decided to have some at the expense of some of his teammates. The major target of his rant was Kobe...
Round 2988 between Dwight Howard and his son's mother, Royce Reed. In this court battle, Royce has filed legal documents in Florida requesting Dwight cover her legal fees. Per TMZ, Royce has about $45,000 in legal fees that she's spent fighting Dwight on various cases related to the custody of their son Braylon. Per Royce, [...]
Dwight Howard was at Serra High School on Wednesday to film a series of commercials for Mission Athletecare and their various on court products, such as Court Grip, which reduces on court slippage.  Howard joins Dwyane Wade, Brandon Jennings and Carmelo Anthony as other partners with the company.
This is kinda funny, but I just know Kobe despises Dwight Howard. It's because he has the same demeanor on the court as he does on the team plane. Paint your face, clown. (h/t Hoops Hype)
While Time Magazine will count down their picks for the most influential people of the year sometime in the near future, GQ Magazine has something far more interesting in the meantime: "The Least Influential People of 2012″.  Topping the parody list is this year's biggest loser, Mitt Romney, followed by celebrity trainwreck of the year, Amanda Bynes, Madonna with a failed...
GQ recently released a list titled "The Least Influential People of 2012″.  One particular NBA player made that list.  That player, you may ask?  Dwight Howard of the Los Angeles Lakers.  GQ did include an important note that states, Please note that these folks are ranked in no particular order, because all zeros are created equal. With that said, Dwight Howard is listed...
In the style of our non-stop KIDS BEATING THE MIAMI HEAT AT BASKETBALL coverage comes this clip of Bailey, lion mascot for the NHL's Los Angeles Kings, out-shooting Dwight Howard, a guy who gets paid to win at basketball. This contest of skills was made possible by the NHL lockout, which has given the league's mascots a lot of free time, and the Los Angeles Lakers, who are currently...
During the fourth quarter of last night's Indiana Pacers/Los Angeles Lakers game, Indiana forward Gerald Green was attempting to throw down a baseline slam dunk.Sadly for Gerald, he ended up missing the dunk attempt and to add insult to injury, his second shot attempt was swatted by Lakers center Dwight Howard:
Tonight, the Magic take on the Spurs who are very much the forerunners and the model of what the Magic are trying to do in the post-Dwight Howard reality. These two teams right now are on opposite ends of the spectrum as far as championship expectations. The Magic though showed Sunday that you have to play the games and anything can happen. Orlando will certainly feel like it can...
I know box scores don't tell the whole story of a game but it can sure tell a lot. And there have been a couple crazy games already this week in the NBA. On Monday night, the Oklahoma City Thunder defeated the Charlotte Bobcats 114-69. In the middle of the 3rd quarter the score was 79-25. And then the Thunder coach pulled the starters. If this was last year when they were the worst...
NBA News

Delivered to your inbox

You'll also receive Yardbarker's daily Top 10, featuring the best sports stories from around the web. Customize your newsletter to get articles on your favorite sports and teams. And the best part? It's free!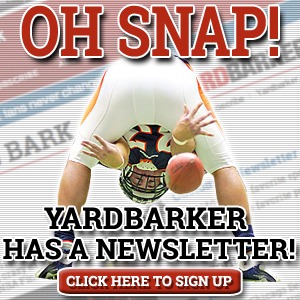 Latest Rumors
The Backyard

Today's Best Stuff

For Bloggers

Join the Yardbarker Network for more promotion, traffic, and money.

Company Info

Help

What is Yardbarker?

Yardbarker is the largest network of sports blogs and pro athlete blogs on the web. This site is the hub of the Yardbarker Network, where our editors and algorithms curate the best sports content from our network and beyond.