Found November 16, 2012 on Fox Sports North:
PLAYERS:
Josh Howard
,
R.J. Adelman
,
Rick Adelman
,
Will Conroy
,
Nikola Pekovic
,
Brandon Roy
,
Andrei Kirilenko
,
Malcolm Lee
,
Derrick Williams
,
Alexey Shved
TEAMS:
Minnesota Timberwolves
,
Golden State Warriors
MINNEAPOLIS Oh, maaaaaaan.Josh Howard laughs. It's the only possible reaction to the statement he didn't want to hear, the lead-in to a question about how difficult it must have been to wait all these months for a team.Josh, you've been in the league since 2003"Oh, maaaaan."Josh Howard has been around for a while. He's a veteran, one who seemed just a shade away from retired a week ago. He's 32, older by NBA standards, just plain old by the Timberwolves'. But he's here in Minnesota. He's ready. He's learning to fit in, and in that, his age might not be the downside it was throughout his too-long free agency.Timberwolves fans likely remember the team's newest veteran from nine years ago, when Minnesota passed on him in favor of Ndudi Ebi with the 26th pick in the 2003 draft. Howard ended up going 29th to Dallas, where he played the first eight and a half seasons of his career, averaging 15.3 points and 6.0 rebounds.He hasn't forgotten Ebi, either, despite all that success. In fact ("no disrespect to him," Howard said), he's used Ebi as a source of motivation throughout his career, an example that maybe, he knows best. Maybe, he's better than everyone believes.It worked out all those years ago, and early this week, it worked again.Howard had been training in Dallas until the Timberwolves came a calling, down six players and especially hobbled at small forward. They worked him out before their Monday game against the Mavericks, and he impressed assistant coach Terry Porter and director of player personnel R.J. Adelman enough to continue the conversation. He watched an improbable Timberwolves win and another injury Monday, then an unexpected comeback Wednesday, and by Thursday, he had found his place.Howard reported to Minnesota on Thursday evening, and on Friday morning, he was a full participant in the team's shootaround. He's the newest member of the group coach Rick Adelman on Thursday dubbed "the magnificent nine," replacing Will Conroy, who was waived to make roster space. The magnificent nine will get their shot again Friday, with Nikola Pekovic, J.J. Barea and Brandon Roy still out against Golden State, but this time around, they'll have a better-distributed depth and a bona fide NBA player however rusty he might be.And it could be worse in terms of rust. It's not like the Timberwolves surprised Howard; he and his agent had been working for months for an opportunity like this one. The nine-year veteran never believed he was finished. He kept going with his one-on-one workouts, even when pickup games proved a waste of time because there was no competition. Even when rosters were finalized and the season began."I'm not a quitter," Howard said. "I'm going to keep fighting until I know it's time for me to stop, and I wasn't ready to give up."Adelman said Thursday that he hopes to get five or six minutes a half out of the small forward initially, in order to give Andrei Kirilenko some rest or even to shift him to power forward at times. Howard remained cautious on Friday in setting any precise goals for himself, especially for a game he'll play mere hours after meeting his teammates and beginning to learn the Timberwolves' system in earnest."It'll be my first time playing since, you know, (Utah) lost in the playoffs," Howard said. "But I've been in shape in Dallas, working out, just trying to stay ready as best as possible."Howard, who tore his ACL in February 2010, also said that his knee is feeling good. There was no way to verify that in the glimpses of his workout media were privy to Friday; most of the workout was a slow-motion run-through of offensive plays with Howard, Malcolm Lee, Lou Amundson, Derrick Williams and Alexey Shved on the court.Kirilenko, who might see his playing time fall back down under 40 minutes (though likely just slightly below), said that he welcomes a bit of relief, especially for the inevitable nights when he's just a bit off. He touted Howard's veteran presence and experience as valuable to the team and said he's sure Howard knows how to prepare himself for this situation.The Timberwolves can only hope Kirilenko is right, but there's no denying that in Howard, they get a player who's been around long enough that acclimating shouldn't be too big of a struggle. The offense right now, with so many injuries, is simplified, which should mitigate the obstacles Howard might face, as well. And then there's the four days off after Friday, which likely have played a part in stalling the returns of Pekovic, Barea and Roy (Why rush them for Golden State when to sit them means five more days to rehab?) and also will give Howard a better chance to slow things down and actually absorb."(It's) very helpful, time to be around the players as well, get to know those guys individually," Howard said. "The guys that are coming back from injury, I have to get to know them as well on the court, so perfect timing to come in.""Perfect situation to come in with four days to get some practice with the guys. I'm hoping to get my legs, my basketball legs back up under me."Don't expect that to happen on Friday against Golden State. Howard is likely still stiff, still adjusting, and that's fine. He isn't a miracle instant fix but rather a way to gradually plug a Chase Budinger-sized hole, and he's the first bright spot the team has seen in days.It has to be strange for him, this situation. The team is injured, very injured, and the missing players could be its undoing. Now that Howard is finally a part of it, now that he's signed on the line and suited up, those injuries have to disturb him. They have to worry him for the outcome of his season. But just a few days ago, they were his saving grace.It doesn't seem like Howard is caught up in the incongruity of it all, though. He has workouts to finish and sets to learn, old teammates like Barea to reunite with and new ones to meet. All he can do is be happy that the Timberwolves chose him and that even this depleted, they still have a chance."It's a bunch of fighters on this team, and that's the type of stuff I love, guys that don't quit," he said. "I'm very excited for this opportunity, again, and I'm going to go out there and give it my all." Follow Joan Niesen onTwitter.
Original Story:
http://www.foxsportsnorth.com/11/16/1...
THE BACKYARD
BEST OF MAXIM
RELATED ARTICLES
ADDED TO THE PACK
With a roster decimated by injuries, the Minnesota Timberwolves reportedly have signed veteran small forward Josh Howard to a one-year deal.
MINNEAPOLIS Brandon Roy was staring at his feet.He was staring right past those knees, right past the problem. He doesn't like to think about the problem, really, but now, when it's being forced down his throat, he has to. It's a silent problem, an invisible one. Roy was dressed as if he were about to change out of his warm-ups and into his jersey for a game, but of...
MINNEAPOLIS Some nights, Derrick Williams is a barb. Other nights, he's promise. Still others, he's invisible. Invariably, with a loss, he's mentioned for failing to do this or that when, really, the rest of the team often fails in equal measure. Perhaps it stands out that much more because of who he is: no. 2 draft pick, tantalizingly talented, still unproven Derrick...
With four starters and six key players out with injuries, the Minnesota Timberwolves have been searching for help. They'd like to see Josh Howard provide some as soon as Friday night. A day after signing the former All-Star to a one-year deal, Howard is expected to be in uniform when short-handed Minnesota hosts Golden State on Friday night. Brandon Roy (sore knee), JJ Barea...
MINNEAPOLIS You've really got to wonder if the words "pain" and "hurt" fail to translate well between English and Montenegrin.Take Nikola Pekovic's first statement after spraining his ankle Monday night in Dallas: "I'm just glad it's not bad. I didn't hurt nothing, just a lot of pain. I'll see how I feel tomorrow."He hurt nothing...
MINNEAPOLIS The nine-player Timberwolves are no longer.In the aftermath of four injuries in a week, including one that will keep Chase Budinger out until February or March, the Timberwolves have agreed to contract terms with 32-year-old veteran wing player Josh Howard, pending a physical, according to ESPN.com and Associated Press. He reportedly will sign a veteran's minimum...
The Minnesota Timberwolves are going to have trouble winning games if they don't have players on the court.  Of course, they'll have players on the court, but they have been missing starters.  Last night, the Wolves were without three players - Nikola Pekovic, Brandon Roy, and J.J. Barea. According to Jon Krawcynzki of ESPN.com, Brandon Roy hopes to play Friday, but...
The Minnesota Timberwolves have signed free-agent forward Josh Howard, according to an ESPN.com report. Howard strengthens the injury-depleted Wolves, who are without Chase Budinger, forward Kevin Love, guards Ricky Rubio, J.J. Barea and Brandon Roy. A nine-year veteran, Howard signed a one-year deal for the veteran's minimum. The 32-year-old has averaged 14.5 points and...
Ricky Rubio started for Spain in the 2011 Eurobasket tournament.
With four starters and six key players out with injuries, the Minnesota Timberwolves have been searching for help. They'd like to see Josh Howard provide some as soon as Friday night. A day after signing the former All-Star to a one-year deal, Howard is expected to be in uniform when short-handed Minnesota hosts Golden State on Friday night. Brandon Roy (sore knee), JJ Barea...
MINNEAPOLIS -- Friday night Golden State did pretty much the same thing to the Minnesota Timberwolves that Charlotte had done in a two-point victory Wednesday. After a slow start, the Warriors took a big lead. The Wolves woke up late, made it a game, but ultimately the Warriors held on for a 106-98 victory. It was the second straight victory for Golden State (5-4), and its third...
NBA News

Delivered to your inbox

You'll also receive Yardbarker's daily Top 10, featuring the best sports stories from around the web. Customize your newsletter to get articles on your favorite sports and teams. And the best part? It's free!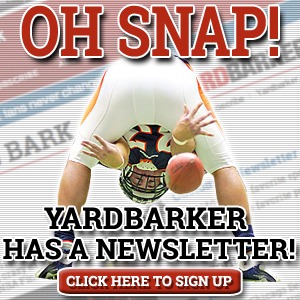 Latest Rumors
The Backyard

Today's Best Stuff

For Bloggers

Join the Yardbarker Network for more promotion, traffic, and money.

Company Info

Help

What is Yardbarker?

Yardbarker is the largest network of sports blogs and pro athlete blogs on the web. This site is the hub of the Yardbarker Network, where our editors and algorithms curate the best sports content from our network and beyond.