Found January 17, 2013 on Atlantic Twine:
Good news for the Knicks: They went into London, increased international popularity for the NBA, and won their game against the Pistons. Better news for the Knicks: Iman Shumpert was on the court for it. The energy and intensity that the Knicks got out of Iman Shumpert last year, especially towards the end of the season, helped the Knicks finish strong and make it to the playoffs. They were ousted by the Heat, but not before losing Shumpert to injury for the entire series, sans some of Game 1. There is no way of knowing what he could have done to help the Knicks in that series, but there is plenty that he can do to help the Knicks this season. Most of that was evident, even in limited minutes, in his first game back. Nathaniel S. Butler / Getty Images During the Knicks recent mini-skid, they had issues with defensive intensity, and overall team energy. Iman Shumpert helped to bring both of those aspects back to the Knicks' play. Right off the bat, Shumpert was all over the court playing defense, swarming his man, and helping on double-teams. He had all kinds of energy, and teammates seemed to feed off of that. Additionally, which could be a huge addition to Shump's game, he was 3-for-7 from the field, including a pair of corner threes, and it looks like his stroke is improving. He has been working on not jumping so high when taking his jump shots, so that will be something to watch for from him moving forward. Even after all of that, probably the most promising part of Shumpert's game today was his apparent lack of fear for his surgically repaired knee. He didn't seem timid or worried about the knee at all, and while you don't want him to be reckless and re-injure it, it's back at 100% and should not be something that Shumpert should have to worry about in the future. So, it's great to see that it's not holding him back, even in just his first game back. At one point, he exploded to the rim and flew in the air towards the basket attempting a dunk. He was unable to hit, but it showed that he still seems to have his explosiveness, which is always a concern coming off of a knee injury. Shump was also able to get the ball inside to Chandler on a no look bounce pass while driving to the rim during the game. This is also great to see as, since the Raymond Felton injury, Jason Kidd has been exhausted trying to make up for Felton's absence. If Shumpert can be a facilitator for the Knicks, it will take a ton of pressure off Kidd, and even some off of Felton once he returns from injury. Unlike the Amar'e Stoudemire return, nobody seems to have any doubts that Iman Shumpert will only help this team get better, and rightfully so. He will not be 100% on his game right away, but judging by game 1, he already seems to be close. Defense and energy. If Shumpert continues to be great in those areas, and even improve along the way, it adds another reason why the Knicks have a chance to do something special this season. And very well might.
Original Story:
http://nbaatlantictwine.com/iman-shum...
THE BACKYARD
BEST OF MAXIM
RELATED ARTICLES
The Knicks have not yet had their expected lineup healthy at the same time this season; Amar'e Stoudemire and Iman Shumpert started the season injured and injuries throughout the season have caused other roadblocks. Right when Stoudemire returned, Raymond Felton then went down with a broken pinkie on his left hand, leaving the Knicks again short-handed at times in the back-court...
As we approach the halfway point of the NBA season and the looming trade deadline grows closer, the New York Knicks are 25-13. We'll see if a move is made, but New York doesn't need shooting, veteran leadership, youth, or athletic ability. The Knicks need TOUGHNESS! Of those 13 losses, 7 of them have been against teams who simply beat the Knicks up for 4 quarters and were very...
New York Knicks forward Carmelo Anthony believes team owner James Dolan was recording his conversations on the basketball court to look out for him. Sources told ESPN that Dolan ordered technicians at Madison Square Garden to hold parabola microphones at either end of the court for last Friday's game against the Chicago Bulls to see if Click Link Below to Read More!
As we reported on Monday Knicks owner James Dolan weirdly had huge hidden microphones at each of the Madison Square Garden court last Friday when his team took on the Bulls.   Yesterday amid news of the wire taps, Dolan said it was for Melo's protection so he could show the league how much trash talk his star gets on a nightly basis. As Melo arrived at the team hotel in London...
New York Knicks forward Carmelo Anthony appreciates team owner James Dolan looking out for him. Dolan ordered that microphones be placed near the court in Madison Square Garden for last Friday's game against Chicago to record conversations going on around Anthony in an attempt to document any trash talking. ESPN.com reported this week that the Knicks weren't trying to...
As a member of one of the league's most fashion-forward teams, keeping up off-court appearances is key for Carmelo Anthony. When he's not making the fashion rounds in New York City, he's showcasing his style sense abroad, catching runway shows in London, Paris and Milan. British GQ caught up with the Knicks forward before his team squared off against the Detroit Pistons at...
Carmelo Anthony has shown, yet again, just how much of a "tough guy" he really is. In a recent article on ESPN New York, Carmelo Anthony said he had no problem with Knicks owner James Dolan recording conversations 'Melo had with players on the court to see if the trash talk crossed the line. I got an owner that looks out for me. You can't beat that for an owner...
The Knicks are in London for a showcase game against the Pistons. Another example of the NBA making its rounds around the world. There's a great upside to this trip, it gives the hobbled Knicks some much needed rest. In the next week they will have only played this one game. Coach Woodson and Carmelo anthony are all  about this break: "I think the NBA did a great job with the...
The House of Hoops invited Knicks' Tyson Chandler, Amar'e Stoudemire, and Jason Kidd to The Regal Masterclass in London Tuesday for a special evening with their UK fans fans from the London School of Basketball: photos via Facebook
If MSG chairman James Dolan is listening to what Carmelo Anthony has to say in London, he'll probably be happy to hear it. Two days after the Newark Star-Ledger reported that Dolan had put listening devices on the court to monitor everything said to and by Anthony, the New York Knicks forward spoke about the hubbub. ''I got an owner that looks out (for me),''...
Spike Lee is in London popping off about the Knicks now that he's done messing up Oldboy. There's no reason to remake that movie.* I don't know how he found the time to do all of this in between telling us how Django Unchained isn't worth seeing even though he hasn't seen it. Apparently it's an insult to our ancestors. I'm sorry. We didn't cover that in the last black...
A couple of days ago, we here at That NBA Lottery Pick featured a story about New York Knicks forward Steve Novak calling out Bulls guard Nate Robinson for using his championship belt celebration.Nate responded to the diss through Twitter but he took it to another level as he decided to shout out Steve Novak during an interview with NBATV's Matt Winer on NBA Gametime:
Knicks News

Delivered to your inbox

You'll also receive Yardbarker's daily Top 10, featuring the best sports stories from around the web. Customize your newsletter to get articles on your favorite sports and teams. And the best part? It's free!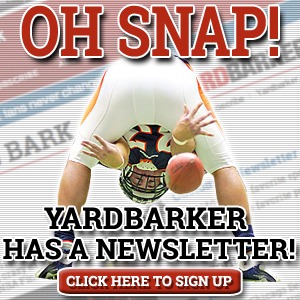 Latest Rumors
Best of Yardbarker

Today's Best Stuff

For Bloggers

Join the Yardbarker Network for more promotion, traffic, and money.

Company Info

Help

What is Yardbarker?

Yardbarker is the largest network of sports blogs and pro athlete blogs on the web. This site is the hub of the Yardbarker Network, where our editors and algorithms curate the best sports content from our network and beyond.