Found June 24, 2013 on isportsweb.com:
The Oklahoma City Thunder are unquestionably one of the best teams in the NBA. They were considered a lock for at least the Western Conference Finals berth again for the 2013 season and possibly competing to rewrite last season's defeat to the Heat in the Finals. At the end of the day, even the best can use improvement. OKC has a few holes they could fill so that they are not exposed once again in a championship run. Following are some ways the team can improve to ultimately capture the title. The Team: Strengths: The Oklahoma City Thunder are one of the most exciting teams to watch in the NBA. The fans are very loyal and always hyped to cheer on their team. When the term "exciting" is used in basketball, other terms that come to mind are athleticism, speed, and quickness. When Russell Westbrook is in the lineup, those terms describe this team fittingly. They can get out in the open floor and terrorize the opposing team. A Westbrook-Durant fast break is just as effective as the duo fast break down in South Beach. Matter of fact, Westbrook is a one man fast break himself. This fast paced offense resulted in the 3rd best offense scoring wise during the 2013 season at 105.7 points per game. They are also a great jump shooting team. Everybody, points guard through center (outside of Kendrick Perkins) in the starting lineup can shoot the ball beyond 15 feet. Both of the Kevin's are the best shooters on the team. Derrick Fisher, KD, Martin, Sefolosha, and Westbrook all have the ability to spread the floor and knock down shots. Serge Ibaka and Perkins are a defensive duo who defend the basket fairly well. Ibaka is one of the best shot blockers in the league and Kendrick Perkins shies away from no man and definitely will use all six of his fouls. Lastly, they have two top 10 players in the league. Westbrook and Kevin Durant are two totally different players which makes them gel together pretty well. Westbrook is shot heavy and stays aggressive throughout the entire time he is on the floor. Not only does he bring control to the team, he gives off a sense of urgency and energy to the Thunder. Up until these 2013 playoffs, Westbrook was arguably one of the most durable and dependable players in the league. Kevin Durant is the silent assassin. He is not as demonstrative as Westbrook, but his numbers speak volumes. He has 3 scoring titles and his ability to put the ball on floor at 6'11 is mouth dropping. KD scores the ball with ease and uses minimum effort to score as Scott Brooks always has him working off screens to get open shots. Ultimately, KD and Westbrook are two of the top 5 scorers in the league statistically and were the highest scoring duo in the league this year. Weaknesses: If we had to start with a weakness, I think it is say to start with the point guard position. Most importantly, Westbrook Get Healthy! Without Westbrook, this team is a totally different squad. Fast forward to a OKC team with a healthy Westbrook must play his game but just as he improved upon this year, he must continue to play more of a point guard role at times and avoid turning the ball over at a high rate. The team needs him to be aggressive but sometimes he can lose his composure as well as control. All in all, Westbrook with less turnovers and becoming more efficient with his jump shot could lead to an even better team. In addition to becoming more efficient, smarter shots could also be something Westbrook should look to in this upcoming season. Durant was ultimately exposed this playoffs. His point production rose without Westbrook but his body wore down throughout series and games and became less effective in the fourth quarter and big moments. Durant needs to continue to knock shots down consistently but also work on a back to the basket game. He is a 6'11 that can get his shot whenever. Once he gain a bit more strength, a back to the basket game in addition to his versatile offensive abilities can take his game to that next level. Lastly, I think he needs to be a bit more aggressive. Sometimes he does allow Westbrook to merely dominate the ball. Now that we have the two most important players out the way, I think we should highlight some of the other starters. Serge Ibaka must get under the goal and make plays. Sometimes he relies on his jump shot too much. They need an inside presence they can throw the ball down to on the block and get an easy two. This reasoning moves right along over to Kendrick Perkins. He is one of the better defenders in the league but is ultimately an egg in the score books for the Thunder.Perkins could also be a big help for this team if he were to maybe improve his athleticism and offensive game. Thabo Sefolosha plays the role as the best perimeter defender on the team. He usually has to guard the best player on the team. He could make the job of Westbrook and Durant so much easier if he can consistently knock down jump shots. Kevin Durant is looking forward to getting his team back to the Finals after an early exit in the 2013 playoffs. Of course the good outweighs the bad, but with a couple moves this off season to the bench and the above changes, the Oklahoma City Thunder could be holding up the Finals trophy come May 2014.
Original Story:
http://feedproxy.google.com/~r/isport...
THE BACKYARD
BEST OF MAXIM
RELATED ARTICLES
For those of you trying to figure out a creative way to propose marriage to that special someone, you might want to take a page out of a Oklahoma City Thunder fan who used star guard Russell Westbrook to help propose to his girlfriend. A recent University of Oklahoma graduate Charlie Bright got in touch with Westbrook to put together the engagement plan for his girlfriend, Rachel...
Once apart of a great young core in OKC, Harden took on the same role as Durant as the leader of Houston. In 2012, the Oklahoma City Thunder ended a great season in the Finals to the champion Miami Heat. Although the series count of 4-1 does not illustrate exactly how competitive the series was, it was more than obvious that the Thunder were about one move away from dethroning the...
Somewhere between wondering how good Steven Adams might be and worrying if Kelly Olynyk can possibly be strong enough to replace Kendrick Perkins is Russell Westbrook. Yeah, him. The NBA draft is Thursday night and the Thunder have the No. 12 pick, but more importantly than who, what position, and playing the, "If-only" game about the future possibilities and probabilities...
Thunder big man Serge Ibaka was spotted out in Atlanta with his boo, singer Keri Hilson. The two hit up Prive in Atlanta on Friday. Cute couple, looks like they had a great time. Also on hand, singer and Diddy's girl, Cassie, Fabolous and VH1 reality stars,TI and Tiny.   photos via KeriHilson.net
Kevin Durant announced he has officially signed with Jay-Z's Roc Nation Sports agency. Durant left Landmark Sports earlier this month. "Grateful for the opportunity with Roc Nation Sports. It's go time," Durant said in a statement posted with a picture of him and Jay-Z officially signing together. "He has a 90.5 free throw shooting rate, the youngest player...
Last week Jay-Z became a licensed NBA Agent and this week his makes his biggest splash to date with Roc Sports Nation. Oklahoma City Thunder's Kevin Durant has confirmed that he has signed on board with Jay-Z. Durant took to Instagram to post of photo of confirming what has been speculated for some time. The post Kevin Durant Officially Joins Jay-Z's Roc Nation Sports appeared...
It's not often that you get to see a current NBA player grace the pages of a WalMart catalogue but back in the day, Oklahoma City Thunder rookie Jeremy Lamb got that honor. Check out the image of a young Jeremy modeling some "Rustler Relaxed Fit Jeans": *** Image courtesy of Jeremy Lamb Instagram
It's just different now. Roc Nation Sports is gobbling up the competition. The sports agency has signed their first NBA client, Thunder star Kevin Durant. Rihanna even shouted him out on Instagram. See, that's part of the allure of Roc Nation Sports. Shout outs from some of the baddest chicks in the game, rocking out with your favorite rappers, favorite rapper and throwing up the diamond.
Jay Z is putting the sports world on notice.
No GM gets more blind devotion than Sam Presti. Why, you ask? Just look at his list of first round picks since 2007: '07 No. 2: Kevin Durant '08 No. 4: Russell Westbrook '08 No. 24: Serge Ibaka '09 No. 3: James Harden '09 No. 25: Rodrigue Beaubois '10 No. 18: Eric Bledsoe '10 No. 21: Craig Brackins '10 No. 26: Qunicy Pondexter '11 No. 24: Reggie Jackson...
The Oklahoma City Thunder may have seen their season end a little too soon when Russell Westbrook saw his season, well--end too soon. That hasn't stopped the popular point guard from being a fan's player though. he proved that when he helped a fan propose by popping the question for him over Twitter. According to the Daily Thunder, Charlie Bright took Rachel Haycraft...
Fashion has become a big part of the NBA these days -- especially for the Oklahoma City Thunder. Russell Westbrook and Kevin Durant always like to show off their style off the court, but there's another OKC player to look out for. Thunder reserve shooting guard Jeremy Lamb let the world know this week his attire was getting attention long before his superstar teammates. ...
Thunder News

Delivered to your inbox

You'll also receive Yardbarker's daily Top 10, featuring the best sports stories from around the web. Customize your newsletter to get articles on your favorite sports and teams. And the best part? It's free!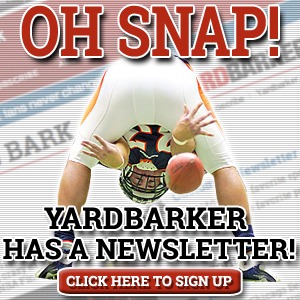 Latest Rumors
Best of Yardbarker

Today's Best Stuff

For Bloggers

Join the Yardbarker Network for more promotion, traffic, and money.

Company Info

Help

What is Yardbarker?

Yardbarker is the largest network of sports blogs and pro athlete blogs on the web. This site is the hub of the Yardbarker Network, where our editors and algorithms curate the best sports content from our network and beyond.