Found March 22, 2012 on Waiting For Next Year:
In what was his final contest as a teenager, Cavaliers rookie point guard Kyrie Irving may have compiled his most complete game as a professional. Already recording a handful of game-winning shots, including an ice-cold display at the free throw line against the World Champions, Irving fell just shy of a triple-double in Cleveland's overtime loss to the playoff-bound Atlanta Hawks, settling for a team-high 29 points, nine assists and three steals to go with nine rebounds.
But it was not necessarily what Irving did as much as how.
Displaying immense poise early on, Irving played the role of the distributor; power forward Antawn Jamison reaped early benefits, sinking four of his first five shots, scoring 10 points in the first quarter alone. Irving, later sensing the game slipping away but still being within reach, flipped the switch. The rookie subsequently collected 16 of his 29 points in the 12 minutes of play; the first-overall picked checked in with 7:30 remaining in the contest, his team down one point.
Irving has an attack mode. Often quiet and soft-spoken during interviews and a joke-fueled prankster behind locker room walls, the kid turns into a 190-pound dynamo without as much as a friendly warning to the opposition. Jeff Teague, a player who would likely beat Irving to the finish line in a 40-yard dash, was repeatedly torched off of the dribble.
It would surprise few if Atlanta's Kirk Hinrich was still a bit dizzy after Irving made him look foolish on not one, but two buzzer-beating plays — both moves to Irving's left after a crossover dribble-turned-spin move had the Kansas product heading to the wrong spot on the floor.
Surely Irving missed what would have been the game-winner, a mid-range jump shot that caromed off of the glass as the clock neared zeroes. And yes, Irving turned the ball over seven times (in 41-plus minutes), an amount that likely drew the ire of head coach Byron Scott despite the rest of the box score. But having the willingness to take the game-winning shot, once again, and possessing the attitude that exudes confidence that, if the game is once again on the line, the decision will rest in his hands.
"It was a tough loss," said Irving. "Now we have to move on to the next game. I thought my shot at the end was in, but it's the law of averages. They are not all going to go in."
It's this same line of thinking that allowed Irving to buckle down and drain the game-winning lay-up against the Boston Celtics just weeks after missing the exact same shot against the Indiana Pacers. The same point of reference that sets the stage for second-half domination even when the first half doesn't go as well as planned.
The statistical comparisons of what Irving is accomplishing at such a young age are seemingly boundless. Fox Sports Ohio displayed a graphic wherein Irving is one of five rookies to average over 17 points on at least 47 percent shooting while also dishing out at least five assists. The other four men: Oscar Robertson, Michael Jordan, Grant Hill and Earvin "Magic" Johnson. His 29 points, nine rebounds and nine assists on Wednesday night place him along side John Johnson (1970) and LeBron James (2003) as the only Cavalier rookies to have as many points, rebounds and assists in one contest.
On Friday, Kyrie Irving will turn 20-years old and the similac-scented teenager narrative will slowly dissipate in to the rear view mirror of this stardom-bound point guard's career arc. As most of us know all too well, being older is only beneficial when you're afforded bigger and better things. But in the case of Irving, as he continues to improve seemingly every time he takes to the hardwood, taking on players older and wiser than he, the Cavaliers' future looks bigger and better than ever.
–
(Photo by Scott Cunningham/NBAE via Getty Images)
Original Story:
http://www.waitingfornextyear.com/201...
THE BACKYARD
BEST OF MAXIM
RELATED ARTICLES
"'Tis better to have loved and lost than never to have loved at all." I don't know who originally said that quote, but I think in life that's probably a good rule of thumb. Obviously this quote would seemingly apply to romantic love, but love can come in many different forms. So too, then, can this quote have many far reaching applications in life. I've been thinking...
Guh. The Cavaliers had this one won twice, but poor defense and timely shooting by the Hawks forced the game to overtime, and then cost the Cavs the game. Even still, the Cavaliers had a chance to win in the end, but Kyrie Irving's jumper missed the mark and Gee wasn't able to tip the ball in. Irving nearly had his first career triple double, falling a rebound and an assist short...
The Cleveland Cavaliers are a young team. Kyrie Irving is a rookie and many of the players on the team are still relatively new to the NBA. Young teams struggle and the crunched and rushed schedule has not helped anything. Add the weight of sudden expectation makes things all the worse as the team comes to grips with its position in the standings. It is safe to say no one had the...
With the original four-to-six-week timetable for Anderson Varejao's return from a wrist injury, the Cleveland Cavaliers have provided an update on the Brazilian big man's status. Sustained a right wrist fracture during the Cavaliers home game on Friday, February 10th against the Milwaukee Bucks, Varejao has reportedly made good progress in his healing process and continues to...
Oftentimes, teams improve themselves at the trade deadline. That was anything but the case for the Cavaliers. They have an eye on the future, which is why they wanted a second first-round pick so desperately. They were forced to give up backup point guard Ramon Sessions in the five-player trade with the Los Angeles Lakers last Thursday. The problem with that trade was they didn...
Ryan,I heard your departure from the Cavaliers was a mutual decision, and I just wanted to thank you for your role in that. It was time bro, and it takes a real man to be able to admit such things. I also appreciate you not showing off this season, ball hogging it up, or being out there worried about your own statistics too. If you had been, you might not have allowed Tristan Thompson...
This past Tuesday, a source close to Ryan Hollins told WFNY that the recently released center would "have a new home" after clearing waivers. Two days later, Hollins has in fact cleared waivers — no team wanted to be on the hook for the remainder of his $3 million player option — and it appears that a new home is indeed on the horizon. Sherrod Blakely of CSN New England reports...
  Via WEEI: The Celtics made if official on Friday, signing Ryan Hollins for the rest of the season. To make room for Hollins on the roster, they requested waivers on forward Chris Wilcox, who will undergo heart surgery later this month and miss the rest of the season. By asking for waivers on Wilcox, they will be unable to re-sign him for at least a year...
Celts will get Ryan Hollins if he clears waivers, according to source who may or may not have missed out on him (he wouldn't say). — Steve Bulpett (@SteveBHoop) March 21, 2012 Hey... remember that amazingly bad rebounder that's available?  well, he may no longer be once he becomes a Celtic.   So the Celtics have problems with bench scoring and rebounding...
The Boston Celtics signed former Cleveland Cavaliers center Ryan Hollins to a contract for the balance of the campaign according to a report from the "Boston Herald" on Friday; a player that the team believes has a lot of potential, however he has yet capitalize on his athleticism during his six years playing in the Association. To make room for the big man on the roster, the...
Alonzo Gee will never be good enough for Cleveland. It doesn't matter what he does. He could lead the NBA in scoring. He could win the MVP award. He could lead the Cavaliers to the NBA Finals. He could run a successful mayoral campaign and revive the city's economy. He could even cure cancer, achieve world peace and get gas prices to fall back under $4 a gallon, all in the same...
NBA News

Delivered to your inbox

You'll also receive Yardbarker's daily Top 10, featuring the best sports stories from around the web. Customize your newsletter to get articles on your favorite sports and teams. And the best part? It's free!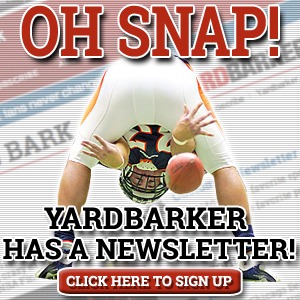 Latest Rumors
Best of Yardbarker

Today's Best Stuff

For Bloggers

Join the Yardbarker Network for more promotion, traffic, and money.

Company Info

Help

What is Yardbarker?

Yardbarker is the largest network of sports blogs and pro athlete blogs on the web. This site is the hub of the Yardbarker Network, where our editors and algorithms curate the best sports content from our network and beyond.