Found January 31, 2013 on Knickswag:
By, Tommy Rothman I was fortunate enough– thanks to the Knicks PR department, New York's accommodating rookie forward, and some good luck— to get an interview with Chris Copeland. Chris is a 28 year-old rookie who has a polished offensive game that he developed in Europe. Despite a constantly changing role in the rotation, Chris has been able to produce in every role that he has been asked to play. He is among the league leaders in points per 36 minutes, and his defense, passing, and rebounding have improved since he arrived in the league. He has quickly become a fan favorite due to his hard work, his scoring ability, his hair, and his willingness to interact with fans. Chris has had to go through some rookie hazing—photos of him wearing a onesie surfaced on the Internet in late December—, but it is clear that Chris has earned the respect of his teammates, his coaches, and Knicks fans everywhere. Here is my Q&A with Chris: Tommy: Hi, Mr. Copeland. Thank you for agreeing to do this interview. You recently made the switch from Europe to the NBA. What has been the most difficult part of the transition? Also, what has been the most noticeable difference between Europe and the NBA? Copeland: The most difficult has been the travel/schedule… I didn't know how much of a toll the schedule can take on you. It's a much bigger adjustment than I had expected. Tommy: What is your early impression of Knicks fans? Is there a noticeable difference playing at MSG as opposed to other large arenas? Copeland: Knicks fans are amazing. I feel at home everywhere. Even in London I felt like we had a home game. There is just something special about NY basketball. As for MSG the legacy speaks for itself… I'm blessed to say I have played there. Tommy: Tell us about the hair. How do you get your hair to look like that, and how long have you had the dreads? Copeland: It's just my thing. I have only had them a couple years now but I think they fit my personality. Tommy:  As Knicks fans know, you are a scorer. How has playing with an elite scoring talent such as Carmelo Anthony helped change your game? Copeland: I wouldn't say my game has changed too much, but when we're on the floor together he makes my life much easier. He attracts so much attention… it makes things easier offensively. Tommy: What is the worst hazing prank the Knicks have pulled on you so far? Copeland: Probably the infamous onesies for the flights to and from California. Tommy:  As we know, your minutes have been changing all season. You have had some games where you haven't played at all, and you have had some games where you have been in the starting lineup. What is it like to be a ROOKIE starting on one of the most prestigious, talented teams in the NBA? Copeland: It's unbelievable… a dream come true. I'm super blessed just to be here in the first place, but to actually start makes it even better. Tommy: What motivated you to become a professional athlete and what advice would you give to young players aspiring to reach the NBA? Copeland: My family… I've always loved this game, but my mother and brother pushed me to never give up on my dreams and to work as hard as possible to achieve them. That's the advice I would give…. Work as hard as you can and never give up, No matter what it looks like or how long it takes. Tommy: Thank you Mr. Copeland. Go Knicks!   Tommy Rothman @LetsGoMets773 – Knickswag Contributor The post Interview with Knicks Player Chris Copeland appeared first on Knickswag - A New York Knicks Blog - News, Rumors, and more!.
Original Story:
http://knickswag.com/interview-with-k...
THE BACKYARD
BEST OF MAXIM
RELATED ARTICLES
And the good news just keeps on rolling in for the Knicks.As the Knicks gun for their third straight victory later Friday evening, they can rest assured Jason Kidd and his veteran presence will hit the hardwood ready to help pace them to victory.With just hours to go until the contest, New York has still continued to receive good news with regard to NBA All-Star Weekend.Earlier,...
The entire Knicks team and coaches paid a visit to Newtown, CT on Tuesday afternoon to spend a day showing their support to the grieving community. The Knicks hung out and played arcade games with kids and their families and surely put a smile on the appreciative fans:  
Peter A – Knickswag The post Knickswag Spreecast: 1/31 appeared first on Knickswag - A New York Knicks Blog - News, Rumors, and more!.
The New York Knicks will host 150 children, their families and teachers from Sandy Hook Elementary School on Saturday when they play the Sacramento Kings. Twenty or more children from the Newtown (Conn.) Choir from Sabrinas Encore Products will sing the national anthem before the game, the second time this week the Knicks and children from the devastated community about 90 minutes...
When I look at the Sunday and Wednesday victories over the Atlanta Hawks and the Orlando Magic, I start to think where is this Knicks team? Now I realize what you are starting to think, what do you mean? We won didn't we? Melo dropped 42 and 20 each again and it's all okay. Well if you actually start looking at the numbers this team could be in a little bit of trouble in the...
Pre Game News and Notes Magic vs. Knicks:MSG 730pm Even with the recent struggle the Knicks have gone through, they will head into February in much better shape than recent history as they sit second in the Eastern Conference and atop the Atlantic Division.  Tonight will be a good test for the Knicks against an over-matched Magic team to start turning around some things they have...
The Milwaukee Bucks have enjoyed plenty of success against the Atlantic Division this season, but like many teams, they had none when they faced New York Knicks star Carmelo Anthony in November. The Bucks seek to even the season series with the Knicks, and they have played well at Madison Square Garden in recent seasons heading into Friday night's matchup. Milwaukee (24-20...
Carmelo Anthony scored 25 points, Amare Stoudemire had 17 points and seven rebounds off the bench, and the New York Knicks extended their winning streak to three games with a 96-86 victory over the Milwaukee Bucks on Friday night. J.R. Smith had 17 points and Tyson Chandler pulled down 20 rebounds in New York's fourth straight win over Milwaukee. Ersan Ilyasova led the Bucks...
The NBA is revamping its popular All-Star Weekend festivities and Wade and Los Angeles Clippersstar Chris Paul have been chosen as captains in a new format that will pit the conferences against each other. The league will get final say on the participants but Wade and Paul have been consulted. Wade said former Marquette teammate and New York Knicks forward Steve Novak would...
Amar'e Stoudemire has accepted his role as the New York Knicks' sixth man.
The Magic got to spend three days in the New York area and had two chances to get big wins against two good opponents. Each game, Orlando did a lot of things right and had a fantastic opportunity to score the two wins. Unfortunately, there just was not enough of the good for 48 minutes and the team's depth and inability to keep things going with the bench players in. And...
New York City, N.Y. (14-30) vs. (27-15)    Time/TV: 7:30 p.m./FSFlorida Line: Knicks by 9 Tickets: $34-$34,950 on Vivid Seats Season Series: Lost 99-89 in Orlando on Nov. 13; Lost 114-106 in Orlando on Jan. 5; Tonight in New York City; March 20 in New York City   Pace Off. Rtg. Def. Rtg. eFG% O...
Knicks News

Delivered to your inbox

You'll also receive Yardbarker's daily Top 10, featuring the best sports stories from around the web. Customize your newsletter to get articles on your favorite sports and teams. And the best part? It's free!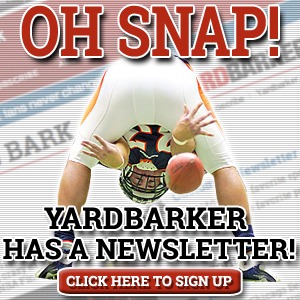 Latest Rumors
Best of Yardbarker

Today's Best Stuff

For Bloggers

Join the Yardbarker Network for more promotion, traffic, and money.

Company Info

Help

What is Yardbarker?

Yardbarker is the largest network of sports blogs and pro athlete blogs on the web. This site is the hub of the Yardbarker Network, where our editors and algorithms curate the best sports content from our network and beyond.