Found July 26, 2013 on Fox Olympics:
PLAYERS:
Kyrie Irving
,
Mike Krzyzewski
,
Anthony Davis
,
Jrue Holiday
,
DeAndre Jordan
,
Monty Williams
,
Tom Thibodeau
,
Harrison Barnes
,
Chris Paul
,
Carmelo Anthony
TEAMS:
Cleveland Cavaliers
,
New Orleans Pelicans
,
Los Angeles Clippers
,
Chicago Bulls
,
Golden State Warriors
,
New York Knicks
,
Duke Blue Devils
Watching Kyrie Irving make his case to play for the United States reminded Mike Krzyzewski of when they used to be together. Irving had 23 points and seven assists to lead the White team to a 128-106 victory over the Blue on Thursday night in USA Basketball's exhibition scrimmage, and afterward Krzyzewski said he loved being back with his former point guard. ''It does feel good being at a press conference with Kyrie with me,'' said Krzyzewski, who coached Irving for one season at Duke. ''I miss that. I'm going to start getting emotional here.'' Irving, an All-Star for the Cleveland Cavaliers who was a member of the 2012 USA Basketball Select Team that trained against the US Olympic team, scored 16 in the first half to spark his squad's come-from-behind win, after the Blue team took an early 10-point lead in the first quarter. Though Krzyzewski said he's far from ready to hand out spots on next year's team that will compete in the 2014 World Cup of Basketball in Spain, it was evident Irving and New Orleans Pelicans center Anthony Davis both should get their passports ready. Davis, who played on the Americans' gold medal-winning team in London, had 22 points and seven rebounds for the Blue. ''I'm not going to do individual assessments of each player. We're watching everybody. I'm not going to be a school teacher and give one guy an `A' and another guy a `B,''' Krzyzewski said. ''Both these two guys (Irving and Davis) are exceptional talents and as talented as they both (are), they are so easy to coach and they're really good guys. I thought they probably performed the best. . . . They'll be a big help to us.'' With his team trailing by six with a little more than eight minutes left in the first half, Irving used his quick first step and cat-like agility to maneuver into the lane, where he drew the foul. After making two free throws with 8:09 left in the half, and following Derrick Favors' free throw that put the Blue team ahead by five, Irving sliced his way into the paint again, this time sinking his shot and converting the three-point play. The White team went on a 21-3 spree to take a 48-40 lead. A pair of alley-oop slam dunks by DeMar DeRozan and Davis -- both fed by Kemba Walker -- brought the Blue team back into the game inside the final four minutes of the first half. The White took a 53-51 lead into the locker room at halftime. ''We just had to pick up our intensity on both ends of the floor,'' said Irving, whose explosiveness in the second quarter that triggered the White team's run. ''We had too many turnovers in the first quarter . . . coming into the second quarter everybody kind of got settled in and got used to the basketball. ''For me personally, I was just trying to make plays for myself and my teammates, that's what it's about. Nerves were a factor in the beginning. The Blue team got up 8-0 . . . but when we settled in we did a great job and picked it up on the defensive end first and the offense took care of itself.'' After hitting five 3-pointers in the third period to build an 89-79 lead, the White team distanced itself by outscoring the Blue team by 12 points in the final quarter to provide the final margin. The White finished the night hitting 47 of 92 (51.1 percent) from the field, while the Blue shot 40.8 percent (40 of 98). ''A lot of guys showed up and competed,'' Davis said. ''For guys to show up and actually compete the way they did and make each other better, and play together, it was an excellent thing. You could see it on the floor tonight. Guys just played hard, shared the ball, wasn't complaining about any fouls, hustling, playing defense. You don't see that, especially in the summer time. So for the guys to do that, I really commend them.'' Pelicans guard Jrue Holiday had 12 points, five assists and seven rebounds, while Los Angeles Clippers center DeAndre Jordan added 10 points and nine rebounds for the White team, which was coached by Pelicans coach Monty Williams. The Blue team, led by Chicago Bulls coach Tom Thibodeau, also got 18 points from Golden State Warriors forward Harrison Barnes. The Blue team opened the game on an 11-1 run and set the tempo for the game, while the White team wouldn't get its first points from the field until Irving buried a 3-pointer at the 7:52 mark. With 2012 gold medalists Chris Paul and Carmelo Anthony sitting courtside for the scrimmage, the game's biggest highlight might have been during a timeout, when Senior Airman E4 Nathaniel Mills , from Douglasville, Ga., threw down a windmill slam dunk. The monstrous highlight electrified the crowd and brought Anthony onto the court to praise the serviceman. ''(Carmelo) was hyping me up before the dunk, it felt like a big brother type of thing,'' Mills said. ''This was definitely a dream come true. I've never been this close on the court to this many stars, especially stars who I play on 2K. And I got to sit right next to Carmelo Anthony and Chris Paul.'' The scrimmage, which consisted of four 12-minute quarters and was played primarily using FIBA rules, concluded USA Basketball's four-day minicamp for young players. Twenty-five of the 28 players who attended participated in the game. The US men's national team won't face international competition until it goes to Spain. The Americans are automatically qualified after winning gold in last summer's Olympics.
Original Story:
http://msn.foxsports.com/olympics/sto...
THE BACKYARD
BEST OF MAXIM
RELATED ARTICLES
Cleveland Cavaliers point guard Kyrie Irving put on quite the show in Las Vegas on Thursday night, scoring 23 points in the Team USA Showcase. In just 27 minutes of play, Irving dazzled with a lethal array of dribble-drives coupled with three-point range. In addition to the scoring, he added seven assists, a steal and two three-pointers as his White team topped the Blue team 128...
HOW CAVALIER
Cleveland Cavaliers point guard and former No. 1-overall draft pick Kyrie Irving will be officially gracing the cover of the NBA Live '14 video game.
Cleveland Cavaliers guard Kyrie Irving had 23 points and seven assists to lead the White team to a 128-106 victory over the Blue on Thursday night in the USA Basketball Showcase at the Thomas and Mack Center. Irving, an All-Star who was a member of the 2012 USA Basketball Select Team that trained against the U.S. Olympic team, scored 16 in the first half to spark his squad's...
As comedian Dave Chapelle once said, "Everything is better in slow motion" and the below highlight package starring Cleveland Cavaliers guard Kyrie Irving proves that theory to be true. Watch Kyrie pulls off some amazing moves from the Team USA showcase scrimmage in Las Vegas:
As previously noted on TNLP, Cleveland Cavaliers guard Kyrie Irving was going to be on the cover of EA Sports next-gen release of NBA Live 14. The below photos show of what the box art will look like on the Playstation 4 and the Xbox 1: *** Kyrie Irving Cover [@Steve_OS]
LeBron James wasn't available, so EA Sports went with the next best thing — or at least, his heir apparent — to appear on the cover of its first NBA Live video game in years. The company announced Thursday that Cavaliers point guard Kyrie Irving will grace the cover of "NBA Live 14," which is slated for release on Xbox One and PlayStation 4 this October. The game will be...
NBA News

Delivered to your inbox

You'll also receive Yardbarker's daily Top 10, featuring the best sports stories from around the web. Customize your newsletter to get articles on your favorite sports and teams. And the best part? It's free!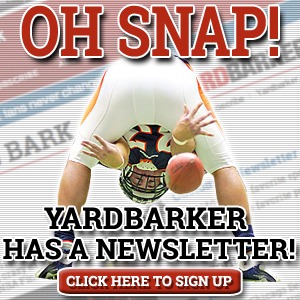 Latest Rumors
Best of Yardbarker

Today's Best Stuff

For Bloggers

Join the Yardbarker Network for more promotion, traffic, and money.

Company Info

Help

What is Yardbarker?

Yardbarker is the largest network of sports blogs and pro athlete blogs on the web. This site is the hub of the Yardbarker Network, where our editors and algorithms curate the best sports content from our network and beyond.