Found May 21, 2013 on Blog So Hard Sports:
Anthony Bennett is a 6'7 240 pound forward prospect in the 2013 NBA draft. He has huge hands, wide shoulders and an enormous 7'1″wingspan which gives him great ability to dunk the ball with power. He's very athletic, long, quick & fast to go along with an impressive vertical. Scouts believe on the offensive end that Bennett could complement Wall and Beal well with his great offensive repertoire he displayed at UNLV where he averaged 16.1 points a game. He can take over the game on the offensive end and can become almost unguardable on the offensive end. He's a very talented forward who can over-power SF's and out quick PFs. Needless to say, Anthony Bennett is a very versatile offensive weapon. As far as Bennett's outside game goes, he has the ability to shoot it from long range, but must show he can extend that range to the NBA three pointer.  He also has a good mid range jump shot which he can hit within the flow of the offense or as a pull up on the fast break.  Bennett is great at creating space for his jump shot by either using a jab step on a defender or coming off a screen to catch and shoot. He has excellent footwork for someone of his size. Along with his footwork, Bennett's shooting mechanics are very good. His shoulders are always squared and facing the basket and he is good at keeping his form the same on every shot. Last season Bennett made 36 three pointers at a rate of one per game while averaging 37.5 %. His favorite spot is on the left perimeter where he's made 40% of his 3 pointers. He likes to hit face up jumpers in his mid range game, but it's obvious he has the skills and abilities to further expand his game. AB's per 40 minute point production comes to 26.2 points per game, which is one of the most efficient scoring rates in this years NBA draft. Anthony Bennett would be a tremendous selection for what the Wizards need on their front line. The Wizards have a few outside shooters, a few defensive stoppers and an energy guy behind their starting forwards but they do not have a versatile forward who can come off the bench. Bennett would bring the Wizards instant versatile offensive energy off the bench. As I said before Bennett would be match up nightmare for most NBA small forwards and power forwards to defend for different reasons. He would be a great six man for the Wizards and will hopefully be available when the Wiz Kids are picking in June. With Bennett, it all comes down to his effort and toughness.  Despite averaging a team high 8.1 rebounds, his aggressiveness on crashing the glass didn't shine on a nightly basis. You would think with his big frame and great strength that he would seek out contact and be a fierce rebounder but that wasn't always the case. How much he buys in on the defensive and in rebounding will determine if he becomes a star in the NBA. He will learn that in order to be a star he is going to have to give consistent effort, especially on the defensive end. Give us your thoughts on whether you think Mr. Anthony Bennett would be a good fit on next year's Wizards squad. With AB not being able to participate in workouts, he might just fall to wherever Washington will be drafting. Related posts: Wizards Falling in the Draft Could Be A Blessing In Disguise With the Wizards Season Winding Down, There is Reason for Optimism The Wizards Need To Find A Third Amigo In The Draft
Original Story:
http://blogsohardsports.com/wizards-2...
THE BACKYARD
BEST OF MAXIM
RELATED ARTICLES
If you haven't heard by now, the Washington Wizards found some luck during the NBA Draft Lottery last night. With a few lucky draws of the ping pong balls, they jumped up from the 8th position to landing the 3rd overall pick in the draft come June. It appears that the consensus is Nerlens Noel will be the number one pick overall (certainly still not a lock), and that the Orlando...
Exactly Last night at approximately 8:47 PM the Washington Wizards finally had a break go their way. When Adam Silver announced that the Detroit Pistons would be selecting 8th overall instead of the Wizards, a ton of excitement and and quite a bit of relief rushed over Wiz fans everywhere. It was exciting to move up in the top 3 of the draft, and a relief that Washington wouldn't...
Don't Worry Guys…I Got You   Last night the the Wizards fans experienced their most excitement since winning the 2010 Draft Lottery and the right to draft John Wall. Yes that is sad to think about that the climax of Wizardom excitement has come from draft lotteries the last three years, but when such excitement occurs, GIFs are the only way to express said excitement. Enjoy...
As we've all learned from past gaffes made by everyone from Washington Wizards' guard John Wall to insura…
Wizards News

Delivered to your inbox

You'll also receive Yardbarker's daily Top 10, featuring the best sports stories from around the web. Customize your newsletter to get articles on your favorite sports and teams. And the best part? It's free!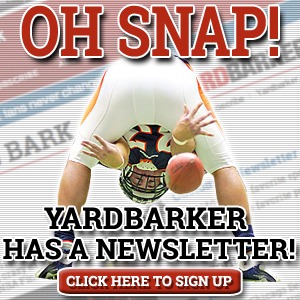 Latest Rumors
Best of Yardbarker

Today's Best Stuff

For Bloggers

Join the Yardbarker Network for more promotion, traffic, and money.

Company Info

Help

What is Yardbarker?

Yardbarker is the largest network of sports blogs and pro athlete blogs on the web. This site is the hub of the Yardbarker Network, where our editors and algorithms curate the best sports content from our network and beyond.