Found June 24, 2013 on Fox Sports Southwest:
PLAYERS:
Kendrick Perkins
,
Russell Westbrook
,
Kevin Durant
,
Serge Ibaka
,
Reggie Jackson
,
Jeremy Lamb
,
Hasheem Thabeet
,
Michael Carter-Williams
,
Tim Hardaway
,
Glen Rice
TEAMS:
Oklahoma City Thunder
,
Miami Heat
,
Syracuse Orange
Somewhere between wondering how good Steven Adams might be and worrying if Kelly Olynyk can possibly be strong enough to replace Kendrick Perkins is Russell Westbrook. Yeah, him. The NBA draft is Thursday night and the Thunder have the No. 12 pick, but more importantly than who, what position, and playing the, "If-only" game about the future possibilities and probabilities, the return of Westbrook is better than any lottery pick. Remember, the Thunder were the No. 1 seed in the Western Conference when the playoffs started back in mid-April. They were the team to beat because Kevin Durant and Russell Westbrook and three tepid bodies are a hard combination to guard, to stop and to slow down. Remember, even without James Harden, the Thunder were the favorites to return to the Finals and get another chance at the now two-time defending champ Miami Heat. Remember, because until Westbrook's knee was injured when Houston's Patrick Beverley crashed into him, the Thunder had two All-Stars in the starting lineup. That injury made it nearly impossible to forget. So, consider all your worrying about Perkins and forward Serge Ibaka to be un-necessary and un-needed. Concerned about Reggie Jackson's minutes and progress? Contemplating how long before Jeremy Lamb gets a chance or whether Hasheem Thabeet will ever be half as good as he was supposed to be? Don't be. Doesn't matter. The Thunder can treat the 2013 draft like chicken in a Crockpot. Futz with it, fool around and tinker all they want. That's fine. Or, turn it on, let it simmer, don't make a big deal about it. Everything will turn out OK. That's because Westbrook is going to be ready to go when the season starts in November, and just like a great putter makes up for poor iron play, Westbrook's game sure fills a lot of other holes the kind of voids that became obvious as the Thunder struggled past Houston and then stumbled against Memphis. Kendrick Perkins hasn't changed since we've known him in Thunder orange and blue. He was the same player this past year as he was when Oklahoma City made the Finals. If anything the rest of the team has improved, not regressed. Ibaka has gotten better. Collison has only been more reliable. Jackson proved to be a winner at point guard. So why the worry? Well, losing does that. It makes you rethink plans and makes you panic and there's no reason to do that. So, thinking the 2013 draft is going to be a savior to a lost season is silly. How any Oklahoma City fan could come up with a scenario where Adams, Olynyk or any mixing and matching from this year's college players actually helps the team come November is beyond optimistic. The thing to be mostly optimistic about is the three picks in two rounds. We know about the No. 12 pick, via Toronto, and the Thunder also have No. 29 and No. 32. Stockpiling centers might not be a bad idea, so taking a risk on Adams of Pittsburgh, who is said to have tremendous upside, might be worth it. However, the steal of the draft could come by taking a chance on Michael Carter-Williams, a 6-foot-6, pass-first point guard from Syracuse. Taking Williams first would seem to make more sense. The Thunder don't need a center to be successful. They need someone to facilitate Durant, Westbrook and Ibaka. Likely, Gorgui Dieng of Syracuse would still be there for the No. 29 pick, giving Oklahoma City a 6-11 athletic big man everyone says they have to have. Spend the No. 32 pick on Tim Hardaway Junior or Glen Rice Junior. Both are scoring options and both can get to the rim. But no matter what the Thunder do, the best thing about the draft is it really doesn't matter. Oklahoma City doesn't need draft day surprise to get better. All the Thunder needs is Russell Westbrook. Follow Andrew Gilman on Twitter @andrewgilmanOK
Original Story:
http://www.foxsportssouthwest.com/sto...
THE BACKYARD
BEST OF MAXIM
RELATED ARTICLES
The Oklahoma City Thunder are unquestionably one of the best teams in the NBA. They were considered a lock for at least the Western Conference Finals berth again for the 2013 season and possibly competing to rewrite last season's defeat to the Heat in the Finals. At the end of the day, even the best can use improvement. OKC has a few holes they could fill so that they are not exposed...
Once apart of a great young core in OKC, Harden took on the same role as Durant as the leader of Houston. In 2012, the Oklahoma City Thunder ended a great season in the Finals to the champion Miami Heat. Although the series count of 4-1 does not illustrate exactly how competitive the series was, it was more than obvious that the Thunder were about one move away from dethroning the...
What became very clear during the postseason for the Oklahoma City Thunder was not so much the loss Russell Westbrook, but what life was like without James Harden. We believe that had Harden still been on the roster, the team could have overcome the loss of Westbrook, and at least advanced to the Western Conference Finals for a rematch from the previous year with the Spurs. There...
Thunder big man Serge Ibaka was spotted out in Atlanta with his boo, singer Keri Hilson. The two hit up Prive in Atlanta on Friday. Cute couple, looks like they had a great time. Also on hand, singer and Diddy's girl, Cassie, Fabolous and VH1 reality stars,TI and Tiny.   photos via KeriHilson.net
Kevin Durant announced he has officially signed with Jay-Z's Roc Nation Sports agency. Durant left Landmark Sports earlier this month. "Grateful for the opportunity with Roc Nation Sports. It's go time," Durant said in a statement posted with a picture of him and Jay-Z officially signing together. "He has a 90.5 free throw shooting rate, the youngest player...
For those of you trying to figure out a creative way to propose marriage to that special someone, you might want to take a page out of a Oklahoma City Thunder fan who used star guard Russell Westbrook to help propose to his girlfriend. A recent University of Oklahoma graduate Charlie Bright got in touch with Westbrook to put together the engagement plan for his girlfriend, Rachel...
It's just different now. Roc Nation Sports is gobbling up the competition. The sports agency has signed their first NBA client, Thunder star Kevin Durant. Rihanna even shouted him out on Instagram. See, that's part of the allure of Roc Nation Sports. Shout outs from some of the baddest chicks in the game, rocking out with your favorite rappers, favorite rapper and throwing up the diamond.
Last week Jay-Z became a licensed NBA Agent and this week his makes his biggest splash to date with Roc Sports Nation. Oklahoma City Thunder's Kevin Durant has confirmed that he has signed on board with Jay-Z. Durant took to Instagram to post of photo of confirming what has been speculated for some time. The post Kevin Durant Officially Joins Jay-Z's Roc Nation Sports appeared...
It's not often that you get to see a current NBA player grace the pages of a WalMart catalogue but back in the day, Oklahoma City Thunder rookie Jeremy Lamb got that honor. Check out the image of a young Jeremy modeling some "Rustler Relaxed Fit Jeans": *** Image courtesy of Jeremy Lamb Instagram
Jay Z is putting the sports world on notice.
No GM gets more blind devotion than Sam Presti. Why, you ask? Just look at his list of first round picks since 2007: '07 No. 2: Kevin Durant '08 No. 4: Russell Westbrook '08 No. 24: Serge Ibaka '09 No. 3: James Harden '09 No. 25: Rodrigue Beaubois '10 No. 18: Eric Bledsoe '10 No. 21: Craig Brackins '10 No. 26: Qunicy Pondexter '11 No. 24: Reggie Jackson...
NBA News

Delivered to your inbox

You'll also receive Yardbarker's daily Top 10, featuring the best sports stories from around the web. Customize your newsletter to get articles on your favorite sports and teams. And the best part? It's free!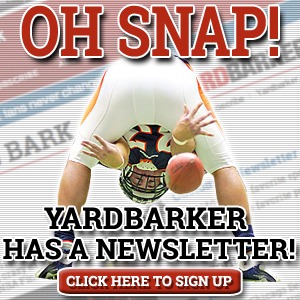 Latest Rumors
The Backyard

Today's Best Stuff

For Bloggers

Join the Yardbarker Network for more promotion, traffic, and money.

Company Info

Help

What is Yardbarker?

Yardbarker is the largest network of sports blogs and pro athlete blogs on the web. This site is the hub of the Yardbarker Network, where our editors and algorithms curate the best sports content from our network and beyond.