Found March 05, 2012 on Fox Sports Wisconsin:
MILWAUKEE A little less than 20 months have passed since the Milwaukee Bucks selected Larry Sanders 15th overall in the 2010 National Basketball Association Draft.For Sanders, though, it's an entirely different world.The Bucks' backup center has seen his playing time increase in this, his second NBA season, due to Andrew Bogut's ankle injury. He's appeared in all 27 of Milwaukee's games, averaging 3.2 points and 3.0 rebounds in 12.9 minutes per night.He's made a positive impression on head coach Scott Skiles, who has been pleased with Sanders' efforts on the defensive end. "He just needs to be more consistent," Skiles says. "Like a lot of good players, he'll go out and have a good half or a good quarter or a good game. But he has to be able to follow it up, keep his focus and do it again and again. He's not there yet but it's something he's working on."In three years at Virginia Commonwealth, Sanders evolved into a defensive force down low, twice being named the Colonial Athletic Association Defensive Player of the Year. As a junior ,he averaged 14.4 points, 9.1 rebounds and 2.6 blocks while leading the team by shooting 53.0 percent from the field.Making the jump to the NBA after that impressive season, it took Sanders time to adjust to the responsibilities that go along with being a professional basketball player. While he's always enjoyed traveling, which is a frequent occurrence in the NBA, it's the down time and being forced to fend for yourself that can be problematic for many young NBA players.Sanders credits his family for helping keep him headed in the right direction but is quick to admit that he's grown a lot since joining the pro ranks."I'm a lot more mature," Sanders says. "In college, everything is available to you. You don't have that much responsibility. But now, there's a lot of responsibility all at once. But to handle it and get things organized, you feel like you have a hold on things it makes you feel like your taking steps in manhood. "Sanders is still getting accustomed to the professional game a learning process which leaves little room for error but his biggest growth has come off the court; outside of the arena and practice center.Last year, Sanders became a father for the first time. His son, Jasiah, recently turned 16 months old and there mere presence of his child in his life has had a profound impact on Sanders, who at 23, is still a young man."I just grow more and more in love with him every time we are together," Sanders says. "It's hard, because I don't get to see him every day. He's going to come stay with me this whole month, be with me. I need to be a daddy and spend some time with him."Having that young man in his life has actually played a role in his development as a basketball player, too."It's that motivation that everything revolves around him now. I'm not just responsible for myself, I'm responsible for another human being. Every decision, my work ethic it's all about him now and that goes on the court as well."Being a father has helped keep Sanders grounded, not that he was one to soak in a lot of extracurricular activities anyway. When he's not in the gym or film room, working on his game, Sanders likes to spend much of his free time pursuing another of his main interests: art.Galleries. Museums. Paintings. Photography. You name it, Sanders enjoys it. His passion from art comes from an early age, when he'd scribble and doodle in notebooks. "My cousin taught me how to draw when I was young," Sanders says. "It was probably my first love. I used to draw a lot when I was a kid and it became an every day thing. My mom still has a lot of my journals full of drawings from when I was growing up. My older cousin taught me how to draw."Halfway through his second season, Sanders is still his toughest critic. He knows the expectations are high and has a desire and willingness to be coached hard in order to reach his fullest potential."I haven't been satisfied with one game I've played," Sanders says. "I just have to keep working and improving. I know what I'm capable of."A spiritual man, Sanders also knows that there are other forces in his life."This is the position that God has put me in," Sanders says. "That drives me. I don't believe in mistakes; I believe everything happens for a reason. He put me in this position as a basketball player and a father to work hard. He knows what I'm capable of." Follow Andrew Wagner on Twitter.
Original Story:
http://www.foxsportswisconsin.com/03/...
THE BACKYARD
BEST OF MAXIM
RELATED ARTICLES
It's been a tough first year in Milwaukee for Stephen Jackson. He's feuded with his coach Scott Skiles and said he's more accomplished than the Bucks coaching staff. On top of all that he's having one of the worst statistical seasons of his career. And as one troll/tweeter learned last month, it probably isn't best to remind Captain Jack about it. @TeeeCookie *** yo...
Most jocks I've come across don't really care for fantasy sports. Especially now that social networks are so dominant and fans won't hesitate to reach out to an athlete and express their displeasure of said player's individual stat line. Most just ignore those tweets but not Bucks star Stephen Jackson. I mean… LMAOOOOOOO that's funny! [...]
    Andrew Bogut hasn't played since late January due to a fractured left ankle so the offensive load for the Milwaukee Bucks has fallen on the shoulders of 6'1″ guard Brandon Jennings. #3 is averaging a career-high 19 points, 5.5 assists and 1.5 steals per game. Many, including myself, felt Jennings played well enough [...]
MILWAUKEE (AP) -- Beno Udrih hit a go-ahead jumper with just under a minute left, and the Milwaukee Bucks held off a late comeback to beat the Philadelphia 76ers 97-93 on Monday night. Brandon Jennings had 33 points and Drew Gooden added 25 points and 10 rebounds for the Bucks, who have been stuck in a funk for a little more than a month. Since beating the Miami Heat on Feb. 1,...
BRANDON JENNINGS is not about excuses. With his Milwaukee Bucks currently outside of the playoff picture, and having been snubbed as an All-Star this year, the second year pro simply keeps grinding, as witnessed in this latest installment of his Under Amour webseries… Jennings is averaging 18.9 points and 5.5 assists this year running the point for the Bucks, but competing in...
Atlanta - It's a tiresome refrain for the Milwaukee Bucks . Play well for two or three quarters but bomb out at a certain point in the game. It happened again Friday night at the worst time, as the Bucks watched an 11-point lead vanish in the fourth quarter and the Atlanta Hawks escaped with a 99-94 victory at Philips Arena. And it hurt even more because the Hawks did most...
      This season has been one I'm sure Stephen Jackson wouldn't mind forgetting. The well traveled, veteran swingman was traded from the Charlotte Bobcats to the Milwaukee Bucks last summer in a three-way deal also involving the Sacramento Kings. At Milwaukee's media day prior to the season it seemed as though things were [...]
Beno Udrih hit a go-ahead jumper with just under a minute left, and the Milwaukee Bucks held off a late comeback to beat the Philadelphia 76ers 97-93 on Monday night. Brandon Jennings had 33 points and Drew Gooden added 25 points and 10 rebounds for the Bucks, who have been stuck in a funk for a little more than a month. Since beating the Miami Heat on Feb. 1, Milwaukee had lost...
Bucks News

Delivered to your inbox

You'll also receive Yardbarker's daily Top 10, featuring the best sports stories from around the web. Customize your newsletter to get articles on your favorite sports and teams. And the best part? It's free!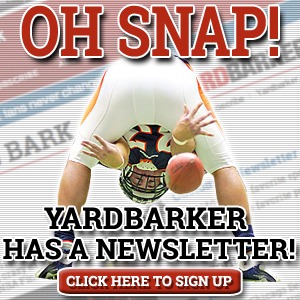 Latest Rumors
The Backyard

Today's Best Stuff

For Bloggers

Join the Yardbarker Network for more promotion, traffic, and money.

Company Info

Help

What is Yardbarker?

Yardbarker is the largest network of sports blogs and pro athlete blogs on the web. This site is the hub of the Yardbarker Network, where our editors and algorithms curate the best sports content from our network and beyond.