Found November 29, 2012 on Wizards Extreme:
Everyone loves a laughing stock. The Washington Wizards are, once again, in the throes of an embarrassing start to their NBA season.  Now accustomed to poking fun at the team, commentators, fans, and casual observers have launched their annual deriding, devoting full TV segments, creating websites, and sounding off on radio about the team's misfortune. It's nothing new.  The Los Angeles Clippers spent arguably more time than any other sports franchise as the NBA's laughing stock.  The Charlotte Bobcats set the new league record for futility, notching a paltry seven wins in a 66-game shortened season. No one takes a bad team seriously.  They become an easy target for the entire world. But what about the players? After last week's loss to the Charlotte Bobcats dropped the Wizards to 0-11 on the season, rookie Bradley Beal shared his feelings on the team's unthinkable start. "We just lost. Everybody hates losing. You just see the guys' faces; it's like depression. We haven't won a game yet." Amidst the shame of being jeered in your own arena, there are athletes comprising these teams that must face the scrutiny of feeling responsible for losses.  They must endure post-game interviews, the omnipresence of social media, and the heckling of fearless fans.  Perhaps worse is the notion that professional athletes should simply deal with ridicule because of their salaries. Annually, it is estimated that about 7% of the nation's population will experience a depressive disorder.  Of those who suffer these disorders, only about 20% will receive adequate treatment.  Although adults seeking professional help for psychological issues has become more common over the last decade, it is still not widely accepted.  This is especially true among minorities, where percentages of those receiving treatment is even lower. For NBA rookies, the stigma is of greater concern, as lottery picks are, in most instances, experiencing the burden of losing for the first time in their lives.  There is no amount of pre-season orientation or symposia that prepares an athlete for long losing streaks and the feeling of being prisoners in their new hometowns. Delonte West, currently an NBA free agent, battled depression early in his career.  During his 2008-2009 season with the Cleveland Cavaliers, West took a nearly two week leave of absence from the team to receive professional treatment for his disorder. Fortunately, West knew the symptoms of depression, having dealt with it his for most of his adult years.  More importantly, West was unashamed to place his career on hold briefly to take care of his psychological condition. During his treatment, West received support from not only his teammates, but also the Cavaliers' management.  West credits seeking help as enabling him to get back to enjoying basketball again. Very recently, Houston Rockets rookie Royce White's anxiety issues have prevented him from contributing to team this season.  White has dealt with these issues as early as his teenage years, dealing with effects such as a fear of flying and panic attacks. The Houston Rockets were well-aware of White's anxiety issues, but did not let that deter the team from drafting him with the sixteenth overall pick in last summer's NBA draft.  Commenting recently on their selection, Rockets General Manager, Daryl Morey remarked that White was, despite his disorder, "very functional".  The Rockets clearly believed White wouldn't falter on the larger stage. However, White's contention with the Rockets' lack of support for his anxiety grew and he took to Twitter, making pointed comments about the organization.  The result was a very public look at the team and how they'll resolve this unique issues and work to mend their relationship with White. The work of an NBA athletic trainer is very clear, but a team's commitment to monitoring the mental health of its players is not nearly as publicized. With the advent of cases like West's and White's, hopefully teams are taking a closer look at the measures they have in place when such instances arise.  Moreover, we can only hope, too, that players have the courage to speak up about needing treatment, especially when change from harsh circumstances does not seem to be on the horizon.
Original Story:
http://www.wizardsextreme.com/2012-ar...
THE BACKYARD
BEST OF MAXIM
RELATED ARTICLES
Wednesday Wizards Report Sad, but it has already come down to looking at the 2013 lottery for Wizards fans   Losing is never fun no matter how you look at it. Losing leaves a bitter taste in your mouth and after 12 straight losses to open the season, our mouths as Wizards fans have quite a disgusting taste in them. And with no return date set for John Wall and tough games against...
Rockets GM Daryl Morey called into Slate's 'Hang Up and Listen' sports podcast Monday where he brought us up to speed on the current situation between the organization and 16th overall draft pick, Royce White, who is struggling with anxiety disorder and is yet to play this season. According to Slate.com: What influenced you first to pick Royce, basketball and non-basketball...
The Washington Wizards earned their first victory after starting the season with 12 straight losses, getting 19 points from Jordan Crawford in an 84-82 win over the Portland Trail Blazers on Wednesday night. Washington survived a scoreless 6:47 in the fourth when Crawford hit on a 3-pointer with 2:06 to play, and the Wizards finally took the 84-82 lead on Emeka Okafor's two...
After their worst start in history, the Washington Wizards became a national punch line. On TNT, Charles Barkley compared them with the Washington Generals, and a local newspaper had photos of fans wearing paper bags over their heads at Monday's 26-point loss to San Antonio.
I managed to catch Randy Wittman's post game press conference following the Washington Wizards first win of the season, which came against the Portland Trailblazers. He answered questions about the team team's struggles this season and the feeling in the locker room.
Could the first win for the Washington Wizards have only been because the opposing starting point guard was freaked out in their city? Portland Trailblazer rookie Damian Lillard apparently has a slight phobia towards statues. Maybe it was the extra nerves (Lillard went 6-21) that allowed the Wiz to pick up their first win Wednesday night 84-82 over Lillard's Blazers. The first...
Just when the Charlotte Bobcats thought it was safe to claim the NBA's worst record ever, the Washington Wizards rise up, and attempt to lay claim to the thrown. Here is the latest update for the NBA's worst teams, NBAwful 2012-13, Vol. II.Washington Wizards: Breaking news!! The Wizards won a game! The Wizards beat the Trailblazers Wednesday night to break into the win column...
Portland continues East Coast slide The Headline: squaring off with the winless Wizards, Portland continues its East Coast losing streak with this new 82-84 loss. Portland Trail Blazers vs. Washington Wizards When: 7:00 ET, Wednesday, November 28, 2012 Where: Verizon Center (Washington D.C.) Officials: Derrick Stafford, David Guthrie, James Williams Attendance: 14,114 Love 'em...
After enduring the worst start in team history, the Washington Wizards finally got in the win column their last time out. Another victory could be hard to come by with a visit to Madison Square Garden in store. The Wizards try to build on their latest result Friday night against the New York Knicks, who look to stay unbeaten at home and continue their recent domination in the series...
Wizards win! On their 13th try, the 2012/13 Washington Wizards finally won a game of basketball.  They did so at home against the Portland Trail Blazers, who shot 34.9% from the floor in the 84-82 upset.  Washington nearly blew it by failing to score as the Blazers rattled of 16 straight, but they were able to hang on thanks to a timely three from Jordan Crawford (the only Wizard...
DALLAS -- The Dallas Mavericks have quietly been shopping for a 'bus driver' at point guard since the departure of Delonte West, and the finger injury sustained by Darren Collison has turned "quiet'' into "done'': Dallas is in the process of signing five-time NBA champion Derek Fisher, age 38. "I think he can really help our situation with...
NBA News

Delivered to your inbox

You'll also receive Yardbarker's daily Top 10, featuring the best sports stories from around the web. Customize your newsletter to get articles on your favorite sports and teams. And the best part? It's free!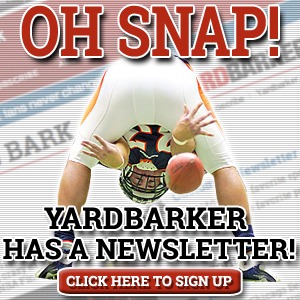 Latest Rumors
Best of Yardbarker

Today's Best Stuff

For Bloggers

Join the Yardbarker Network for more promotion, traffic, and money.

Company Info

Help

What is Yardbarker?

Yardbarker is the largest network of sports blogs and pro athlete blogs on the web. This site is the hub of the Yardbarker Network, where our editors and algorithms curate the best sports content from our network and beyond.