Found March 21, 2013 on BlackSportsOnline:
For years now people have tried to dissect and analyze what exactly is going on in Kobe Bryant's head. However as with many super star athletes, as years progress you start to adhere to the fact that there isn't a formula to their masterminds, unless you're Dr. Mbogo. So if you can't understand their madness, you might as well embrace it with storytelling from teammates who know firsthand. That's exactly what Los Angeles Lakers forward Antawn Jamison managed to do during a brief interview with ESPN's Max and Marcellus Show. "Kobe will tell you," Jamison said. "He's like, 'Look, you guys as my teammates, yells at me. Let me know that you're open because I'm so programmed and this guy has told me this, 'I see nothing but that basket. You could be open, there could be three guys on me, but the only thing I see is that basket so you have to tell me, Look, I was open. Or yell at me mid-play. That doesn't affect me at all and I respect that. " Jamison is a vet so it's no surprise he isn't affected by Kobe's hostile antics on the court. You can certainly understand why some of the younger players are, however. Here is a guy who has five championships, many individual milestones, and majority of the young athletes coming out of school now were fixated on Kobe during their younger years. Now they are being thrown  into the lion's den to play with him. That could be intimating unless you're keyed into who you are and your game. "I think the thing we've seen in the past was most teammates might have been afraid to come to him or express, 'Kob' I was open,' or, 'That's not what we drew up,' " Jamison said. "The thing I like about this team, Steve Nash — who is a Hall of Famer — and Dwight [Howard] as well, Dwight and Kobe have gotten into shouting matches on the bench because Dwight will be like, 'Kob', that's your rotation. Get there.' And after the game he'll be like, 'Appreciate it, big fella. I needed that.' " Who would have thought, Kobe Bryant getting chastise on the bench by Dwight Howard out of all people. Although I didn't foresee that bit of news, this interview was very telling about the transition the Lakers  are making as of late. "It's great to be with him," Jamison said. "I love a guy who expects so much from his teammates. He pushes his teammates. After games, we're traveling, guys are on their laptops, their iPads, watching movies, listening to music, this guy is watching film. He's breaking down situations. I'll be watching a movie, he'll tap me like, 'Come here.' He'll dissect plays like, 'This is what we got to do, me and you got to get this going.' I mean, this guy eats, sleeps basketball and the only thing he wants to do is to win another championship and I've never seen anybody as focused, as dedicated as Kobe." If you expected the Lakers to ban together and start the season off as if they were the Showtime Lakers, you were sadly mistaken which probably caused to more depression as the season went on. However if you're a Laker fan this information is encourage. Jamison is able to see the sometime stubborn, competitive Kobe Bean Bryant making an evolution as a player, which impacts the rest of the Lakers in a positive way. The Lakers appear to be able to take accountability for their mishaps, while being vocal about mistakes to learn in preparation for the future. The change is starting to show on the court. Now I wouldn't go as far as to proclaim them to be the favorites to win this year. However, if this momentum can go into next year with a similar core group of guys well the Lakers may very well have a chance.
Original Story:
http://blacksportsonline.com/home/201...
THE BACKYARD
BEST OF MAXIM
RELATED ARTICLES
This video of Kobe Bryant's reverse dunk last night against Washington will go in his lengthy highlight reel…despite the loss. Super slow-mo: **Follow us on Twitter or Facebook.... Full story at Bob's Blitz ~ http://www.bobsblitz.com
According to Kobe Bryant's Twitter feed, the Lakers All-Star guard is probable for the Lakers' battle at Staples Center Friday night against the Washington Wizards. Ankle was a lil sore from practice yesterday but should be good to go tonight mambaface Kobe Bryant (@kobebryant) March 22, 2013 A Lakers spokesman confirmed that Pau Gasol and Bryant are probable to start against...
Click on the photo for 40 tips on having a better life Everyone has troubles in life.  We all deal with life in our own ways.  Some of us are happy.  Some of us are sad.  Some make money.  Some don't.   But there are certain tenets that if we live by them, we just might [...]
KING POWER BLACK MAMBA
Swiss luxury watch brand, Hublot, has named Los Angeles Lakers' star shooting guard, Kobe Bryant, is its newest ambassador. To celebrate the new partnership, Hublot released Kobe's signature timepiece, the limited edition "King Power Black Mamba." "Bryant was the perfect choice for Hublot—a brand known for its precision and excellence, traits that have characterized...
Just when you thought the Lakers were becoming a threat in the Western Conference, they go out and lose to the Washington Wizards at home. Kobe Bryant and Pau Gasol returned from injuries Friday, but the team blew a big third quarter lead and lost 103-100. After the game, coach Mike D'Antoni ripped into the team and decried their championship aspirations. D'Antoni's biggest...
Coach Mike D'Antoni said he expects Kobe Bryant and Pau Gasol to play Friday as the Lakers host the Washington Wizards. Bryant sprained his ankle in the closing seconds of a loss to Atlanta on March 13. After pushing through the first quarter against the Indiana Pacers on Wednesday, Bryant hasn't been able to play. Wednesday marks six weeks and two days since Pau Gasol...
Good news, Lakers fans... According to ESPN LA's Dave McMenamin's Twitter handle, Lakers head coach Mike D'Antoni "expects" to see both Kobe Bryant and Pau Gasol back in action Friday when the team hosts the Washington Wizards. D'Antoni says he "expects" both Kobe and Pau in the lineup Friday vs. Washington — Dave McMenamin (@mcten...
Los Angeles Lakers coach Mike D'Antoni is hopeful Kobe Bryant and Pau Gasol will return Friday for the Lakers' game against the Washington Wizards. "Hopefully Kobe and Pau w
The NBA world isn't just about what you do on the court. We scoured the web for Lakers-related quotations to provide you with the 10 best quotes from the past seven days:   #10: He's a competitor. That's really what you've got to judge players by. A lot of times, we get caught up in their numbers and what their statistics are, but really you've got to look at the core...
The Los Angeles Lakers appear close to having their four stars together on the floor again. Kobe Bryant and Pau Gasol could both return from injuries as the Lakers try for an eighth straight home win Friday night against the Washington Wizards. Los Angeles coach Mike D'Antoni said Wednesday he hopes his two injured stars could play Friday. Bryant missed the last two games and...
Trevor Ariza hit a career-high seven 3-pointers on his way to 25 points, John Wall added 24 points and the Washington Wizards rallied from an 18-point second-half deficit to beat the Los Angeles Lakers 103-100 on Friday night. Wall had 16 assists, and Nene scored 15 points for the Wizards, who won their second straight while improving to 7-26 on the road. Down 2 points, Kobe Bryant...
Lakers News

Delivered to your inbox

You'll also receive Yardbarker's daily Top 10, featuring the best sports stories from around the web. Customize your newsletter to get articles on your favorite sports and teams. And the best part? It's free!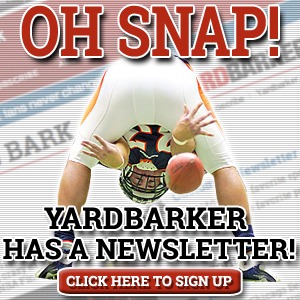 Latest Rumors
Best of Yardbarker

Today's Best Stuff

For Bloggers

Join the Yardbarker Network for more promotion, traffic, and money.

Company Info

Help

What is Yardbarker?

Yardbarker is the largest network of sports blogs and pro athlete blogs on the web. This site is the hub of the Yardbarker Network, where our editors and algorithms curate the best sports content from our network and beyond.