Found March 05, 2013 on In The Neutral Zone:
PLAYERS:
Monta Ellis
,
J.J. Redick
,
Beno Udrih
,
Paul Millsap
,
Enes Kanter
,
Ersan Ilyasova
,
Brandon Jennings
,
Chris Paul
,
Jim Boylan
,
Scott Skiles
,
Larry Sanders
,
Derrick Favors
,
Alec Burks
TEAMS:
Milwaukee Bucks
,
Utah Jazz
,
Orlando Magic
,
Boston Celtics
,
Los Angeles Clippers
Bucks 109 Jazz 108   Monta Ellis scored a game-high 34 points on Monday night, as the Milwaukee Bucks crept past the Utah Jazz in their second overtime game in as many nights to win their fourth straight. The Bucks were outscored by ten in the fourth quarter mainly because of early foul trouble. Consequently, every foul on the Bucks put the Jazz at the stripe for easy points without the clock running, trimming the lead with each made throw. This inevitably led to the overtime period, as the Bucks could not withstand a Utah comeback. But JJ Redick took over in the extra period for the Bucks, as he scored eight of the teams ten total points in the frame. He continues to be a consistent shooter coming off of the bench-as the coaching staff has, at times, run a three-guard lineup-since obtaining his services at the trade deadline for Tobias Harris, Doron Lamb and apparently disgruntled backup point guard, Beno Udrih. At the start of the overtime-shortened-quarter, Paul Millsap made a running layup, but the Bucks' Redick came back down and hit a three-pointer, and then did the same with only 47 seconds left to give Milwaukee a slight 107-105 advantage in the OT. DeMarre Carrol made one of two throws at the line to trim the Bucks lead to one point at 107-106, but Monta Ellis drilled a huge jump-shot at the top of the key with 14.7 seconds remaining to give Milwaukee the 109-106 lead. On the ensuing possession, Enes Kanter tipped in a Millsap miss with 1.6 seconds to go, and after a short time-out, the Bucks were able to inbound to Ersan Ilyasova, who caught the ball under the hoop who was comically, unable to finish as time expired. Milwaukee trailed at the half by three, as Brandon Jennings led the team with ten first-half assists. They came back out after the break and established a nice cushion 73-60 by way of a 21-6 run over the first eight minutes of the third, as Monta Ellis scored 11 points. The lead would not last, of course, as Utah cut into it late in the third quarter and rallied back to force overtime. But the Bucks prevailed, and with the win, climbed the playoff tree-precipice to within one game of the Boston Celtics for the seventh seed in the Eastern Conference. The Bucks are also only three games behind the fourth spot in the East. The next five games against tough opponents will determine if they can continue to rise in the standings.   Okay, who turned on the Gecko? Of late, someone has switched on Monta Ellis. Please, keep him on! He has taken over this team, although lately, everyone has contributed, including Brandon Jennings, who has had back to back games with over fifteen assists. Jennings has logged a double-double the last two games with the points flowing only after he finds his teammates for easy and sometimes fantastic dishes. If Jennings continues to embrace this fresh, no-nonsense, Chris Paul (being generous)-like point guard approach, he'll hopefully, develop into the player the Bucks knew he could be when they gambled on him with the tenth pick in the first round of the 2009 NBA draft. For him to realize his potential, he has got to being to take notice that a great point guard finds his teammates first before he shoots; distributing the ball with ease and then waiting for his shot to come later. Then again, this could be the product of two guys in contract years playing for big money at the same time whilst propelling a team to victories. Could be…   Streaky, streaky… The credit for this recent streak of success has got to go to the coaching staff. Obvious, yes: the players must play, and they should get some of the kudos, but that's what their paid to do, as the coaches are paid to, well, coach. Recognize that it had to have been difficult for Jim Boylan to take over this team in the midst of a tough stretch in January, and nonetheless, from his mentor Scott Skiles. Fractured, unsure, and in need of a win streak, of late, they've gotten just that, and something has seemed to change within this club. Whatever has been said, schemed, or done, its working. The offense continues to flow through Monta, but JJ Redick has a big something to do with this team's recent streak of success; making an immediate impact as we hoped he would.   For the Bucks: Monta Ellis: 34 points, 4 rebounds and 3 assists Brandon Jennings: 20 points & 17 assists JJ Redick: 17 points, 2 rebounds and 1 assist Larry Sanders: 8 points, 16 rebounds and 6 blocks Ersan Ilyasova: 7 points, 4 rebounds and 4 assists   For the Utah Jazz: Derrick Favors: 23 points & 15 rebounds Paul Millsap: 22 points, 14 rebounds and 3 assists Enes Kanter: 18 points and 10 rebounds Alec Burks: 19 points, 4 assists and 3 rebounds   Stat of the night: Besides the game against Toronto Saturday night (which the Bucks won in overtime by eight) this was the eighth consecutive game for which the final score separating the Bucks and their opponent was at or less than five points. Second stat of the night: Larry Sanders, aptly nicknamed the, "Blocktopus" by Bucks radio voice Ted Davis, continues to give reason behind the name with his amazing streak of at least one blocked shot in 40 consecutive games; the longest such streak by a Buck in over 25 years.   Preview: Up next: The Bucks (30-28) travels to Los Angeles Wednesday night looking for a signature victory against a dominate Clippers (43-19) team on their home-court. Tip is at 9:30PM Central Standard time.     Just Winsconsin!
Original Story:
http://intheneutralzone.com/?p=11719
THE BACKYARD
BEST OF MAXIM
RELATED ARTICLES
Monta Ellis was awarded NBA Player of the Week Monday after averaging 24 points, 4 rebounds, 9 assists and 5 steals per game, and leading the Bucks to a 3-0 week, and it looks like the Milwaukee guard is already making a case for this week. Aside from posting 34 points, 4 rebounds, 4 steals, and 3 assists while leading his team to a 109-108 overtime win vs the Jazz, Ellis pulled...
MILWAUKEE The results-oriented nature of sports can lead fans and reporters even players and coaches -- to jump to conclusions, regardless of sample size. Just five games after the trade deadline deal that brought Magic shooting guard J.J. Redick to Milwaukee, it's way too early to tell how successful it was, simply because there have been too few of those results. But the...
MILWAUKEE It's not hard to find the strengths of the Milwaukee Bucks and the Utah Jazz. Utah is a big, physical frontcourt-based team that's goal is to beat up opponents inside, while the Bucks are now built around a three-guard rotation. Monday's game was going to be decided by the team that limited its opponent's strength just enough to win. Outscoring Utah...
Utah Jazz starting center Al Jefferson will miss his third straight game because of a sprained left ankle. Jefferson, averaging 17.7 points and 9.4 rebounds, was hurt last week in a loss to Atlanta. Jazz coach Tyrone Corbin said there is no timetable on Jefferson's return. Derrick Favors will start in his place Wednesday night against Cleveland. Corbin also said he will start...
The Los Angeles Clippers had been rolling along before coming up short against one of the NBA's best teams over the weekend. While they might normally like their chances of getting back on track with a visit from Milwaukee, the Bucks are starting to hit their stride. The Clippers aim for a 12th home win in 13 matchups against the Bucks, who look to extend their winning streak...
Kareem Abdul-Jabbar played for the Milwaukee Bucks from 1969-75, leading the franchise to a championship in 1971.
Recent injuries to Paul Millsap and Al Jefferson have allowed Jazz fans the opportunity to see how this team may look next season without Millsap and Big Al. Against Atlanta, without Millsap, the Jazz played with little energy and lost at home 102-91. With neither big man in the line-up, Utah destroyed the Charlotte Bobcats 98-68 behind Enes Kanter's 20-20 game. Of course, his...
CLEVELAND -- Byron Scott called it a gift, and the man has seen enough basketball to know. But not even he could truly explain how the Cavs escaped with a 104-101 win over visiting Utah on Wednesday. We got lucky, was the conclusion drawn by Scott. If you saw the game, you too are probably still scratching your head and checking your pulse, trying to figure out how the Cavs pulled...
Paul Millsap's return didn't hurt Derrick Favors or Enes Kanter, but the Jazz fell 109-108 to the Milwaukee Bucks in overtime. With Al Jefferson (ankle) still out, Favors started and knocked down 11-of-20 shots for 23 points with 15 rebounds, an assist, a steal and a block. Maybe the most impressive stat for Favors: He didn't foul -- at all. Millsap played 44...
OPENING TIP The Cavs have lost two straight after winning four of five immediately after the All-Star break. Read: They need a victory for the sake of team and fan spirit. Meanwhile, the Jazz have won just four of their previous 10 and are tied with Houston for the final playoff spot. The reasons they need a win are pretty obvious. Venue: Quicken Loans Arena, Cleveland. TVRadio...
While Al Jefferson doesn't appear quite ready to go, the slumping Utah Jazz could get a big boost from the possible return of Mo Williams as they go for a seventh consecutive victory over the Cleveland Cavaliers on Wednesday night. Averaging 12.9 points and a team-leading 6.7 assists, Williams hasn't played since suffering a severely sprained right thumb against Miami on...
NBA News

Delivered to your inbox

You'll also receive Yardbarker's daily Top 10, featuring the best sports stories from around the web. Customize your newsletter to get articles on your favorite sports and teams. And the best part? It's free!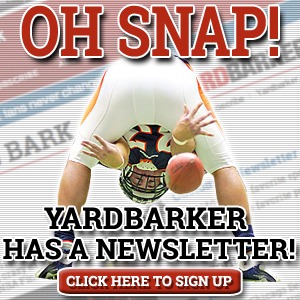 Latest Rumors
Best of Yardbarker

Today's Best Stuff

For Bloggers

Join the Yardbarker Network for more promotion, traffic, and money.

Company Info

Help

What is Yardbarker?

Yardbarker is the largest network of sports blogs and pro athlete blogs on the web. This site is the hub of the Yardbarker Network, where our editors and algorithms curate the best sports content from our network and beyond.