Found November 04, 2012 on Fox Sports Wisconsin:
MILWAUKEE - Anderson Varejao knew exactly what the Milwaukee Bucks were going to draw up with 0.7 seconds on the clock with the game knotted at 102-all. In fact, Bucks coach Scott Skiles was worried about it coming out of the timeout. Mike Dunleavy almost called another timeout. Both stuck with a play the Bucks have run every day in practice. Varejao knew the ball was going to find its way into the hands of Brandon Jennings, he jumped it and came charging at the Bucks' point guard at the top of the key. He was just too late."I didn't see anybody until I shot the ball," Jennings said. "When he put his hand up, it was already gone."Dunleavy tossed a perfect pass and in rhythm Jennings drilled a 3 at the buzzer to give the Bucks a 105-102 win and their first 2-0 start since the 2005-06 season. "With 0.7, you are not sure you're going to get a good look," Skiles said. "You aren't going to get a great look, that's for sure. The guys ran the play well, Brandon came off and he was able to just get squared up enough to get enough air under it to give it a chance and knock it down."The shot left the Cavs stunned and angry. Cleveland coach Byron Scott felt the clock at the BMO Harris Bradley Center started late."I don't want to get fined, so I'm not going to say anything about the clock starting late on the last shot." Scott said. "They have to figure out a way to do something about that. Bottom line is it doesn't count or you have to take it out again. Looking at it again in the locker room a couple of times, the shot shouldn't have counted. The clock started too late."A night after Jennings torched Boston point guard Rajon Rondo for 21 points, 13 assists and six steals, Cleveland's game plan worked to perfection and frustrated the young point guard.The Cavs put 6-foot-6 Alonzo Gee on Jennings and had Varejao follow, completely preventing any penetration into the lane.Cleveland saw how Jennings' penetration killed the Celtics and stopped it. Instead of letting it get the best of him, Jennings took it as a sign of respect. Though he had just 10 points on 4 of 12 shooting before the final shot, Jennings didn't force anything, instead dishing out 13 assists. "It was different," Jennings said of having the tall Gee guard him. "He was real aggressive on the ball and they were really trapping me on the pick and roll so I wasn't able to do what I really wanted to do like last night."After Wednesday's deadline for a contract extension came and went, you could see it in Jennings' eyes that he was about to start his mission. Motivated by criticism his entire career, he's using it to take his game to the next level. He has 13 assists in each of Milwaukee's first two games, matching his career high. More importantly, he's led his team to a 2-0 start for the first time in seven years. In a game where he didn't play well, in fact, his team didn't play well, Jennings showed maturity and poise and stepped up and bailed them out.Friday's impressive win in Boston would have been all for naught if the Bucks would have come home and lost their home opener to a Cleveland team that lost by 29 the night before."It was actually an ugly game for us," Jennings said. "It wasn't our best performance. If we want to get over that hump these are the games we have to win." Jennings wants this to be his team. He wants to prove he can lead a team to the playoffs. Even with Monta Ellis and Mike Dunleavy with the hotter hand, Skiles went to Jennings. And there was no argument from his teammates."That's BJ," Bucks forward Larry Sanders said. "I expect him to make that shot and he did."Through two games, his mission is off to a perfect start."Since I've been here we haven't started off 2-0," Jennings said. "It feels really good. Confidence is real high in the locker room right now. It's a good sign that we've finally started 2-0. We haven't started like that in a long time."Follow Andrew Gruman on Twitter
Original Story:
http://www.foxsportswisconsin.com/11/...
THE BACKYARD
BEST OF MAXIM
RELATED ARTICLES
BUZZER BEATER
Well, it looks like Brandon Jennings' auditions are off to a great start. For you that were wondering, 0.7 seconds is indeed enough time to launch a game winning 30-footer. How? I have no clue, but that's exactly what happened when Jennings nailed this game-winner tonight at the Cleveland Cavaliers: Here's the video:       I don't know how good the Bucks are going to be...
ST. FRANCIS, Wis.- The season opened with a tremendous challenge for Bucks point guard Brandon Jennings. Celtics All Star point guard Rajon Rondo on Friday and then the reigning Rookie of the Year Kyrie Irving on Saturday. The league took note of Jennings' performance against two of the best the NBA has to offer, naming him the Eastern Conference's Player of the Week....
Brandon Jennings didn't receive a contract extension by the Halloween deadline. Jennings made it clear that this season he would be "auditioning" for other teams. So far, he seems to be making good on that promise. In Friday night's game against the Celtics, Jennings had 21 and 13. On Saturday in the Bucks home opener [...]
The Celtics trail the Bucks 46-3 at the half as Brandon Jennings leads the way with 15 points and four assists. It's been a game marred by a high turnover rate and mediocre shooting, with the majority of the quality offense coming on the break. The lone bright spot for the Celtics has been Jared [...]
MILWAUKEE (AP) -- Brandon Jennings hit a 3-pointer at the buzzer to give the Milwaukee Bucks a 105-102 victory over the Cleveland Cavaliers on Saturday night. The referees used video replay to confirm the shot left Jennings' hand with one-tenth of a second left on the clock. Mike Dunleavy had 29 points, 12 rebounds and six assists for Milwaukee. Kyrie Irving scored 27 points...
The Milwaukee Bucks' Brandon Jennings and the Houston Rockets' James Harden were named Eastern and Western Conference Players of the Week, respectively.   Jennings guided the Bucks to a 2-0 record to start the season, a first for the team since the 2005-06 campaign.  Jennings led the league in assists (13.0 apg) and paced the conference in steals (4.0 spg), while finishing...
This game looked like it was going to overtime. Kyrie Irving's layup tied the game with 0.7 seconds left but Brandon Jennings nailed a 28 footer as time expired. This was a back-and-forth affair. The Cavs built an early lead, then blew it. The Bucks had a lead for awhile, but the Cavs fought back. There's a few takaways from this game: 1) Kyrie Irving is REALLY good. 2) So is...
At opening tip Friday night, TD Garden in Boston was rocking. The beloved Celtics were back in town, ready to avenge Tuesday's blowout loss to Miami and stomp Milwaukee at home. Those cheers quickly turned to boos and then dead silence as Garden emptied when a Brandon Jennings runner put the Bucks up 22 points with just under four minutes left in the game. With all the cards...
It's been nearly three years since the Milwaukee Bucks lost at home to the Cleveland Cavaliers, and it's been much longer since they opened a season with back-to-back victories. Brandon Jennings will try to help the Bucks to their best start in seven seasons Saturday night when they attempt to re-establish their dominance of the Cavaliers in their home opener. Milwaukee...
HEAT 119, NUGGETS 116 ***Miami trails Denver by a point with 10 seconds to go.  LeBron drives to his left and passes the ball to the corner.  Here we go again, right?  Wrong.  I suppose that's the difference a Ray Allen will make for you. ***Danilo Gallinari's missed three-pointer at the buzzer was just one of his eight misses from long range.  Going back to the start of...
BOSTON -- The Milwaukee Bucks, opening their 2012-13 season, spoiled the Celtics' home opener with a dominating 99-88 win over Boston Friday night. The Celtics fell to 0-2. Brandon Jennings scored 21 points and dished out 13 assists as the Bucks took a 16-point halftime lead and led by as many as 22, sending the fans towards the exit with a 9-0 fourth-quarter run that stunted...
NBA News

Delivered to your inbox

You'll also receive Yardbarker's daily Top 10, featuring the best sports stories from around the web. Customize your newsletter to get articles on your favorite sports and teams. And the best part? It's free!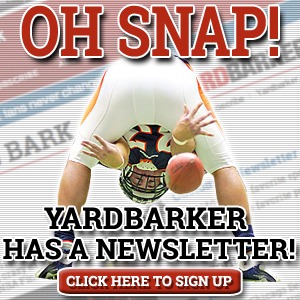 Latest Rumors
The Backyard

Today's Best Stuff

For Bloggers

Join the Yardbarker Network for more promotion, traffic, and money.

Company Info

Help

What is Yardbarker?

Yardbarker is the largest network of sports blogs and pro athlete blogs on the web. This site is the hub of the Yardbarker Network, where our editors and algorithms curate the best sports content from our network and beyond.