Found October 28, 2011 on Larry Brown Sports:
From Larry Brown Sports: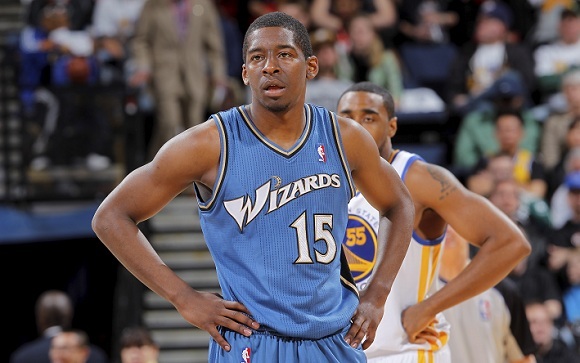 You may remember Jordan Crawford for his dunk embargoed around the world. He's come a long way since the day when Nike blocked his embarrassment of LeBron James. Crawford, a second-year guard with the Wizards, had a great NCAA tournament with Xavier before becoming a first-round pick in 2010. Last season with the Wizards, he averaged nearly 12 points per game and 24 minutes. Nothing spectacular, but it won't stop Crawford from believing in himself.
Take a look at some comments he made recently.
"I don't tell nobody, but I feel like I can be better than Michael Jordan," Crawford said, without the slightest hint of sarcasm. "When I'm done playing, I don't want people to say, Michael Jordan is the best player. I want that to be me. That's how I am. That's how I was built."
When told that people would think he was crazy for saying that, Crawford didn't back down.
"Yeah, I know that, I definitely know that. But I'm not settling for anything less," Crawford said. "I feel like I'm better than him, anyway. My mom is going to say I'm better than him."
Laugh all you want, but I'd much rather have a player who believes in himself than someone like Kwame Brown. As long as Crawford doesn't get crazy and start jacking up 30 shots per game, having confidence is a necessary tool for athletes. Keep dreaming Jordan, and prove everyone wrong.
Also from Larry Brown Sports
Michael Jordan talks trash to Bill Clinton on golf course
LeBron James recruiting point guards via Twitter
Was Kris Humphries Kim Kardashian's second choice as a boyfriend?
Original Story:
http://larrybrownsports.com/basketbal...
THE BACKYARD
BEST OF MAXIM
AROUND THE WEB
RELATED ARTICLES
It takes some serious skill to be able to dunk over LeBron James. But it takes a lot more than that to be better than a six-time world champion, five-time MVP and 10-time scoring champion. But Jordan Crawford, a 2010 first-round draft pick playing for the Washington Wizards, apparently aspires to be better than Michael Jordan. And he thinks it could be in the cards. "I don&...
Washington Wizards Jordan Crawford says he can be better than Michael Jordan
Jordan Crawford, the 23-year-old guard who has played in a single, 23-59 NBA season: "'I don't tell nobody, but I feel like I can be better than Michael Jordan,' Crawford said, without the slightest hint of sarcasm. 'When I'm done playing, I don't want people to say, Michael Jordan is the best player. I want that to be...
Nick Young is back in your living rooms in this episode of the Nick & JaVale Show. Nick is a bit of a slow starter when it comes to dunking. In this video, Mr. Young attempts to perform the off-the-backboard, through-the-legs, tomahawk dunk unsuccessfully about 50 times. He temporarily gives up on this throw down and goes back to some more basic attempts. After dishing out...
Up until now, Jordan Crawford's biggest accomplishment had been dunking on LeBron James during an offseason run (the infamous dunk footage that Nike tried to confiscate in 2009.) He's now talking about one day being better at basketball than Michael Jordan. The Wizards may not be a very good team right now, but they do set some awfully big goals for themselves. Per the WaPo...
Apparently the Wizards' center is eligible to become a naturalized player "for any country." The Philippine Star reports that JaVale McGee is trying to become a naturalized citizen of the Philippines before the 2014 World Championship: "If everything falls into place, Smart Gilas Pilipinas will have the Washington Wizards' seven-foot center JaVale McGee as naturalized...
NBA Commissioner David Stern canceled an additional two weeks of the season on Friday after the league and its players' union were unable to resolve their labor dispute and come to terms on a new collective bargaining agreement. The league already eliminated the first two weeks, wiping out 100 games though Nov. 14, and the next round will take away 108 games through Nov. 30. ...
Last week, John Wall hit the streets of New York City to celebrate the release of his new signature shoe, the Reebok Zig Encore. After all the commotion died down, we got a chance to catch up with John to chat about his new kicks, the Wizards and Kentucky's chances this season. *** *** *** [...]
Years ago there existed a cute American band called The Knack, who had a hit with the single "My Sharona." Not long after their single shot to the top of the charts, The Knack's lead singer and principal songwriter Doug Fieger gushed to the press that his band had "the craft, the excitement, feeling and love that the Beatles brought to rock and roll." The...
Wizards shooting guard Jordan Crawford tells the Washington Post's Michael Lee, "I don't tell nobody, but I feel like I can be better than Michael Jordan." Nicolas Batum -- absolutely killing it in EuroLeague play. Nick Gibson of Sheridan Hoops: "Batum threw up a ridiculous line of 26 points, seven rebounds and eight assists with a pair of steals and a ranking...
We don't watch The View. But we do watch The Daily Show, and Tuesday night's "moment of zen" caught our eye for a good reason. Apparently the ladies of the daytime talk show have been wearing NBA jerseys, and recently, it was the Wizards turn to get the honors. As you can see from the high quality picture we took of our TV as we were falling asleep, Sherri Shepherd and...
Latest Rumors
The Backyard
Going Viral

Today's Best Stuff

For Bloggers

Join the Yardbarker Network for more promotion, traffic, and money.

Company Info

Help

What is Yardbarker?

Yardbarker is the largest network of sports blogs and pro athlete blogs on the web. This site is the hub of the Yardbarker Network, where our editors and algorithms curate the best sports content from our network and beyond.