Found November 21, 2013 on Sports-Glory:
J.R. Smith is panicking following the New York Knicks' 103-96 overtime loss to the Indiana Pacers on Wednesday. "We're frustrated," Smith said, per ESPNNewYork.com. "Like you say, it's too early to panic, but me, personally, I'm panicking. I don't like this. "I don't want to play 3-8 basketball," Smith continued. "I don't want to play 50-50 basketball. If we're going to be a championship-caliber team and call ourselves that, then we've gotta play like that. It can't be no other way." The Knicks have lost four straight, six straight at Madison Square Garden, and have shown a lack of effort throughout the season.  The team is 2-5 since losing Tyson Chandler to a fractured right fibula. "Lack of intensity," Smith said. "I hate to say it, but our defense's backbone is on Tyson, and Tyson's not here right now. And we know that, and he's not going to be available for a few weeks now, so we've gotta step it up individually. It's a team game, but individually we've got to take pride in guarding the ball, guarding our man. We have to enjoy stopping the other team." Carmelo Anthony had 30 points and 18 rebounds, while Smith had 21 points but missed an open 3 with 57.1 seconds remaining and a tip at the end of regulation. The Knicks led by three with 9.2 seconds left.  But Iman Shumpert was called for a foul on Paul George's 3-point attempt, and George made all three of his free throws to force overtime. "We play too up-and-down," Smith said. "When we are on the highs, we are great. When we are on the lows, we are terrible. We got to have that steady pace throughout the whole year. "We lost to teams we have no business losing to," Smith later added. The post J.R. Smith after Knicks fourth straight loss: 'I'm panicking' appeared first on Sports Glory.
Original Story:
http://sportsglory.com/nba/j-r-smith-...
THE BACKYARD
BEST OF MAXIM
RELATED ARTICLES
Despite so much promise at the onset, the prospects of the New York Knicks season are sinking fast. Sitting at 3-7, the Knickerbockers have dropped three straight games after losing a road game to the Detroit Pistons on Tuesday. To make matters worse, owner James Dolan has been on the warpath, diminishing the role Knicks […]The post Uh-oh, Carmelo Anthony is starting to refer to...
Knicks point guard Raymond Felton sat out during yesterday's game against the Pacers due to hamstring soreness and a pinched nerve in his hip. This is the second game in a row Felton's missed and it couldn't have come at a more inopportune time with New York struggling to secure many victories. With Chandler (fractured right fibula), World Peace (sore knee) and now Felton ...
Does Carmelo Anthony not receive superstar calls? Right before the New York Knicks were about to go into overtime in a game they probably should have won in regulation, Carmelo Anthony had one final attempt to stop the Knicks dreaded losing streak at home. As the play unfolded, Melo clearly had contact with Indiana Pacers rising star, Paul George. So often times Melo creates the...
He actually may already be out, we aren't sure. He hasn't updated anything to say he has been set free, so if someone is holding him hostage in a garage (most likely lack of electricity), please let him go. Article found on: Next Impulse Sports
With a team sporting a roster of Carmelo Anthony, Tyson Chandler, Iman Shumpert, and Andrea Bargnani, one would think the Knicks would be better than their 3-8 record. But alas the Knicks are way below .500 and are looking like pretenders instead of contenders in the East. And that s enough for J.R. Smith to already be hitting the panic button. "We're frustrated...
Mike Woodson defended his harsh treatment of Iman Shumpert and lobbied for better treatment by the officials of Carmelo Anthony in a radio interview Thursday. Woodson said he believes Anthony's final shot in regulation Wednesday night – a 12-foot turnaround over Paul George – could have been called a foul as contact ensued. The Knicks wound up losing in overtime, 103-96 to...
The New York Knicks have not started the season the way they would have liked. Sitting at 3-8 and coming off of a tough loss against the Pacers Wednesday, things are not going good. The Knicks have to do something to help save the season and even seasons beyond this year. With Carmelo Anthony being […]The post Potential New York Knicks Trade appeared first on The League News.
Carmelo Anthony was asked Wednesday night whether he believes Iman Shumpert will be part of the New York Knicks' future despite rampant trade speculation. "I think he is," Anthony said. "We have a lot of expectations for Iman." The Knicks fell to 3-8 on the season in an overtime loss to the Indiana Pacers on Wednesday. Shumpert committed a foul late in the...
Despite an atrocious start to their 2013-2014 NBA campaign, the New York Knicks are still very capable of turning things around and doing damage in the Eastern Conference.With a few teaks here and there, the Knicks will be able to weather the early part of this season and turn things around down the stretch.Win the Battle on the BoardsLosing Tyson Chandler is a big loss. His presence...
By Kenneth Teape Indiana Pacers vs. New York Knicks Post Game Recap When quite possibly the best game you play in the season results in a loss you know things are going tough and that is exactly how it is going for the Knicks tonight after they lose their fourth straight game, fifth at home, to the Pacers 103-96. The Knicks effort was there from the start as they jumped out to a...
If Carmelo says it, then it is written. The Knicks are doing everything they can to appease Melo right now, so they might want to pay attention to these comments. Shumpert who is struggling under the weight of trade rumors may be able to calm down now.  According to Ian Begley of ESPN New York, Anthony believes "Shumpert is an important piece of the Knicks future." Carmelo...
Knicks News

Delivered to your inbox

You'll also receive Yardbarker's daily Top 10, featuring the best sports stories from around the web. Customize your newsletter to get articles on your favorite sports and teams. And the best part? It's free!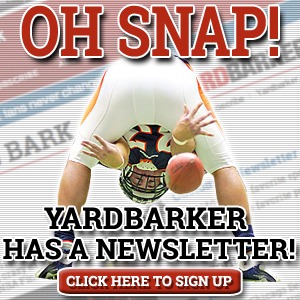 Latest Rumors
Best of Yardbarker

Today's Best Stuff

For Bloggers

Join the Yardbarker Network for more promotion, traffic, and money.

Company Info

Help

What is Yardbarker?

Yardbarker is the largest network of sports blogs and pro athlete blogs on the web. This site is the hub of the Yardbarker Network, where our editors and algorithms curate the best sports content from our network and beyond.