Found July 09, 2013 on Pass The Pill:
Photo Credit: hoopeduponline.com As we all know by now, Dwight Howard is no longer a Los Angeles Laker. Before he left, Howard was seen as the big man that would follow in the foot steps of the many legendary Laker centers before him, most notably hall-of-famer Kareem Abdul-Jabbar. However, after his departure, there seems to be no love loss between the two, as Abdul-Jabbar took to social media to share his thoughts about Howard's game, and they weren't exactly complimentary. And by not exactly, I mean not even close. Here are some comments from Abdul-Jabbar courtesy of ESPNLA: On Monday, Abdul-Jabbar chimed in on Twitter and Facebook and wrote, "Dwight Howard is a perfect example of the fact that 'potential has a shelf life.' Abdul-Jabbar told the San Francisco Chronicle last month he met Howard only once and that Howard expressed an interest in learning from the former Lakers captain but he never again reached out to Abdul-Jabbar. "He's charming, he's charismatic, very nice young man," Abdul-Jabbar said. "Maturity-wise, he doesn't get it." When Abdul-Jabbar was asked about teaching Howard the sky hook, he said, "At least he'd have an offensive move. "He gets the ball on offense, oh my God, he doesn't know what to do. It's usually a turnover, people come and take the ball from him or tie his arms up. Offensively, he doesn't get it. Hasn't made any progress. We (the Lakers, when Abdul-Jabbar was a special assistant coach) played them in '09, and when I saw him this past season, he was the same player." As we know, Kareem isn't the first Lakers center to put Dwight on blast; that title belongs to Shaq. Kareem and Shaq seem to be doing that thing where all of your friends tell you how much they hate your ex-girlfriend AFTER you break up with her. However, that doesn't necessarily make them wrong, either. While I think they are acting a bit immature themselves, Kareem in particular, it is a fair assessment of Howard's game to say he has yet to develop a go-to offensive move. Given his talent, and the fact he has been in the league for almost a decade now, that is more than a fair criticism. Thankfully though, the Dwightmare is over, and everyone should eventually move on, Howard and Lakers like. By: Frank Santos- Pass the Pill Manager The post Kareem Abdul-Jabbar blasts Dwight Howard appeared first on Pass The Pill - Kings of Hoops.
Original Story:
http://sports-kings.com/passthepill/k...
THE BACKYARD
BEST OF MAXIM
RELATED ARTICLES
Houston Rockets: Dwight Howard Contract Grade By Mike Elworth: Owner and Publisher/Hoopstuff… Contract 4 years, 88 million - Well the Dwight Drama is finally over, as Dwight Howard, after almost three years, has chosen his long term destination, Houston. I am not going to talk about his immature actions, or him hurting the Magic and Laker franchises and all of the annoyances he...
ANTISOCIAL MEDIA
Now that Kobe and Dwight Howard are no longer teammates, the Mamba took some time to explain why he unfollowed Howard.
Thanks to the fine folks over at TMZ, we might have gotten to see the moment that Los Angeles Lakers forward Metta World Peace signed with the Houston Rockets. Check it out in the below video: Metta World Peace — Wait, Dwight Howard's Going to Houston??? - Watch More Celebrity Videos or Subscribe *** Metta learns of D-12 signing with Rockets [TMZ]
Dwight Howard announced he is signing with the Houston Rockets on Friday. Within minutes of his official decision, you would think anyone who has anything to do with the NBA would have known about it. Either Metta World Peace is just messing with people again, or it took him more than a day to hear the news. [...]
WRONG SPORT
Phil Jackson tried to make sense of Dwight Howard's decision to sign with Houston, and he called him an "Astro" in the process.
In the aftermath of Dwight Howard's decision to sign with the Houston Rockets, word began to spread that Rockets center Omer Asik had no interest in playing with or behind Howard and he wanted to be traded.Since then, Brian Windhorst of ESPN has verified that Asik has formally asked the Rockets to trade him. And it was at that moment that Asik found out just how much pull and influence...
  Well... that didn't quite work out the way we all expected.  Dwight Howard turns out to be a 1 year rental, and the Lakers serve as a placeholder for him whilst he recuperates from back surgery.  Now, I realise that's to paint the scenario in pretty much what amounts to the worst possible light, but what there is incorrect?     So... Dwight Howard...
If the Lakers would have hired Phil Jackson as their head coach, Dwight Howard would still be in LA, but they didn't and he is gone. Phillip chimed in on the situation with some smooth slander of Dwight Howard. What DH brings to the game is power and D. This past year didn't show due it to rehab and confusion. If he is better of an Astro, so be it. — Phil Jackson (@PhilJackson11...
The Houston Rockets have acquired Dwight Howard via free agency, and everyone seems to be excited and overly confident. After finally get Dwight Howard to agree to a four-year $88 million deal, Rockets head coach Kevin McHale told ESPN L.A. that "D12 makes them a threat, and that the Rockets can now compete with anybody." "We'll see. Let's get everybody together," McHale...
Looks like the Lakers have their backup plan, now that Dwight Howard is Houston bound. Free agent center Chris Kaman and the Lakers have agreed to a one-year deal, according to a report by ESPN.com on Monday. Kaman was the sixth pick in the 2003 draft and played his first eight NBA seasons with the Clippers. Since then, he's spent a year in New Orleans, where he was dealt as...
With all the salary cap space the Los Angeles Lakers are expected to have in 2014 after losing Dwight Howard to the Houston Rockets, there has been some speculation that they could make a run at a big name free agent like Carmelo Anthony. Anthony and Bryant have a close relationship, and there have been [...]
Lakers News

Delivered to your inbox

You'll also receive Yardbarker's daily Top 10, featuring the best sports stories from around the web. Customize your newsletter to get articles on your favorite sports and teams. And the best part? It's free!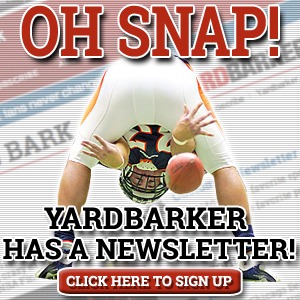 Latest Rumors
Best of Yardbarker

Today's Best Stuff

For Bloggers

Join the Yardbarker Network for more promotion, traffic, and money.

Company Info

Help

What is Yardbarker?

Yardbarker is the largest network of sports blogs and pro athlete blogs on the web. This site is the hub of the Yardbarker Network, where our editors and algorithms curate the best sports content from our network and beyond.