Found May 16, 2013 on Celtics Life:
Say what you want about John Hollinger's player efficiency rating. While it might not be the holy grail of advanced statistics, it's generally a good indicator of production. And when a player manages to have a negative rating over an entire postseason, you can be absolutely certain that he was horrible. Kendrick Perkins had a PER of -0.7 in 11 playoff games for the Thunder, the worst ever for a player with over 200 minutes. Perk finished with 24 turnovers, 24 points, 39 fouls, and only five blocks in the Thunder's disappointing run, shooting a mind-boggling 17% from the field in 5 games against the Memphis Grizzlies. Head coach Scott Brooks somehow decided to play his broken-down center 23 minutes per game, and Perkins repaid his boss with an atrocious plus/minus of -40. Kendrick has never been able to create his own shot, but he was at least serviceable on offense for the C's. Unfortunately, he now struggles to even get off the ground, causing him to miss a barr...
Original Story:
http://www.celticslife.com/2013/05/ke...
THE BACKYARD
BEST OF MAXIM
RELATED ARTICLES
Kendrick Perkins finished the 2013 NBA Playoffs with a PER of -0.7, which is the worst on record for a player with 200 or more minutes. Perkins had 24 turnovers, 24 points, 39 fouls, five blocks and a plus/minus of -40 in the playoffs. Perkins was acquired by the Oklahoma City Thunder in 2011 in a trade involving Jeff Green. Scott Brooks played Perkins 23.3 minutes per game in the...
If you watched any of the Oklahoma City Thunder's Post-Wesbrook injury playoff games this year, it was pretty obvious they missed the mercurial point guard's offensive firepower. What was also painfully obvious was that Kendrick Perkins was flat out terrible. You didn't need to look at any boxscores to confirm what your own eyes were The post Kendrick Perkins Just Had The Worst...
CLASSY CREW
The Memphis Grizzlies eliminated the Oklahoma City Thunder in five games on Wednesday night, but it was the OKC fans that really won. Check out the amazing show of support from the Thunder faithful who stuck around to still chant and cheer on their team well after the final buzzer sounded. They probably also realize that they will have two very motivated 25 year-olds next year...
A season filled with championship hopes came to a quicker-than-expected conclusion for the Oklahoma City Thunder. A chance collision with Houston's Patrick Beverley knocked All-Star point guard Russell Westbrook out for the rest of the postseason, and the Thunder never recovered. Kevin Durant tried filling the void almost single-handedly, but even the three-time scoring champion...
DID I DO THAT?
During the third quarter of tonight's game 5 match-up between the Grizzlies and the Thunder, former Celtic Tony Allen accidentally flung a blue warm-up jersey from the sidelines while OKC's Derek Fisher launched a corner shot. The basket didn't go in, but the officials counted it and penalized Allen with a technical foul. The chain of events was part of a 15-4 Thunder...
Well this is certainly a head scratcher. It looks like the Oklahoma City Thunder are going to hold onto Kendrick Perkins. According to Thunder beat writer Darnell Mayberry, Thunder GM Sam Presti recently praised Perkins for about 20 minutes and also said they have no plans to amnesty him. Sam Presti on the amnesty clause: "We just haven't considered using the provision...
Needs a new mouthpiece The simple and stupid way to look at this is that Kevin Durant didn't shoot well, so he must not be that good as we thought. But what we really learned by the end of this series was that having the second-best player in the world doesn't really matter when the rest of your teammates are losing their matchups. Just like in the last series, Memphis started...
After the Oklahoma City Thunder were eliminated last night from the NBA playoffs, it was safe to assume that many Seattle fans were pleased to see their former team fall short of another NBA title run. While it's normal for fans to rip the Thunder on Twitter, this might be the first time that the Washington Department of Transportation decided to do so. Watch as their Twitter account...
The Oklahoma City Thunder are not considering using the amnesty clause on Kendrick Perkins. "We just haven't considered using the provision. ... We think Perk has a lot of value to our team," Sam Presti said Saturday. Perkins is set to make about $18 million over the next two seasons.
When Russell Westbrook went down, OKC's lone remaining star needed to do it all for the Thunder. Ultimately, he couldn't.
The Oklahoma City Thunder bowed out to the Memphis Grizzlies in the Western Conference semi-finals, and now there are several questions the organizations needs to answer. The biggest question that needs to be answered is what will the Thunder do with center Kendrick Perkins.  Thunder GM Sam Presti commented about Perkins and the idea of amnestying him today via Thunderous Intentions...
Lionel Hollins has gotten the Memphis Grizzlies within a win of reaching the Western Conference Finals, a place the franchise has never been. His team has thoroughly outplayed a Thunder team that includes Kevin Durant, who is performing at a higher level than he ever has before. Yet that success should not insulate Hollins from criticism for some very curious decisions. Channeling...
NBA News

Delivered to your inbox

You'll also receive Yardbarker's daily Top 10, featuring the best sports stories from around the web. Customize your newsletter to get articles on your favorite sports and teams. And the best part? It's free!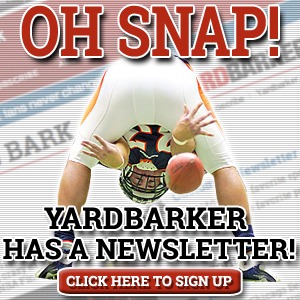 Latest Rumors
Best of Yardbarker

Today's Best Stuff

For Bloggers

Join the Yardbarker Network for more promotion, traffic, and money.

Company Info

Help

What is Yardbarker?

Yardbarker is the largest network of sports blogs and pro athlete blogs on the web. This site is the hub of the Yardbarker Network, where our editors and algorithms curate the best sports content from our network and beyond.