Found December 04, 2012 on Fox Sports West:
PLAYERS:
Chris Paul
,
Chauncey Billups
,
Blake Griffin
,
DeAndre Jordan
,
Steve Nash
,
Pau Gasol
,
Tim Duncan
,
Tony Parker
,
Gregg Popovich
,
David Stern
,
Pablo Prigioni
,
Jason Kidd
,
Raymond Felton
,
Vinny Del Negro
TEAMS:
Los Angeles Clippers
,
Detroit Pistons
,
Denver Nuggets
,
Orlando Magic
,
Los Angeles Lakers
,
Miami Heat
,
San Antonio Spurs
,
Washington Wizards
,
New York Knicks
It is a luxury to have two of the best leaders in the NBA on one team. That is exactly what the Clippers have in guards Chris Paul and Chauncey Billups. CP3 was voted by the general managers in 2012 as the best point guard and leader in the NBA - the previous winner of the award - was his current teammate, Chauncey Billups.Billups is the sage voice of reason, usually found in the retired great players. The only difference here is, Billups still plays and at a very high level. Everybody understood how mentally tough Billups was - becoming the finals MVP - as he led the Detroit Pistons to a championship. But that does not compare to the challenge he faced at 36-years old, coming back from a torn Achilles tendon in less than a year. When Billups stepped onto the court last week, the whole arena, especially head coach Vinny Del Negro and the rest of the Clipper players were visibly uplifted. He got the team really excited to play basketball again after a four-game skid. His contribution far exceeds his basketball playing ability, by just being on the court he makes everyone around him better. And the Clippers are undefeated with Billups back in uniform and have improved their assist to turnover ratio. Their once feared fast-break attack is back, because their defense is now back to where it should be. Paul looks more confident and rested. He has an additional point guard to help shoulder the load and also as an additional shooter to help spread the court. Even though Billups is only playing a limited 20 minutes, the rest he will provide Paul for the postseason is invaluable. Blake Griffin and DeAndre Jordan perhaps benefit the most from Billups being back. They are the most talented and athletic four and five combination in the NBA, but still young and emotional. It takes a special voice - with knowledge and respect - to communicate in the heat of a game. These are two guys with the biggest upside and stand to gain the most from Billups' return. LA drama What causes a talented team to be so inconsistent? To soundly beat the a strong Western Conference team in the Denver Nuggets, and then turn around and lose to the Orlando Magic, a cellar dweller in the East. It is frustrating and confusing at best. The Lakers have one of the best starting fives in the league, but they do have issues - they are without their two point guards and they have a new coach and a new system. Mike D'Antoni points to the fact that things will be different when Steve Nash is back. Everyone has acknowledged that the Lakers bench is weak. The team itself has questioned whether Pau Gasol is playing at his best. When a hugely talented team is inconsistent and underachieving, it almost always comes back to energy and effort. The Lakers are playing without a sense of urgency on both ends of the court. It is not important enough yet. They do not have the killer instinct that makes a championship team. Don't expect Nash to come back and save the day. Without the will to make every minute count, this is going to be a very long season. San Antonio fine The San Antonio Spurs were fined 250,000 for not bringing their top four players to play against the Miami Heat in a nationally televised game. This is San Antonio's only visit to Miami. The great fans of the Miami will not get to see Tim Duncan, Tony Parker or Manu Ginobli at any other point in person. The Spurs are also one of the best teams in the West and a great rival of the Heat. This was a nationally televised game. Networks and their advertisers pay a great deal of money for the rights to these games, not to mention the fans that plan ahead to watch them. The Spurs did not notify anybody about sitting the players - including the Heat, the NBA or anybody else. I know that this was a difficult decision and there are many sides to this story. The Spurs are one of the best organizations in all of sports and Gregg Popovich is the best coach in the game today. But the bottom line is, the fans, whether they are watching in person or on television, pay a great deal of money to see their favorite players and teams. The fans pay for all the players salaries and make the NBA the great brand that it is. They deserve the best product and David Stern is going to make sure that they get it. Fantasy tip Nene of the Washington Wizards has been hurt most of the season. He recently returned to the lineup and looked like the Nene of old. As he rounds into form, he could be a great bargain. New York Knicks 6-3 rookie guard Pablo Prigioni from Argentina added to consecutive great games against Washington and Milwaukee. He averaged 26.5 minutes, 9.5 points, six assists and two rebounds while shooting a blistering 78 from the field and going 4-for-5 from three-point range. With Jason Kidd and Raymond Felton hurt and possibly out for a while, Prigioni looks like he will get more playing time, is a good bet to up his stats.
Original Story:
http://www.foxsportswest.com/12/04/12...
THE BACKYARD
BEST OF MAXIM
RELATED ARTICLES
Chauncey Billups missed nearly ten months after tearing his achilles tendon last year.  Upon return, Billups has only been able to get into three games this season, and now he's injured again.  Billups sat out last nights game between the Los Angeles Clippers and the Dallas Mavericks with a foot injury. According to Melissa Rohlin of the Los Angeles Times, Billups has an inflamed...
LOS ANGELES -- Clippers guard Chauncey Billups, who returned to the lineup two weeks ago from a torn left Achilles tendon that cost him most of last season, was back on the bench Wednesday night after he was scratched because of inflammation in his left ankle. The injury is not related to the Achilles injury Billups sustained last season and spent the past nine months rehabilitating...
Chauncey Billups will miss Wednesday's game against Dallas because of an inflamed tendon in his left ankle. Billups said that the injury has nothing to do with the torn Achilles' tendon that kept him sidelined for nearly 10 months. "It has no relation to the Achilles at all," Billups said. "It's a peroneal tendon that's kind of below the ankle bone, not behind the...
Clippers guard Chauncey Billups became the latest player to receive a warning for flopping Wednesday as the NBA came down on him for kicking out his leg on this 3-point attempt.  The Clippers trailed by 2 with 1:14 seconds left in Monday's game at Utah, so when Chauncey Billups attempted a 3-pointer, he kicked out his leg hoping to be awarded 3 free throws, and he was. Billups...
He was back and now he's back on the bench…..again. This time, it's peroneal tendinitis in his left foot. And the timetable for his return on this  injury is about 2 weeks. Man, the basketball Gods keep messing with Billups. Here's Chauncey on the new injury: "It was something I really wanted to get checked out because I felt like I worked too hard to get back to play...
Chauncey Billups is out indefinitely with peroneal tendinitis in his left foot.
While Chauncey Billups hasn't put up huge numbers, his presence appears to have given the Los Angeles Clippers a bit of a boost. The Clippers look to win their third straight game with the five-time All-Star back in the lineup Monday night when they visit the Utah Jazz, who will try for their 13th consecutive regular-season win at home. Billups has played less than 20 minutes...
One of the overriding themes in Chris Kaman's years-past time with the Los Angeles Clippers was owner Donald T. Sterling's "Reign Of Error." One of the overriding themes of the Clippers of present-time is Sterling's willingness to maintain happiness for stars like Chris Paul, a free-agent-to-be in the summer of 2013 and a long-time Dallas Mavericks acquisition...
The road is full of potholes, and the Clippers almost fell into one Monday night. If they had, it wouldn't have been too surprising; teams don't go to EnergySolutions Arena in Salt Lake City with big hopes. The Utah Jazz were one of only three teams still unbeaten at home this season, and they seemed perfectly situated to beat the Clippers. But for all their missteps over...
Every morning, we will give you five things from the night before in the NBA to start your day. 1: Paul, Griffin come alive in final act/quarter A good piece of music rises and falls like a good story. It climaxes at the end and builds and builds. Excuse the cliche, but it fits what happend when the Clippers won at EnergySolutions Arena, erasing a 10-point deficit entering...
NBA News

Delivered to your inbox

You'll also receive Yardbarker's daily Top 10, featuring the best sports stories from around the web. Customize your newsletter to get articles on your favorite sports and teams. And the best part? It's free!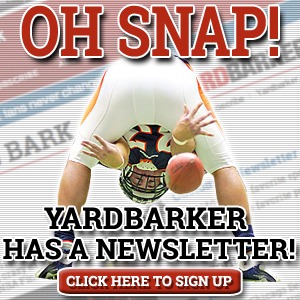 Latest Rumors
The Backyard

Today's Best Stuff

For Bloggers

Join the Yardbarker Network for more promotion, traffic, and money.

Company Info

Help

What is Yardbarker?

Yardbarker is the largest network of sports blogs and pro athlete blogs on the web. This site is the hub of the Yardbarker Network, where our editors and algorithms curate the best sports content from our network and beyond.