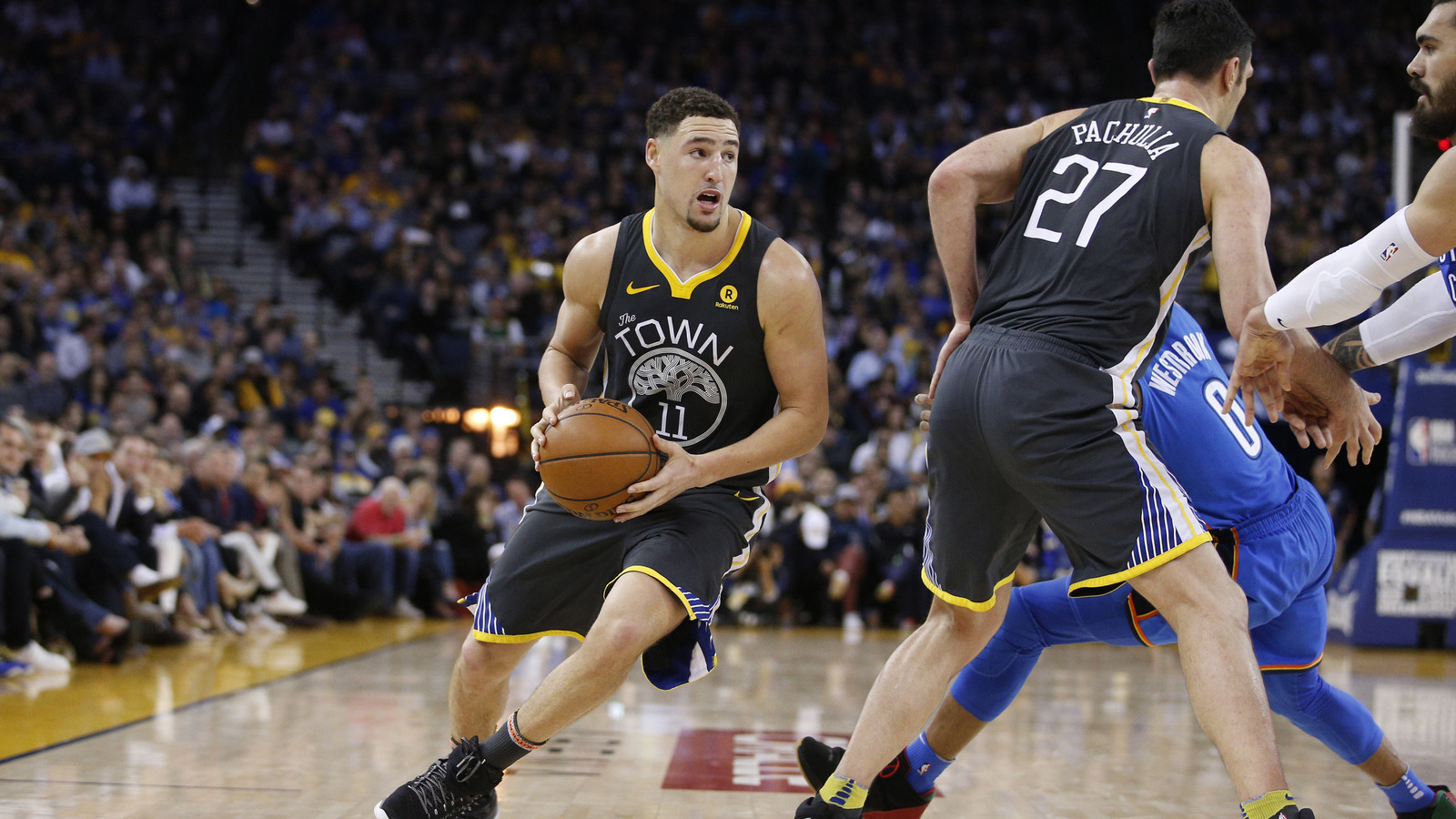 Feb 6, 2018; Oakland, CA, USA; Golden State Warriors guard Klay Thompson (11) looks for room to dribble against the Oklahoma City Thunder in the third quarter at Oracle Arena. 
Cary Edmondson-USA TODAY Sports
The defending champion Golden State Warriors are going to have a decision to make with All-Star guard Klay Thompson at some point in the not-so-distant future. Already far beyond the NBA's luxury tax, a long-term commitment to Klay could mean a $400-plus million payroll down the line, especially with Kevin Durant set to earn a super-max deal this coming summer.
Thompson, 27, has one more season remaining on his current contract. As one of the best two-way players in the game, he's surely set to receive a max deal himself. It has led to speculation that either Klay will look to move on to another team where he will be "the guy" or the Warriors will look to move him after the season.
While we have no real idea what the Warriors' plans are, Klay's father and former Los Angeles Lakers legend, Mychal, is here to put to bed any rumors that his son wants out of dodge.
"He doesn't need to be 'the guy,'" Mychal Thompson told SiriusXM NBA Radio (h/t the Sporting News). "He loves playing there. He loves playing with Steph and KD and the whole crew. He loves living in the Bay Area, it's a special place, and they're going to have a beautiful, new arena in a couple of years in San Francisco. So Klay is not looking to leave. That's up to the Warriors."
Short of Golden State trading Thompson, it appears he's going to be with the franchise long term. Mychal is closer to his son than any media member out there. He knows what's going through Klay's mind.
On the other hand, Golden State is reportedly going to make a run at Pelicans All-Star Anthony Davis via a trade during the summer. If that ever came to fruition, Klay would have to be the central piece going back to New Orleans for Davis.
In any event, it's definitely an interesting story to follow as the 2017-18 season comes to a conclusion and the NBA's hot stove heats up.
MORE FROM YARDBARKER:
QUIZ: Name the second-leading scorer on every NBA Champion since 1980
How many 'second fiddles' from every NBA champion in the modern era can you name in six minutes?
CLUE: YEAR / TEAM / POINTS PER GAME
MORE FROM YARDBARKER
NBA News

Delivered to your inbox

You'll also receive Yardbarker's daily Top 10, featuring the best sports stories from around the web. Customize your newsletter to get articles on your favorite sports and teams. And the best part? It's free!