Found August 29, 2012 on Sports-Glory:
New York Knicks forward Carmelo Anthony told the New York Post that he wants the team to have the same mentality Team USA had during its gold-medal winning effort at the London Olympics.  
"I'm excited to get this thing going," Anthony said. "Especially coming off this run we just had with the USA team. To be able to put that team together and still be able to accomplish something. I want to bring that mentality back here to the Knicks."

The Knicks have been criticized for a lack of chemistry between the players since the team acquired Anthony in February 2011.   Anthony, Amar'e Stoudemire and Tyson Chandler will have to form a bond quickly with newcomers, Jason Kidd, Raymond Felton and Marcus Camby for a chance to contend for an NBA title.
"I'm excited, everybody's working," Anthony said during a ProCamps event at St. John's University. "Amar'e is in the gym, Iman [Shumpert] is getting his knee right, Tyson was out there with me. We have veteran guys who we don't really have to teach the game to. It's a matter of putting it all together and making this run."

"I'm ready to see what [Stoudemire] added to his arsenal," said Anthony. "I'm excited by the fact that he even went down there to work with [Olajuwon]. That's a big step forward."
Original Story:
http://sports-glory.com/xn/detail/628...
THE BACKYARD
BEST OF MAXIM
RELATED ARTICLES
Jeremy Lin won't be making a return to the Big Apple next season, but Raymond Felton will be. After leading the Nets to back to back NBA Finals appearances in 2002 and 2003, Jason Kidd will also make a return to the tri-state area as he too dons orange and blue for the Knicks this fall.With two quality point guards ready to compete for major minutes, is it obvious which one should...
The Knicks can sign players and trade players, but the team will sink or swim with the game of Carmelo Anthony at the helm. I'm not saying he has to do it all, I actually think he needs to do less. Having trust in his teammates is über important. Not many stars can have that trust. Speaking of trust, Alan Iverson was one of those players that had a hard time trusting his teammates...
Point guard Raymond Felton had his worst season as a pro last season it Portland but more of that was the system he was playing in. Now, he is back in New York and ready to show people he can still play. Felton will be playing point guard for the departed Jeremy Lin. The Knicks also brought in Jason Kidd but Felton is still the unquestioned starter. Raymond Felton wants...
At 39 years old, Jason Kidd probably is not looking to become the next great New York Knicks point guard. Eighteen years into his NBA career, Kidd would be content to merely help the Knicks' apparently incompatible stars find a way to play together. And that could make him the perfect conductor of an otherwise dysfunctional orchestra. The Knicks were a mess last season, as they...
….twice.   I think the Melo stans are dwindling day by day. His inability to simply get the job done down in New York has minimized his reputation to just a cat that can give you 20 points any given night but it stops there. And to win a chip in the NBA you need to bring more to the table. But he paid right?
Back on Tuesday, New York Knicks star center Tyson Chandler was back home in California and got the chance to stop by Good Day LA.Check out the full-length interview in the below video with Good Day LA's Jillian Reynolds and Steve Edwards: (Courtesy of Hooped Up)
  I can vividly remember playing pickup basketball as a kid. I was horrible back then. I had no athletic ability; I couldn't jump, run or shoot.  The best attribute of my game was passing simply because I had no other options.  I can remember listening to guys shoot the ball, yelling "Kobe" as the ball goes through the net.  I used to wish that I had that ability.  I practiced...
Earlier tonight, New York Knicks star Carmelo Anthony and his wife, La La Vazquez were spotted at the 2012 U.S. Open tennis tournament supporting friend, Serena Williams.Here are just some of the pictures:(Courtesy of The Windy Apple)
It takes two to make a thing go right; it takes two to make it out of sight. These famous words by Rob Base are fitting for Amare Stoudemire and Carmelo Anthony. Well, Ok not as famous as you think, but a classic line in a song from my generation. Amare to Melo and Melo to Amare are the keys to sustainable success in New York City and the Knicks. This task would be difficult...
Boston loves Scal.  Of course, we didn't always.  People tend to forget that early on in Scal's tenure here, a lot of people hated him.  But they were under some impression that him popping wide open 3′s as a result of being set up by Jason Kidd would continue without him when he joined a crappy team.  People also tend to forget he was part of two losing seasons in Boston...
Knicks star Carmelo Anthony and his wife Lala were spotted at the US Open cheering on one of  Lala's BFF's, Serena Williams.   photos via IFWT
Knicks News

Delivered to your inbox

You'll also receive Yardbarker's daily Top 10, featuring the best sports stories from around the web. Customize your newsletter to get articles on your favorite sports and teams. And the best part? It's free!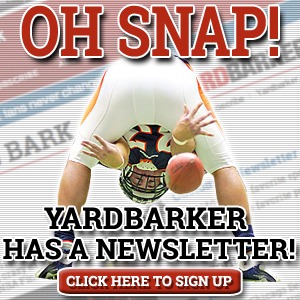 Latest Rumors
Best of Yardbarker

Today's Best Stuff

For Bloggers

Join the Yardbarker Network for more promotion, traffic, and money.

Company Info

Help

What is Yardbarker?

Yardbarker is the largest network of sports blogs and pro athlete blogs on the web. This site is the hub of the Yardbarker Network, where our editors and algorithms curate the best sports content from our network and beyond.