Found January 10, 2013 on Awful Announcing:
PLAYERS:
Kobe Bryant
,
Dwight Howard
,
Darnell Dockett
,
A.J. McCarron
,
Brandon McCarthy
,
Dan Ellis
,
Paul Bissonnette
,
Evander Holyfield
,
Jose Canseco
,
JaVale McGee
,
T.J. Lang
,
Barack Obama
TEAMS:
Los Angeles Lakers
,
Arizona Cardinals
,
Arizona Diamondbacks
,
Anaheim Ducks
,
Arizona Coyotes
,
Denver Nuggets
,
Green Bay Packers
,
Tampa Bay Lightning
,
Notre Dame Fighting Irish
,
Alabama Crimson Tide
Athletes on Twitter – some never update (see: Rodgers, Aaron), others use it to get their name on SportsCenter (see: James, LeBron) and then we have the group that use it for other purposes: trolling, hitting on someone else's girlfriend, giving the NFL the proverbial middle finger or making fun of ridiculous rumors. Earlier in the week, there was a rumor flying around the interwebs that Kobe Bryant and Dwight Howard had to be separated after a game so they wouldn't beat the crap out of each other. Bryant, a newbie to Twitter (he joined just last Friday but already has well over 700,000 followers) used it as a vehicle to squash the rumor in the most impressive of ways – by tweeting the above picture. It was certainly a way to shut us all up and we should give Kobe credit for immediately catching on to the benefits of Twitter. In a world where too many athletes think Twitter was created to retweet happy birthday requests from fans, it's a welcome sight to see someone like Bryant get it so quickly. But Kobe squaring off with Dwight Howard got us thinking about where it might rank among some of the best tweets athletes we've ever seen.  We've already recapped some of the worst tweets sent, but these examples are some of the most memorable cases of athletes using Twitter. Such as: Arizona Cardinals defensive end Darnell Dockett. He caused quite the stir during Monday's BCS title game between Alabama and Notre Dame when he "accidentally" tweeted out his phone number to Alabama quarterback A.J. McCarron's girlfriend: This tweet of course led to an explosion across sports blogs, ESPN, Facebook, etc, and eventually led to an interesting exchange between him and McCarron. And of course after seeing that, the only thing running through my head was this gem of a scene from Kingpin: [youtube]6DN4jqynmLs[/youtube] I'm guessing Dockett will not be escorting Webb to Wingstop any time soon. Next we have Oakland A's pitcher Brandon McCarthy. Over the summer, McCarthy was hit in te head by a line drive and had to undergo brain surgery - incredibly scary stuff. Luckily for all involved, McCarthy recovered and showed us he had not lost his sense of humor in the process: How can we not include Dan Ellis? Back in the day, before the latest NHL Lockout, the Tampa Bay Lightning goalie caused quite the stir with a series of tweets using the hashtag #DanEllisProblems. Although much of what he tweeted was vomitous ********, the use of his own name in a hashtag while also mocking "#firstworldproblems" was a stroke of genius: Of course, an apology statement had to be crafted and Ellis has since deleted his account. Our next candidate is also a hockey player, Paul Bissonnette, aka BizNasty.: That's just amazing. I don't think two people are more annoying together than Bayless and Smith, so even though this tweet is kind of trollish, it is also dead-on. And of course, who can forget Mike Tyson biting off part of Evander Holyfield's ear? Well, we're not sure how Holyfield feels about it in present day, but Tyson is apparently able to make fun of himself: Speaking of athletes who are using Twitter to stay relevant, no one has worked harder at it than Jose Canseco. The dude is out of his mind, and this tweet is just one of many that have given us evidence of that, although it clearly stands out from the pack: Don't we all wish that were true? We have JaVale McGee of the Denver Nuggets, predictably making no sense: I really can't picture how that would work, nor do I want to. And then there's the most memorable of all athlete tweets, the one sent by Packers lineman T.J. Lang in the wake of the screwjob in Seattle. Until Barack Obama's re-election, it was the single most retweeted message in the history of Twitter. Lang's not so subtle message has been RT'd a mind-blowing 98,313 times. **** it NFL.. Fine me and use the money to pay the regular refs. — TJ Lang (@TJLang70) September 25, 2012 It's important for high profile athletes to engage with fans on Twitter and not JUST use it as a forum to promote their brand and sponsors. Some are better than others, and some make us glad we're somewhat normal people that know how to DM, delete tweets, and understand the limits of time travel. I'm sure 2013 will have many, many more memorable tweets from athletes that will range from absurd to brilliant to well, Darnell Dockett.
Original Story:
http://www.awfulannouncing.com/2013/j...
THE BACKYARD
BEST OF MAXIM
RELATED ARTICLES
Kobe Bryant's wife, Vanessa, recently finalized the sale of one of her three Southern California mansions, TMZ reports. Kobe signed the couple's three properties over to her wife when they were beginning divorce proceedings in late 2011. Vanessa listed the 6,000 square foot mansion on sale for $3.75 million in September. TMZ reports and a listing service confirms that the property...
CALIFORNIA LOVE
It didn't look too promising for the tumultuous Bryant marriage of late, but now Kobe's better half has let the world know that things might workout for these crazy kids after all.
Ballertainment Kobe Bryant and Vanessa Bryant are one again Remember when Kobe and Vanessa Bryant were getting a divorce? Me neither. They allowed the heat from the initial divorce announcement to die down so subtlety that its easy to forget. As a refresher, Vanessa Bryant filed for divorce in December 2011. Now, in January 2013, the divorce papers have been tossed in the fire place...
Nearly a year since they first split, Kobe Bryant and his wife Vanessa Bryant have decided repair their broken marriage.... once again.According to Yahoo's OMG, that the two called off the divorce and will work things out."We are please to announce that we have reconciled. Our divorce action will be dismissed. We're looking forward to our future together," both...
NBA TV had a minor mishap to start off the broadcast of Tuesday night's LA Lakers/Houston Rockets game when they displayed the starting lineups, which featured Kobe Bryant playing all five positions for the Lakers. If Bryant could clone himself, Lakers fans would probably be pretty excited about that starting lineup. H/T SCP. Related: Steve Nash reaches milestone...
Just so everyone is aware, the Los Angeles Lakers lost, again. They were beat up by the Rockets and their problem may have been due to the lineup they put out on the court. The team is missing Dwight Howard and Pau Gasol, and we all know that Kobe Bryant can be a ball-hog at times, but this was taking it to another level. For what it is worth, this was Chris Webber's suggestion H/T Game On!
Meet Clutch. He's the beloved mascot of the Houston Rockets. As you can see, Clutch seems like a delightful character, harmless enough, exactly what folks have come to expect out of a mascot. Cute, over-sized and loveable. A mascot children as well as adults can love. But when it comes to commitment to a bit, Clutch doesn't take that kind of responsibility lightly. He's a committed...
Kobe and Vanessa Bryant didn't give up on their marriage, but Magic Johnson has divorced himself from this Los Angeles Lakers season. Facing their 6th-straight loss against the Thunder on Friday night, the former Lakers legend called it a season for the Lakers as they trailed by 16 at halftime. "It's over for my Lakers. No playoffs, no nothing," The Lakers ended up losing...
Sports Media Watch recently caught up with Washington State University professor David J. Leonard, author of the book "After Artest: The NBA and the Assault on Blackness." The primary topic of conversation is race in the sports media, including differences in coverage of Kobe Bryant and Duke Lacrosse, fighting in [...]
LOOK BEFORE YOU LEAP
It appears that things have gotten so bad for Lakers head coach Mike D'Antoni he has turned to cracking jokes about how depressed he is feeling.
At the beginning of the season, it seemed like the Lakers had it all. Kobe Bryant, one of the best players in NBA history. Dwight Howard, who is widely considered as the best center in the game. Steve Nash, who will end his career as one of the top three assist leaders in NBA history. Pau Gasol, one of the top five international players to ever play the game. Not to mention a supporting...
The Mike D'Antoni error is in full swing in the Los Angeles. Remember when Steve Nash's return was going to save the Lakers? Ah, seems like only yesterday. Well, it was only about two weeks ago. And now we have reports that Kobe Bryant and Dwight Howard almost got into it in the locker room. Welcome to LA, the land of soap operas.Since Steve Nash returned from his leg injury...
NBA News

Delivered to your inbox

You'll also receive Yardbarker's daily Top 10, featuring the best sports stories from around the web. Customize your newsletter to get articles on your favorite sports and teams. And the best part? It's free!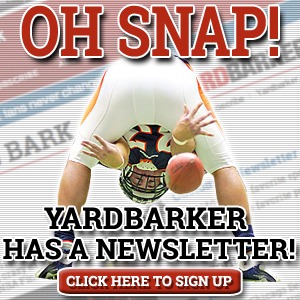 Latest Rumors
Best of Yardbarker

Today's Best Stuff

For Bloggers

Join the Yardbarker Network for more promotion, traffic, and money.

Company Info

Help

What is Yardbarker?

Yardbarker is the largest network of sports blogs and pro athlete blogs on the web. This site is the hub of the Yardbarker Network, where our editors and algorithms curate the best sports content from our network and beyond.