Found April 21, 2013 on BlackSportsOnline:
While he is injured, we should call Kobe the "Instagramba". The evolution of Kobe Bryant as he has gotten older has been remarkable. He has always maintained the same high level on the court even in his 17th season, but the change off the court has been the most shocking thing of all. A lot of the criticism of Kobe, and one of the reasons I wasn't a huge fan early on, was that appeared to be a single minded automaton. A robot bred for one purpose and one purpose only. Take the blueprint of Michael Jordan, from the way he played on the court to the way he answered questions off it, and try to be exactly like that. He was so measured and calculating that we never got to see his real personality. It is why people were so critical after the incident in Eagle, we enjoyed seeing the robot catching a virus. But with advanced age (in basketball terms, because damn, he is two years younger than me) I guess he has mellowed out and with a legacy already cemented and most questions answered, he has cut loose. When we reported that Kobe had joined Twitter back in January, the question was asked, would it be really him or some ghost tweeters. Personally, I fully expected some generic crap about great Lakers victories and occasional retweets of fans begging because it is their barber's 38th birthday. But Kobe's twitter (and then instagram) usage has been on par with his performance on the court. He has been fully interactive, and now with the injury he has a lot more time apparently. He has shown pictures going into surgery and with teammates visiting (including this hilarious picture with Pau Gasol where it is evident that Kobe hasnt mastered the crop tool). Then early this morning he sent out the above picture of his wife Vanessa wrapping his leg to take a shower with the following caption. #sexynurse shower prepping the leg for me. Can't get stitches wet but still gotta wash my ass #countonsoap "Wash my ass." Welcome to the new Kobe. He also said he will be watching the first two games against the Spurs from home and live tweeting the experience. Should make for a fun time.
Original Story:
http://blacksportsonline.com/home/201...
THE BACKYARD
BEST OF MAXIM
RELATED ARTICLES
Kobe Bryant shared a Nike "You Showed Us" print advertisement on his Instagram which he said touched him "beyond words." The ad which was featured in an LA newspaper on Sunday, features a list of inspiring and unique accomplishments made by Kobe. Each feat begins with "You showed us": You showed us that an 18-year-old could play with the best. You showed us that a championship...
Kobe Bryant might be watching the NBA Playoffs from his couch as he recovers from his torn achilles' tendon, but that doesn't mean that the series between the San Antonio Spurs and Los Angeles Lakers is missing any snakes on the floor. In a pregame interview with NBA TV, Matt Bonner, the red-headed power forward of the Spurs, debut a new "Red Mamba" t-shirt, showing...
Nike's new ad featuring Kobe Bryant implores the injured NBA legend to show us that the impossible is possible.
With the Los Angeles Lakers making it into the playoffs despite losing Kobe Bryant at season's end and a first-round playoff series with the San Antonio Spurs looming on the horizon with the first game on Sunday, the battle lines have been drawn in House Artest (or the House formerly known as Artest but now going by World Peace — or something). Why? Because Metta World Peace's...
The Black Mamba may be out of the Playoffs due to injury, but don't let that stop you from going on a little trip down memory lane at the past season. You probably don't want to bet against Kobe being ready for opening day 2013. Article found on: Next Impulse Sports
Lakers head coach Mike D'Antoni called Kobe Bryant a "fan" following the first game loss to the Spurs and the Black Mamba responded on Twitter.
Honestly, Kobe Tweets were the best part of the Spurs vs. Lakers game. Unfortunately, that was a gift and a curse, because it overshadowed everything that happened on the court. Mike D'Antoni could have shrugged it off, but was a bit of a jerk about it, calling a Kobe a fan, while rolling his eyes at reporters. Kobe not wanting to be a distraction had this to say. To tweet or...
With Kobe Bryant out for the season due to Achilles surgery, he has pretty much a lot of time on his hands since. One side effect has been his increased presence on social media. He did say he was going to act like #CoachVino on the sidelines and commentweet using his iPhone, and he did during Game 1 of their series against San Antonio. Here are some of his choice words of thought...
On Sunday while the Lakers faced off against the Spurs in the first game between the teams for the NBA playoffs, Kobe hopped on Twitter and gave his thoughts on the action like everyone else. It was the perfect opportunity to see what a player of Kobe's caliber looks for during a game. And it's also something that several players have done in the past.   I like how Nash is...
Currently Kobe Bryant is unable to travel with the Lakers due to Achilles injury that will apparently swell up with the high altitude so he's forced to stay home and watch his team take on the Spurs on the road. And in today's day and age of social media specifically Twitter Kobe took to the [...]
THEY'RE DOOMED
If the Lakers were looking for bulletin board material against the Spurs, Rockets GM Daryl Morey has provided it. See what he said.
EL SEGUNDO, CA The promises, speculation and worry are finally over, which sets up another set of obstacles for the Lakers and Spurs to overcome. The 2013 NBA Playoffs have arrived and the slate is clean for the No. 2 and No. 7 seeded teams in the Western Conferences especially in Los Angeles but the pressure has been ratcheted up to ear-splitting volume. San Antonio has been...
Lakers News

Delivered to your inbox

You'll also receive Yardbarker's daily Top 10, featuring the best sports stories from around the web. Customize your newsletter to get articles on your favorite sports and teams. And the best part? It's free!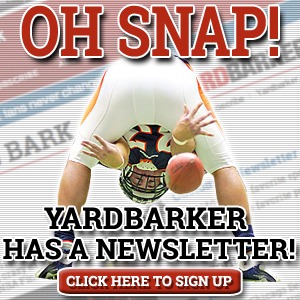 Latest Rumors
Best of Yardbarker

Today's Best Stuff

For Bloggers

Join the Yardbarker Network for more promotion, traffic, and money.

Company Info

Help

What is Yardbarker?

Yardbarker is the largest network of sports blogs and pro athlete blogs on the web. This site is the hub of the Yardbarker Network, where our editors and algorithms curate the best sports content from our network and beyond.