Found January 18, 2013 on Sports-Glory:
Los Angeles Lakers guard Kobe Bryant has played 1,420 NBA games, including the playoffs, but hasn't taken a step back or slowed down one bit. Bryant, who's averaging 39 minutes a night, is having one of the best seasons of his career.  He leads the league in scoring with 29.9 points per game, he's shooting 47.8%, and now has been asked to be the Lakers best defender.   Bryant sat down with ESPN's Chris Palmer, where he talked about playing against Michael Jordan, playing guys 1-on-1 and his biggest pet peeve. When was the last time you watched Michael Jordan tapes?  Wow, it's been a while. Probably not since 1999. I used to watch a bunch, but that was a long time ago.  What was it like dropping 33 on him as a 19-year-old in your second year?  I wasn't scared or nervous back then when I played Jordan. He looked at me like he was going to f--- me up but I had to let him know that I wasn't that guy. I let him know that I'm not like all those other guys he played against. That's not what I was there for. I was there to compete and I did.  Did you let him know that verbally?  More so by the way I played and competed.  Early on you got tired of the MJ comparisons, but a part of you had to be flattered, right?  I appreciated them, but after a while it just got old. They eventually faded away because I was putting together my own identity. But I'll never forget how much I learned from MJ. I got so much from him. I knew what he did, I knew his moves and I used them. But for me the comparisons didn't work because our situations were totally different. I came straight out of high school and played with a dominant big in Shaquille. Man, I was so young when I got to the NBA. What was I, like, 17? I mean, 17! The more you think about it, my situation was completely different than MJ's, so the comparisons were just, you know, I stopped paying attention to them. Ironically, toward the end of your career those comparisons are starting to return.  I don't mind that now. It's different now that I'm at the end of my career and I can look back. Fans will always want to know who's better and like to compare players, and I love that. That's what I used to do. That's why people are into basketball, because it's fun to debate those kinds of things.  Who is your best friend in the NBA that's not a former teammate?  [Long pause.] There's nobody I'm really hanging out with and going out with every night. But I'd probably say Carmelo Anthony. We're pretty close. A lot of the guys from Team USA I get along with really well. I really respect those guys.  Usually self-appointed nicknames don't really stick, but Black Mamba has had real staying power.  Well, actually I didn't come up with it. I think I was playing ball in the park in New York and they just started calling me that, and it just stuck.  Oh, I didn't know that.  Then I found out what a mamba can do with its quick-strike capability. There's a really good scene in the movie "Kill Bill" that explains it.  Who would you most like to play one-on-one, either active or retired?  Jordan. No question.  What would happen?  I'm not sure, but he would win some and I would win some in a seven-game series. It would probably come down to the last few shots.  You versus LeBron? Who wins?  Me. No question. As far as one-on-one, I'm the best to ever do it.  Damn. That's pretty confident.  LeBron is a terrific all-around, five-on-five basketball player who's an all-time great. But I'd get him.  Who could get you?  Kevin Durant is the guy that would give me the most trouble. With his length and ability to use the dribble, he'd be tough.  I always wanted to see you play Tracy McGrady.  I played T-Mac. I cooked him. Roasted him. Wasn't even close. Ask him, he'll tell you. When I was about 20, we were in Germany doing some promotional stuff for that other sneaker company and we played basketball every day. We were in the gym all the time. We played three games of one-on-one to 11. I won all three games. One game I won 11-2. After the third game he said he had back spasms and couldn't play anymore.  His back bothered him for most of his career.  Well, now you know.  What about Kyrie Irving?  [Huge smile, laugh.] Kyrie's my boy, but he knows he doesn't have anything for me. He doesn't want to see me. But it would be fun. I've beaten a lot of guys one-on-one, like Reggie Miller and Grant Hill. I used to play Caron Butler all the time in practice when he was with the Lakers. When I was a rookie I used to get Nick Van Exel and Eddie Jones. They know. They'll tell you. They used to come at me hard but I wasn't having that. I love going one-on-one with someone. That's what I do. I've never lost. It's a whole different game, just to have them right in front of you and be able to do whatever you want. What's your biggest pet peeve?  I hate dog s---. I won't go near it. So pissed when I step in it. I've got four dogs and I just don't do dog doo. I'm a diva when it comes to that. Back in the day when I was in Italy, I used to order shoes from Nike all the time. I had to have all the fresh joints. I ordered the Elephant Print Jordans that were amazing. I went to the park to play and stepped in a huge pile of dog s---. You wouldn't believe how mad I was. I was breaking off sticks to try to get it out of the crevices. I smacked them together and scraped the soles on the curb but couldn't get it all out. Ever since that day I just can't stand dog crap.  You made a glorious arrival to Twitter. Are there any NBA players you might want to follow?  Probably not. I'm not interested in what you had for breakfast. Twitter is great to connect with fans and be transparent. I enjoy that aspect about it. But really, I'm still trying to figure it out. 
Original Story:
http://sportsglory.com/xn/detail/6286...
THE BACKYARD
BEST OF MAXIM
RELATED ARTICLES
You versus LeBron? Who wins?: Me. No question. As far as one-on-one, I'm the best to ever do it. Who could get you?: Kevin Durant is the guy that would give me the most trouble. With his length and ability to use the dribble, he'd be tough. When was the last time you pumped your own gas?: Yesterday. I do all of life's daily tasks. The other day my wife and I stopped at 7...
Gasol sounds a little "Iversonish" with this quote. Pau: "I've been a starter my entire career. I've been a star starter my entire career, so I want to continue to be a star starter." — Dave McMenamin (@mcten) January 18, 2013
Bryant, who leads the league in scoring at 29.7 points per game, said that alleviating some pressure on him on offense will in turn allow him to apply more pressure on defense. "If (guarding the opposing team's offensive threat) is going to be something that I'm going to have to do for a while, I'm going to need my teammates' help to free up offensively," Bryant said...
If you're at a fan of basketball, it's very hard to not respect someone like Kobe Bryant. Liking him is a who… [[ Read More ]]
Every week, our staff writers chime in on the trending topics, rumors and storylines surrounding the Lakers. In today's State of the Nation, they predict the outcome of tonight's showdown with the Miami Heat. That game gets underway tonight, from Staples Center, at 7:30pm PT.The Lakers are riding a two-game win streak, and the Heat are fresh off a blowout win in Golden State...
Game time: 10:30 p.m. ETTV: TNT After watching the Miami Heat ride their trio of superstars to last season's NBA championship, many believed the Los Angeles Lakers' pairing of Dwight Howard and Steve Nash with Kobe Bryant would put them on the same level. While things haven't exactly gone as planned, it appears the Lakers may finally be headed down the right path. Pau...
Thanks to Kobe Bryant's renewed commitment on defense, the Lakers (17-21) have been playing their best defense as a team the last 2 games, which coincedentally turned into 2 straight wins. A sign of good things to come for the Lakers? It better. Despite their improved defense, the Lakers are still 4 games below .500 and 3 full games behind the 8th seed Rockets in the west...
The NBA announced the starting lineups for the 62nd All-Star Game, and Lakers guard Kobe Bryant eked out the win in overall votes with 1,591,437 — 7,800 more than LeBron James. Bryant also now holds the record for most consecutive All-Star Game starts (15), a record he previously shared with Shaquille O'Neal, Karl Malone and Jerry West. Most of Bryant's Western Conference teammates...
So LeBron James has broken Kobe Bryant's record for being the youngest player to score 20,000 points. But who will have more points at the end? The Miami star on Wednesday at Golden State reached the milestone at the age of 28 years, 17 days. That topped Bryant having done it for the Lakers on Dec. 23, 2007 at 29 years, 122 days old. James had 25 points in the Heat's 92...
Watch closely Thursday. Watch LeBron James continue to carry his team on the road, where they have struggled but he has been magnificent, game after game, day after day, his greatness still somehow expanding and crystallizing before us. Watch Kobe Bryant, too, as he tries to carry his floundering Lakers squad by willing them and himself to places he can still go but now they cannot...
Brandon Jennings learned something from playing his idol last Tuesday night. Kobe Bryant picked up Jennings defensively in the backcourt, 94 feet away from the basket. Knowing how much Bryant's constant harassing defense impacted him, Jennings thought he'd give it a try. Jennings set the defensive tone from the start Saturday night and also scored 30 points as the Milwaukee...
With their four superstars together on the floor, the Los Angeles Lakers are looking to build more chemistry while trying to turn things around on the road. Hoping to avoid their first five-game road skid in six years, the Lakers try for a fifth consecutive victory over the hard-luck Toronto Raptors on Sunday. Despite losing seven of nine, Los Angeles (17-22) was close to a victory...
Lakers News

Delivered to your inbox

You'll also receive Yardbarker's daily Top 10, featuring the best sports stories from around the web. Customize your newsletter to get articles on your favorite sports and teams. And the best part? It's free!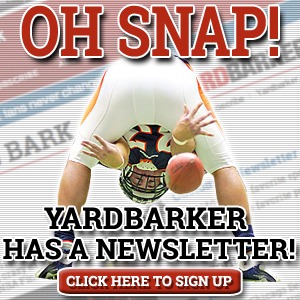 Latest Rumors
Best of Yardbarker

Today's Best Stuff

For Bloggers

Join the Yardbarker Network for more promotion, traffic, and money.

Company Info

Help

What is Yardbarker?

Yardbarker is the largest network of sports blogs and pro athlete blogs on the web. This site is the hub of the Yardbarker Network, where our editors and algorithms curate the best sports content from our network and beyond.