Found December 19, 2012 on Project Spurs:
You only need to see Los Angeles Lakers' Kobe Bryant play once to know hat he thinks about himself and his game. Whether it's making a ridiculous shot from the baseline or dribbling through his legs a few time and hitting a 3-pointer confidently, you'll realize that the guy thinks very highly of himself. He used to be worse at this earlier in his career, but he's calmed down a bit since then although he does show a little bit of vintage "Black Mamba" moments on and off the court every now and then. And after the game against the Philadelphia 76ers, it wasn't any different. When he got playfully teased at never apologizing for being a ball hog by the LA Times' TJ Simers, he made his case for it saying that's what he does. He thinks he does it so well that if he was coached by Mike D'Antoni in his early years in the league, he'd have 40,000 points by now, especially if he didn't play next to former teammate Shaquille O'Neal. "If I wasn't playing with Shaq, probably, I would have scored a lot more for sure." Kobe's absolutely right on that part. Any good coach will always go with the easiest shot and that would have been in the paint with the "Most Dominant Player in NBA History." Kobe might've easily had more shots, especially if he was coached by D'Antoni. You might even double his production since his current coach doesn't believe in a defensive philosophy at all and just wants to outscore his opponents over stopping them. If that would've happened, it would've come at an expense of other major achievements by Bryant, mainly NBA titles and Kobe knows that. That's what he's fighting for this year even if he's having to carry the burden over the struggling Lakers team right now. The following quote by Bryant explains his current mindset at this stage of his career. "When you have another dominant teammate, you have the capability of winning more and individually you sacrifice more. This is probably something Bryant would have never said 7-8 years ago. He would've thought his team was able to win with him scoring the majority of the points and taking most of the shots. For his fans, he's matured a lot to this point and a matured Kobe with some vintage play in him, like he's shown this season, may be bad news for the rest of the league.
Original Story:
http://www.projectspurs.com/2012-arti...
THE BACKYARD
BEST OF MAXIM
RELATED ARTICLES
Chris Carlson / APKobe Bryant put up 30 points in Tuesdays win over the Bobcats, marking his 7th straight game with at least 30 points. With this streak, Kobe became the first player in NBA history of at least 34 years of age to do so. The only other players to come close were Kareem Abdul-Jabar and Michael Jordan, whose streaks both ended at 5 straight games.Even at age 34, Kobe...
Jason Whitlock, a writer for FOX Sports, dissected the problem the Los Angeles Lakers are currently going through.  According to Whitlock, the root of the problem is not the coach nor the lack of a solid point guard to relieve Steve Nash, but the ego of Kobe Bryant.  Whitlock blames Kobe's "desperate pursuit of Michael Jordan's legacy."  A powerful opinion that some may...
The Lakers have been struggling to adjust to Mike D'Antoni's system for a variety of reasons; one of them being the severe lack of quality wing players to run the floor and shoot from the perimeter. Metta World Peace and Devin Ebanks have been the primary options at small forward, and both leave a lot to be desired. It looks like D'Antoni might be making a bit of a surprising...
We know that Kobe Bryant has never been one to downplay his confidence in his basketball ability or be quiet, well, about anything. But he took that too far recently, telling T.J. Simers of the Los Angeles Times that he probably would have scored more points had he never played with Shaq on the Lakers. From Simers' column: 'If I was playing in this [Mike] D'Antoni...
When Kobe Bryant was asked about the Lakers comeback, hecredited a player whose performance didn't stand out on the stat sheet. "Our bench came in and did a fantastic job," Bryant said. "Darius Morris is afantastic defender." Morris finished with an unassuming seven points on three-for-six shooting, fourrebounds and three assists in the Lakers' 101...
Before the Lakers took on the Sixers in Philly on Sunday, Andrew Bynum gave a few quotes about playing with Kobe that seemed to be throwing shots at the Superstar. Kobe Bryant responded to Bynum's assertion that playing with him may have stunted his growth by agreeing with him. "For sure, because when you're playing [...]
In an interesting ready by ESPN Los Angeles, Andrew Bynum offered his opinion on playing with NBA All-Star Kobe Bryant.  This comment had such perfect timing since the Lakers played the 76ers last night and the fact that Bynum was traded to Philadelphia this past summer in order to get Dwight Howard.  Bynum felt that playing with Kobe really hurt his game due to the fact that the...
LOS ANGELES (AP) -- Kobe Bryant scored four of his 30 points in the final 1:26 and the Los Angeles Lakers overcame an 18-point third-quarter deficit to beat Charlotte 101-100 on Tuesday night, handing the Bobcats their 12th straight loss. Jodie Meeks and Metta World Peace each had 17 points for the Lakers, who won their third straight to match their longest winning streak of the...
While LeBron James, Dwyane Wade and the Miami Heat were running roughshod over the NBA two years ago, I was dismayed to find myself rooting for Kobe Bryant. Bryant had never been a favorite of mine. Judging by the boos that rain down on him at every road arena, my attitude put me in the company of about three-quarters of all basketball fans. He was responsible for so much sports...
LOS ANGELES History was made and a bit of redemption was gained forLaker failings of the past at Staples Center on Tuesday night. Kobe Bryant, 34, set an NBA record by being the oldestplayer in NBA history to score 30 or more points in seven consecutive games asthe Lakers squeaked out a 101-100 win over the Charlotte Bobcats. During the defeat, the Bobcats Gerald Henderson Jr. experiencedfirst...
Andrew Bynum is 7 feet tall and supposed to be one of the NBA's best centers. Instead, he's spent most of this season working back from knee injuries amidst reports that he'd rather be bowling (which complicated one of the knee injuries) or just not playing basketball at all. Still, Bynum has apparently found some room to throw stones when it comes to explaining why his career...
LOS ANGELES -- The Los Angeles Lakers waged a furious fourth-quarter rally then staved off multiple game-winning attempts by the Charlotte Bobcats to take the 101-100 win on Tuesday night at Staples Center. Down by as much as 18 in the second half, Los Angeles went on a 28-4 run midway through the third quarter and into the fourth quarter as the Bobcats crumbled under the weight...
Lakers News

Delivered to your inbox

You'll also receive Yardbarker's daily Top 10, featuring the best sports stories from around the web. Customize your newsletter to get articles on your favorite sports and teams. And the best part? It's free!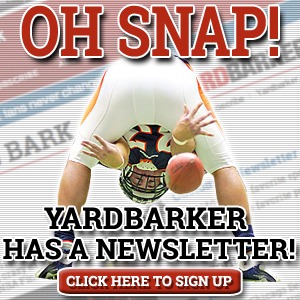 Latest Rumors
The Backyard

Today's Best Stuff

For Bloggers

Join the Yardbarker Network for more promotion, traffic, and money.

Company Info

Help

What is Yardbarker?

Yardbarker is the largest network of sports blogs and pro athlete blogs on the web. This site is the hub of the Yardbarker Network, where our editors and algorithms curate the best sports content from our network and beyond.