Found March 10, 2013 on In The Neutral Zone:
Kobe Bryant rises for a dunk to seal the Lakers' victory over the Toronto Raptors Friday. (Via) If you couldn't tell, Kobe Bryant's amazing offense is an ongoing trend in Laker games. Friday's 118-116 overtime victory over the Toronto Raptors on the Lakers' home court in Staples Center was certainly no exception. Despite the Raptor's poor record and the fact that they won't make the playoffs this season, the Lakers could not seem to catch up or prevent them from scoring in the first three and a half quarters of the game. But in the final moments of regulation, Kobe Bryant picked the Lakers up with three shocking 3-pointers that tied the game and forced overtime. And again in overtime, with sixteen seconds left on the clock, Bryant evaded two Raptor defenders and drove down the lane for a game-winning dunk. Lately Bryant's play has been more outstanding than usual. In each of his last two games, Kobe has scored over 40 points and dished out 12 assists. Kobe's last two games beg a comparison to Michael Jordan, who was the last player to score over 40 points and have 10 assists or more in two consecutive games in 1989. Points and assists usually don't go together. Simply put, if a player scores more, he tends to passes less and vice versa, but Kobe at times seemingly defies logic and patterns. Bryant has changed his style a few times this season with different types of consistent streaks. In three consecutive home games in late January versus the Jazz, Thunder, and the Hornets, Kobe had at least 11 assists and at least 8 rebounds — two highly unusual stats for Bryant. And throughout January, Kobe averaged 33.8 points per game, consistently scoring over 30 points in 12 of 14 games. To say that Bryant has had an odd season is somewhat of an understatement. He has had 6 games this season scoring over 40 points and 11 games where he's scored less than 20 points. Strangely, in the 6 games where he's scored more than 40 points the Lakers have a 3-3 record — though perhaps we should note that those 3 losses happened in 2012 before the team found any sort of winning traction. And in the games where Kobe scores less than 20 points, the Lakers have a record of 8-11. To draw a hard conclusion about a correlation between the Lakers' winning and Kobe's reduced role as a scorer is somewhat of a reach. However — and this is obvious — it is clear that when Lakers other than Kobe score more, the Lakers tend to win. And that may have an impact on Kobe's assist numbers. When his teammates score, Kobe's passes, which are not recorded, turn into assists. So maybe the perception of Kobe suddenly blossoming into an assist-machine is somewhat overblown. Whatever the case, Kobe has been magnificent this season, giving us all multiple reasons why he is one of the best players of all time. But it's wasn't all rainbows and lollipops for Kobe on Friday night. Kobe also acknowledged that he turned the ball over far too many times (9), likely leading to the Lakers playing from behind for much of the game. Indeed, turnovers are one of the Lakers' problem areas that lead to opponent fast break points — the Lakers' biggest weakness. But the fact that Kobe recognizes that turnovers are a big problem and that he wants to reduce his speaks volumes about his leadership and his high standards for his own play. With the Utah Jazz's Saturday 113-84 loss to the Knicks, the Lakers are now tied for the 8th seed in the western conference. If the Lakers win Sunday at home versus the Chicago Bulls, a game that offers an opportunity for the Lakers to play strong defensive basketball throughout the entire game — something they've only managed to do a handful of times this season — they will have sole custody of the 8th seed in the west by half a game. And with the Warriors and Rockets both falling fast, the Lakers, with a few wins, could perhaps sneak into the 6th seed.  
Original Story:
http://intheneutralzone.com/?p=11895
THE BACKYARD
BEST OF MAXIM
RELATED ARTICLES
Kobe Bryant hit the tying 3-pointer with 5 seconds left in regulation, then dunked for the go-ahead basket with 10 seconds left in overtime, helping the Los Angeles Lakers beat the Toronto Raptors 118-116 on Friday night for their second straight come-from-behind win. Two nights after rallying from 25 points down to win on the road at New Orleans, the Lakers came back from a 15...
All season long the MVP has appeared to be LeBron James's to lose with Kevin Durant destined to come in second yet again. However, if the Los Angeles Lakers make the post season the award needs to go to Kobe Bryant. But FatMan, the MVP is a team award so why should the Lakers playoff future matter? Have you watched these guys play lately? If they make the post season it...
STUFF YOUR SORRIES IN A SACK
Dwight Howard expressed regret in a recent interview for how he handled departure from Orlando, and offered an apology to the city and its fans.
I would hope that Dwight Howard is starting to figure things out, but because he talks so much and contradict himself so often, you have to wonder. Dwight spoke to the media again and said that it took him half the season, but he understands now what Kobe was saying about keeping the clown act in Orlando. "It's going to make me a better man and a better player from watching Kobe...
Led by Kobe Bryant on offense and Dwight Howard on defense, the Lakers (31-31) stormed back from a 25-point deficit to defeat the stunned Hornets, 108-102. A loss would have been devastating to their goal of reaching the playoffs, but the purple and gold dugged deep and got themselves within a game and a half of the spiraling Jazz for the 8th spot in the west. Tonight, they&...
Los Angeles Lakers superstar Kobe 'Vino' Bryant made an appearance on Jimmy Kimmel Live last night. Kobe covered a series of topics with Jimmy, as he spoke on his daughters, the struggles of his Lakers Team, Trying to make the playoffs, and his retirement maybe sooner than we think. No, Kobe! don't goooooo, *Tears*. For the show, Kobe opted to wear all black, and a pair of ...
Tim Kitzrow,  the iconic voice of the video game NBA Jam,  lent his voice to commentate the top 10 dunks of 2013 from college and professional basketball including all the Boom Shaka Laka's you can muster.  This highlight reel which showcases James Harden, Michael Kidd-Gilchrist, Kobe Bryant, J.R. Smith getting their dunks on and honestly is one of [...]The post Top 10 Dunks...
When the Los Angeles Lakers acquired Dwight Howard in the offseason, the rest of the league smelled trouble.  The Lakers were being talked about constantly as being instant championship winners. [...]
Dwyane Wade and Kobe Bryant have been named the NBA's Players of the Week.
Kobe and Dwight's interactions reminds me of when a new recruit goes into the Army and has a drill sergeant, who has been in the military for 17 years and has no time for new recruits who like to clown around. While Dwight is telling everyone who will listen, how much he loves Orlando and apologizing to the fans, Kobe thinks he should handle things a different way. Kobe Bryant...
Photo Credit: Steve Dykes / EPA On January 23rd the Los Angeles Lakers lost on the road to the Grizzlies 106-93 and dropped to 17-25 to 12th place in the Western Conference. Most experts by now had completely counted the Lakers out and gave them no shot at making the playoffs. The story of the Lakers' ineffectiveness and futility headlined SportsCenter nightly because the thought...
NBA News

Delivered to your inbox

You'll also receive Yardbarker's daily Top 10, featuring the best sports stories from around the web. Customize your newsletter to get articles on your favorite sports and teams. And the best part? It's free!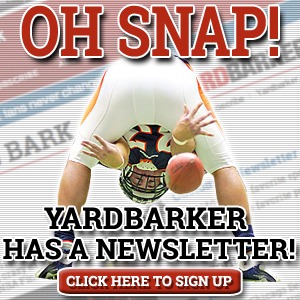 Latest Rumors
The Backyard

Today's Best Stuff

For Bloggers

Join the Yardbarker Network for more promotion, traffic, and money.

Company Info

Help

What is Yardbarker?

Yardbarker is the largest network of sports blogs and pro athlete blogs on the web. This site is the hub of the Yardbarker Network, where our editors and algorithms curate the best sports content from our network and beyond.