Found February 22, 2013 on Project Spurs:
The San Antonio Spurs own the best record in the NBA, sit atop the Western Conference, have a legit MVP candidate (Tony Parker) and are looking like a well-oiled machine that will once again be challenging for the NBA crown. The Los Angeles Lakers have been struggling all season. Dwight Howard isn't meshing with the team, is dealing with injuries and struggling to produce consistently. The team went through a coaching change early in the season, and currently are out of the playoff hunt in the West. Needless to say, these two team are heading in opposite directions but do not tell that to Lakers' Kobe Bryant.   Always brimming with confidence, in an interview with SI.com, Bryant made it clear -- the Lakers will make the playoffs and says he does not fear the mighty Spurs despite his team's 0-2 record versus the Spurs this regular season.  Bryant: It's not a question of if we make the playoffs. We will. And when we get there, I have no fear of anyone -- Oklahoma City, San Antonio, Denver ... whoever. I have zero nervousness about that. At first blush, Spurs fans may scoff at Bryant's comment, add this comment to the pile of reasons they love to hate him, point to the better team this regular season and basically, laugh in Kobe's face. However, as a leader, what do you expect Bryant to say? Do you really think he'll admit his team is inferior to the Spurs? That the Lakers fear an opponent they might face should they make the playoffs? No. He has to send a message to his team to let them know they should not fear any team should they make the playoffs. If the leader is fearless, then the rest of the team should be fearless. Imagine if Tim Duncan and the Spurs were struggling and were just outside of making the playoffs. As Spurs fans, you would want to hear Duncan rallying the troops, and exclaiming he fears no team despite team struggles. That's what a leader does and that is what Kobe is doing here. However, Bryant's comment did give the Spurs a heaping scoop of locker room material. If I am the Spurs, I am reading this comment when they face Kobe and the Lakers in their next regular season matchup and especially in the playoffs should they draw Los Angeles. Nonetheless, Bryant may be saying he doesn't fear the Spurs but first thing is first, the Lakers have to make the playoffs.
Original Story:
http://www.projectspurs.com/2013-arti...
THE BACKYARD
BEST OF MAXIM
RELATED ARTICLES
At 26-29, the Lakers sit at in 9th place, 3.5 games out of the West's 8th seed (currently held by Houston).  Despite a injury ridden and bumpy first half, Kobe Bryant insists his team will make the playoffs. According to Sports Illustrated: SI: Can you get this done? And is it hard that after winning five championships you're battling to make the playoffs? Bryant: It's not...
In the wake of Michael Jordan's 50th birthday, there's been a lot of NBA talk comparing His Airness, Kobe Bryant and LeBron James and their place in the history of basketball. Well, now Bryant, himself, is weighing in with his opinion. On Wednesday, Bryant sat down for an interview with ESPN Radio Los Angeles (compiled here by Sports Radio Interviews) where he touched on numerous...
The Clippers may be one of the youngest and most exciting teams in the league to watch, but there is something to be said for a team that is a little bit older and has a whole lot more experience in big games. For the Spurs it was all Tony Parker early and often. The man had 31 points and 7 assists in the first three quarters alone! The team went on to win 116-90 to improve to...
Kevin Durant shared a picture on his Instagram account Saturday of himself wearing a T-shirt that says "Shoot Til My Arm Falls Off." Initially, I thought Durant had stolen the shirt from Kobe Bryant's closet, but then I realized it's a take on a motto KD shared last year during the NBA Finals. According to Eye on Basketball, Durant had big fourth quarters in Games 1 and...
The Los Angeles Lakers illuminated Jerry Buss' chair in his empty suite on Wednesday night and held a touching tribute prior to Wednesday night's matchup with the Celtics. Kobe Bryant took the mic at halfcourt and proclaimed his appreciation for "the greatest owner in sports, ever" saying: "He was a brilliant and incredible owner, but even a better person with a great heart…His...
Los Angeles Lakers forward Metta World Peace was woken up by several police officers Tuesday morning because three actors decided to rehearse a scene for his movie at his Westside condo complex, according to the Los Angeles Times. Unaware the rehearsal was
The matchup of the game when the San Antonio Spurs (43-12) visit the Los Angeles Clippers (39-17) will be between Tony Parker and Chris Paul. Both men are the heart of their teams' offense, which will play a huge part tonight. Both players are having incredible seasons with Paul averaging 16.6ppg and 9.6rpg while Parker is having an impressive MVP like season with 21ppg and...
On Friday night, Mark Cuban raised the question of whether or not the Los Angeles Lakers could benefit from releasing Kobe Bryant through the amnesty provision next season. From a financial standpoint, it makes sense. The Lakers are looking to sign Dwight Howard to a long-term extension and are about $30 million over the luxury tax. Kobe is set to earn $30.45 million next season...
Playing in their first game since owner Jerry Buss died, the Los Angeles Lakers played like a team Wednesday night in an emotional 113-99 victory over their greatest rival, the Boston Celtics.   Dwight Howard led the team with 24 points and 12 rebounds,
Huh? Mark Cuban went on ESPN Dallas radio Friday morning and openly wondered if the Lakers should amnesty Kobe Bryant to free up their $100 million payroll next season if Dwight Howard stays in LA. If the Lakers remain $30 million over, their luxury tax bill $142.5 million next season (stat via ESPN).  Cuban admits it's unlikely but think's it will be a legitimate question as...
LOS ANGELES (AP) -- The aging San Antonio Spurs came out of the All-Star break rested and raring to go. They notched their second win since the break ended and fifth in a row, beating the Los Angeles Clippers 116-90 on Thursday night behind 31 points from Tony Parker. "Tony's been a huge part of us playing that well. He's been the one who is most consistent,"...
The San Antonio Spurs (44-12) will visit the Golden State Warriors (31-23) as their Rodeo Road Trip marches on. This will be the second time the two teams meet this season. Also, tonight the Warriors will debut their new short sleeved jersey tonight versus the Spurs. The Spurs won the first game (95-88) in San Antonio. Tony Parker led the Spurs with 25 points and 8 assists while...
NBA News

Delivered to your inbox

You'll also receive Yardbarker's daily Top 10, featuring the best sports stories from around the web. Customize your newsletter to get articles on your favorite sports and teams. And the best part? It's free!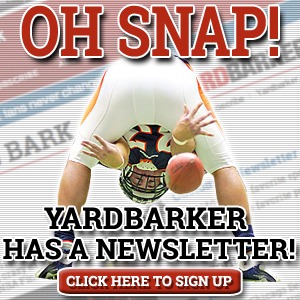 Latest Rumors
Best of Yardbarker

Today's Best Stuff

For Bloggers

Join the Yardbarker Network for more promotion, traffic, and money.

Company Info

Help

What is Yardbarker?

Yardbarker is the largest network of sports blogs and pro athlete blogs on the web. This site is the hub of the Yardbarker Network, where our editors and algorithms curate the best sports content from our network and beyond.