Found January 25, 2013 on NorthWest Sports Beat:
No rest for the weary The Portland Trail Blazers finally broke their six-game losing streak with a win against the Indiana Pacers, but things aren't getting any easier. Matchup: Portland (21-21) vs. Los Angeles Clippers (32-13) Venue: Rose Garden Time: 7:00 PM PT Date: Saturday, Jan. 26, 2013 The Los Angeles Clippers, one of the top teams in the entire NBA, are set to begin a home-and-home series against the Blazers beginning Saturday night at the Rose Garden. The Trail Blazers are set to take on the Clippers for the second time this season. (Photo: Don Ryan/AP) Game Notes/How They Match Up The Blazers and the Clippers have faced off once already this season, and it wasn't pretty for fans in Rip City. A 13-point loss at home came in the midst of a 1-5, and it was clear that these teams were on different levels. In what has become typical at this point in the year, Portland fell behind early. L.A. took a 21-point lead into halftime, and while the Blazers made it interesting with a third big quarter, it just wasn't enough to combat the great start by the Clippers. At this point in the season, both teams are a little bit better than most expected. We all knew that Los Angeles would be a top-4 team out West, but the fact that they're challenging the Oklahoma City Thunder for top honors is an impressive feat. Portland, on the other hand, is nowhere near the top of the conference, but they are legitimate candidates for a spot in the postseason, which is more than some anticipated. What to Watch: Portland The Blazers played one of their best defensive games of the season Wednesday night against the Indiana Pacers, and they're going to need a similar performance if they hope to take down the Clippers. Portland held Indiana to just 80 points on 37.5 percent shooting. Despite completing just 18.2 percent of their three-point attempts, the Blazers won by 20 points, and it had everything to do with the defensive effort that they put forth. But let's get one thing straight right now: the Clippers are a much better offensive team than the Pacers. Los Angeles is the seventh-highest scoring team in the league, while Indiana is dead last. The Blazers need to take the confidence they gained against the Pacers and turn it into production against a team who can score all up and down their roster. What to Watch: Los Angeles The Clippers are coming off a shocking loss to one of the Western Conference's worst teams. They lost to the Phoenix Suns by five points Thursday night, and it was largely due to the fact that they were without their superstar point guard, Chris Paul. With Paul out of the lineup, this team missed their offensive floor general, but they also missed a solid defensive presence. He is the kind of point guard who can shut down anyone his size in the league, and his absence was a big reason for Goran Dragic's 24-point, 5-reboun, 8-assist performance. Lillard and Stotts will combine for one exciting brand of basketball this season. Photo Getty Images This team is as deep as it gets in the NBA, but they need their star player to be successful. If Paul is out against Portland, look for Eric Bledsoe to get the start. Key Matchup If you think Chris Paul is too good to pay attention to Damian Lillard, think again. The 27-year-old All-Star gave the Trail Blazers' rookie a ringing endorsement the last time these two met. According to Sean Meagher of The Oregonian, Paul said after the game, "Portland better hold onto [Lillard] because they definitely got a prized possession for the future." The best part about that quote is that Lillard didn't even play his best game. He had 16 points on 6-of-13 shooting to go along with four assists. He did have three steals, but credit that more to a sloppy third quarter by the Clippers. Paul is a great defender, and as long as he plays, he's going to challenge Lillard from start to finish. However, if Bledsoe is in because Paul is unable to play, Lillard should look to take over, and he'll show the Clippers organization just how prized a possession he truly is. Injury Report Portland: DAY-TO-DAY—Sasha Pavlovic Los Angeles: DAY-TO-DAY—Chris Paul Prediction The Blazers got a much-needed win Wednesday night against the Indiana Pacers, but that momentum is going to be tough to carry forward is the Clippers are on top of their game. Blazers 93 – Clippers 103 CLICK HERE TO CHECK OUT THE BLAZERS BLOG IN OUR CLUBHOUSE TODAY AT NWSB!
Original Story:
http://www.nwsportsbeat.com/trailblaz...
THE BACKYARD
BEST OF MAXIM
RELATED ARTICLES
After the Clippers lost to the Oklahoma City Thunder on Tuesday night with Chris Paul sitting out because of a bruised right kneecap, Coach Vinny Del Negro didn't offer encouragement about his All-Star point guard. "Chris is going to be out," Del Negro said. "Hopefully we get him back soon, but other guys have got to step up." That most likely means that...
The Los Angeles Clippers are unsure if Chris Paul can play in their upcoming games, most of which will take place on the road. A visit to the Phoenix Suns might help if Paul has to sit out and could aid the Clippers' attempt to avoid a third straight defeat Thursday night. Paul missed the Clippers' sweep of a three-game road trip last week because of a bruised right kneecap...
After the Clippers lost to the Oklahoma City Thunder on Tuesday night with Chris Paul sitting out because of a bruised right kneecap, Coach Vinny Del Negro didn't offer encouragement about his All-Star point guard. "Chris is going to be out," Del Negro said. "Hopefully we get him back soon, but other guys have got to step up." That most likely means that Paul won't...
It's uncertain when Chris Paul will return. That leaves plenty of questions about how the Los Angeles Clippers are going to improve their offense. Paul is likely to miss a third consecutive game Saturday night when the Pacific Division leaders begin a home-and-home set with the Portland Trail Blazers at the Rose Garden. Paul played last Saturday and Monday after missing Los...
Chris Paul won't be playing for the Los Angeles Clippers Saturday against Portland. CP3 hasn't played since aggravating his kneecap injury on January 21. Eric Bledsoe will start, and he's been an excellent understudy. In five starts, he's averaging 12.4 points, 5 rebounds, 3.6 assists, 2.4 steals and 1 block in 30.4 minutes. He's also made two 3-pointers in...
With the Cavaliers having two rookies playing prominent minutes, WFNY thought it would beneficial to see how the fresh meat around the league is faring in comparison with the Cavalier rookies. Each week, we'll have NBA rookie power rankings where we'll rack and stack the freshman class of the NBA. The rankings will be weighted with the most recent games carrying the most importance...
Eric Bledsoe bounced back from a rough night with a full stat line in a 93-88 loss to the Phoenix Suns. The Clippers point guard had 15 points (5-10 FG, 4-4 FT) to go with a 3-pointer, seven rebounds, three assists, three steals and a block in 30 minutes before fouling out. Bledsoe is a must-own player with Chris Paul sidelined with a kneecap injury and a must-stash player for...
Top Blazers The Cars sang about letting the good times roll, and about a week and a half ago, after the Portland Trail Blazers stunned the defending champion Miami Heat, on primetime television, this song should've been blaring at every Blazer practice. Portland sat five games over .500 (20-15), had a firm grip on the 8th spot in the West, and all seemed to be heading in the right...
LaMarcus Aldridge scored 27 points and the Portland Trail Blazers beat the Indiana Pacers 100-80 on Wednesday night to snap a six-game losing streak. Rookie Damian Lillard added 20 points and eight assists for the Blazers, who also stopped a four-game losing streak at home and avoided dropping five straight at the Rose Garden for the first time since 2006. J.J. Hickson had 14 points...
The NBA is loaded with young talent right now and some of them are developing faster than ever. Take Kyrie Irving, Cleveland's sophomore phenom who right now, at age 20, is averaging 23.7 PPG and 5.6 AST. The dude has everything you look for in a starting point guard. He possesses the hairline and fourth quarter "take-over" gene that many would argue a former Cleveland Cavalier...
The other day the starters were released for the 2013 All Star game, and now the rest of the rosters were released. The 2013 All Star game will be held on Sunday, February 17th in Houston. The reverses for the Eastern Conference will be Kyrie Irving, Paul George, Jrue holiday, Tyson Chandler, Joakim Noah, Chris Bosh and Luol Deng. Of course the starters were voted in by the fans...
NBA News

Delivered to your inbox

You'll also receive Yardbarker's daily Top 10, featuring the best sports stories from around the web. Customize your newsletter to get articles on your favorite sports and teams. And the best part? It's free!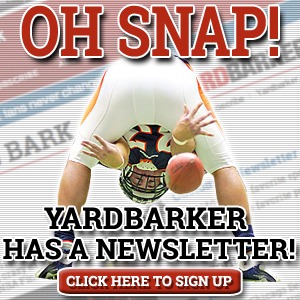 Latest Rumors
Best of Yardbarker

Today's Best Stuff

For Bloggers

Join the Yardbarker Network for more promotion, traffic, and money.

Company Info

Help

What is Yardbarker?

Yardbarker is the largest network of sports blogs and pro athlete blogs on the web. This site is the hub of the Yardbarker Network, where our editors and algorithms curate the best sports content from our network and beyond.