Found October 28, 2013 on BlackSportsOnline:
Former Clipper and current Laker Chris Kaman decided to stir the pot on the eve of the L.A. showdown tomorrow night. Kaman spent eight long seasons with the Clippers, so he knows a thing or two about losing tradition. Times are different now, the Clippers are loaded with talent capable of reaching the finals, while the Lakers will be fortunate to make the playoffs. The Clippers talent level didn't stop Kaman from making these latest remarks: "I respect what they're doing and what they've done, but still, they're nothing like the Lakers," Kaman said Monday. "You look up here at all the championships. They're never going to have that. It's never going to happen. I don't see it. "There's just something about the Lakers. The history behind everything. It just makes it that much sweeter." Let the fun begin at 10:30 eastern time tomorrow night.
Original Story:
http://blacksportsonline.com/home/201...
THE BACKYARD
BEST OF MAXIM
RELATED ARTICLES
(Disclaimer: Being the best Laker does not necessarily equate to being a better all time player in a historical sense. A combination of talent, longevity with the team, and impact on organization are what helped me compile this list.) The Los Angeles Lakers, more so than any other NBA franchise, have employed the greatest collection of top talent in the league. There have been so...
Ever since he tore his Achilles' tendon, speculation has run rampant regarding when Kobe Bryant would return to the NBA. Now we have a clearer picture as to when he'll finally be back on the court. On Tuesday, Bryant confirmed that he was still two to three weeks of practice away from returning to action. He has no timetable to return to practice, but after he does he'll need...
The Los Angeles Lakers have let it be known that they will monitor the minutes Steve Nash plays during the 2013-14 season. In fact, they have all but said the 39-year-old could sit out games this season to keep him healthy. The Lakers have 19 back-to-back sets this season and head coach Mike D'Antoni says he will treat each one individually and determine how much Nash can play...
The latest installment was unveiled in the Steve Nash Injury Watch. It's "very possible" the 39-year-old point guard will sit out the second night of season-opening back-to-back games, Lakers Coach Mike D'Antoni said Sunday. Somewhere you can hear Nash's fantasy value drop. More important to the Lakers is real-life value and what they can squeeze out of him...
Kobe Bryant is an old 35, he's in his final year of a current deal that will pay him $30.5 million this season, the highest salary in the NBA. He's making that much, and the Lakers don't even know when he's coming back. The Lakers had the option to use their amnesty clause this summer on Kobe, but they used it on Metta World Peace, man I hate calling him that. I...
LOS ANGELES (AP) -- Xavier Henry scored a career-high 22 points, Jordan Farmar added 16, and five Los Angeles Lakers reserves surged past the Los Angeles Clippers in the fourth quarter for a surprising 116-103 victory in both clubs' season opener Tuesday night. With Kobe Bryant watching in street clothes behind Pau Gasol and Steve Nash on the Lakers' bench, Jodie Meeks...
Lakerholicz.com are looking to take on writers for the 2013-14 season. Do you follow the Lakers on a daily basis? Do you want to keep the purple and gold's loyal fan base informed about the latest news and rumors? Do you have personal views on the Lake Show that you'd like to share with the rest of world? If so, we'd love for you to join the Lakerholicz.com team. If you are...
The Lakers upset the Clippers on Tuesday night at Staples Center, opening the season with a stunning bench performance. Heading into the fourth quarter with a four-point deficit, the combination of Jordan Farmar, Jodie Meeks, Xavier Henry, Wesley Johnson and Jordan Hill completely overwhelmed the Clippers. Henry led all scorers with a career-high 22 points on 8-of-13 shooting....
LOS ANGELES, CA - The Los Angeles Lakers defeated the Los Angeles Clippers 116 – 103. Sorry Clipper fans, you still aren't the best team in LA. I know how much you want to be. Since I was doing the BadCulture Radio show, I didn't have a chance to see my Lakers put a whoopin on our little brothers, the Clippers. Below is the Associated Press report: LOS ANGELES (AP) – Xavier...
Xavier Henry scored a career-high 22 points, Jordan Farmar added 16, and five Los Angeles Lakers reserves surged past the Los Angeles Clippers in the fourth quarter for a surprising 116-103 victory in both clubs' season opener Tuesday night.
Lakers News

Delivered to your inbox

You'll also receive Yardbarker's daily Top 10, featuring the best sports stories from around the web. Customize your newsletter to get articles on your favorite sports and teams. And the best part? It's free!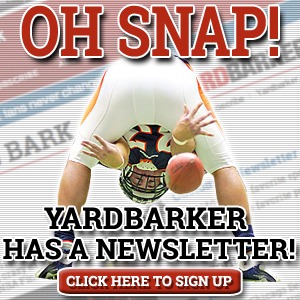 Latest Rumors
Best of Yardbarker

Today's Best Stuff

For Bloggers

Join the Yardbarker Network for more promotion, traffic, and money.

Company Info

Help

What is Yardbarker?

Yardbarker is the largest network of sports blogs and pro athlete blogs on the web. This site is the hub of the Yardbarker Network, where our editors and algorithms curate the best sports content from our network and beyond.