Found December 29, 2012 on Laker Nation:
PLAYERS:
Jodie Meeks
,
Darius Morris
,
Jordan Hill
,
Steve Nash
,
Pau Gasol
,
Kobe Bryant
,
Dwight Howard
,
Damian Lillard
,
Jerry West
,
Wilt Chamberlain
,
Elgin Baylor
,
Magic Johnson
,
Antawn Jamison
TEAMS:
Los Angeles Lakers
,
Portland Trail Blazers
Photo courtesy of Harry How, Getty ImagesJodie Meeks steals the ball from Luke Babbit and runs off. He tries to lay it up but gets blocked. He grabs the offensive rebound and tries to score again, but for the second time in a row, is rejected. As he fights for another rebound on the floor, he manages to hand it off to Darius Morris. After getting up off the floor, Meeks strolls to the corner and asks for the ball again so he can score from downtown.In 16 seconds, Meeks got a steal, grabbed two offensive rebounds, attempted trio of shots and hit a three-pointer. That happened halfway through the fourth quarter when the Lakers were up by 20 points. 48 minutes of effort – that's what Meeks' sequence symbolized, and the Lakers were overflowing with it tonight.Only three Lakers scored in double figures, but every player, save for Jordan Hill and the reserves who played in the last five minutes of the game, each handed out an assist. Every player who saw the floor, except for Steve Nash, grabbed a rebound. The Lakers played with something else tonight that wasn't there against the Nuggets – joy. They were having fun out there. It's funny what winning can produce.HIGH POINTS: Offense Humming – Mike D'Antoni's philosophy is that the ball finds energy and the Lakers were full of it tonight, attracting the rock for all sorts of adventures. Whether it was Steve Nash throwing up a floater, Pau Gasol hitting from downtown, Kobe Bryant's lob to a running Darius Morris, or Dwight Howard hitting four free throws in succession – the energy was there and the ball found it. The Lakers outscored the Blazers 58-38 in the paint, 26-13 in second chance points, 23-10 in fast break points and led by as much as 27 points. They racked up 62 points in the first half alone. Defense Protecting – Following his ejection in Denver, Dwight Howard came into tonight's game with a purpose – a greater effort on his specialty, defense, and he managed to take the rest of his team with him. Box scores never tell the whole story, especially when it comes to defense. Yes, Howard had 14 rebounds and those three blocks were huge, but it's his presence inside that repels the opposition, no matter what position they hold. Point guards, like Damian Lillard, are usually a challenge for big men to guard, but Howard forced Lillard baseline tonight, then tapped the ball away from him, and Darius Morris managed to save it from going out of bounds. Kobe Bryant, who has been criticized lately for falling short on defense, had two steals that led to a basket for him and a converted lob for Morris. The Lakers also held Portland to 48 points in the first half and kept them to 37% from the field in the last two quarters. A Sum of Great Parts – Howard finished with 21 points on 7-13 from the field. Kobe Bryant broke his streak of consecutive 30+ point games atPhoto courtesy of Harry How, Getty Imagesnine, but 27 points on 9-18, five rebounds, four assists and two steals aren't too shabby. Steve Nash – well, what can you say to 10 perfectly doled out assists except, "Thank goodness he's back?" Pau Gasol – He told John Ireland that his New Year's resolution is to be a better person, but tonight he can settle on just rolling with the punches (injury – first tendonitis in his knees and now plantar fasciitis?, the new offense, etc). He's still not as close to the basket as he's used to playing, but that three-point stroke is starting to look really smooth and quite becoming of one of the greatest post players in the NBA. Darius Morris – He managed to save the ball from going out of bounds twice, and his opportunistic scoring is a great boost from someone other than the Bryant, Gasol, Howard and Metta World Peace. He also held Damian Lillard down for a great part of the game. The rookie went just 4-17 from the field for his 11 points. Jamaal Wilkes – The Laker legend had his #52 jersey retired, so it now hangs on the wall of greatness along with Jerry West, Wilt Chamberlain, Elgin Baylor, Kareem Abdul-Jabbar, Gail Goodrich, Magic Johnson, James Worth and, of course, Chick Hearn.LOW POINTS: Antawn Jamison – M.I.A. status. As far as playing time drop-off goes, Jamison's is clearly a winner this season. To go from riding the pine, to being the first guy off the bench, to starting and then sitting from a string of DNP-Coach's Decisions, it can't be easy for the veteran. Mark Medina of the L.A. Times tweeted the following Jamison quote, "It doesn't make sense at all. They're pretty much telling me my services are no longer needed." Jamison had been playing solidly, but when Mike D'Antoni started getting into the meat of his rotation, he was, unfortunately, one of the casualties. Whether due to his lack of defensive stability or just the coach's preference for what another player offers, someone had to be left out, and in this case, it was Jamison. Unless injury or foul trouble are an issue for one of the forward spots, Jamison may have to get used to this reduced role for awhile.The effort by the time the final buzzer sounds, should be as strong at it was at tip-off. The Lakers failed to exude any sort of effort and energy in Denver two days ago, so that loss wasn't a mystery. Tonight, the energy and the effort were ever present, and it began with Steve Nash on one end, and Dwight Howard on the other – just as it should be.Box Score The post Lakers End Year With Victory Over Trailblazers appeared first on Laker Nation.
Original Story:
http://lakernation.com/lakers-end-yea...
THE BACKYARD
BEST OF MAXIM
RELATED ARTICLES
The Los Angeles Lakers retired Jamaal Wilkes' No. 52 jersey during Friday's 104-87 victory over the Portland Trail Blazers. Following the game Kobe Bryant was asked who he would want presenting at his own jersey retirement.   "I'd probably force Shaq to do it," said Bryant.   H/T: lakernation.com
Antawn Jamison has seen just about everything in his NBA career. Not this, he said Friday after sitting out a fifth consecutive game via the dreaded DNP-Coachs Decision. Fifteen years, the Lakers forward said, recapping his career. My only thing is let me know why. I dont think you go from starting and 30-something minutes to not in the rotation whatsoever. And not explaining to...
Photo Credit: ESPN.GOMuch like the Lakers thus far, Dwight Howard hasn't been much of himself this season.  Recovering from back surgery last April that sidelined him for the rest of last season, Howard is still not 100% and won't be for a couple more months.  His play this season is not what many Laker fans had expected from what they remember in Orlando.Last night was another...
Antawn Jamison has seen just about everything in his NBA career. Not this, he said Friday after sitting out a fifth consecutive game via the dreaded DNP-Coachs Decision. Fifteen years, the Lakers forward said, recapping his career. My only thing is let me know why. I dont think you go from starting and 30-something minutes to not in the rotation whatsoever. And not explaining to...
LOS ANGELES Following a lackluster loss in Denver on Wednesday night, the Lakers showed that when properly motivated by embarrassment this time they can play defense. And play it well. Los Angeles grabbed 52 rebounds and scored 23 fast-break points to beat Portland 104-87 at Staples Center on Friday night. Dwight Howard bounced back from his flagrant 2 ejection and 35,000 fine...
Charles Barkley said Thursday he never thought the Lakers' "super team" was going work and doesn't believe the Lakers are a championship contender. "They're old, slow and unathletic," Barkley told Mike Hill and Mark Schlereth on "Mike & Mike" on ESPN Radio. "I have great respect for Kobe Bryant but I never thought this thing was going to work. Everybody went...
Jamison missed the past five games because of the dreaded "DNP-Coach's Decision." Even in the Lakers' 104-87 victory Friday over the Portland Trail Blazers, Jamison stayed there while seldom-used bench players Robert Sacre, Earl Clark and Devin Ebanks played garbage time. "It doesn't make sense at all," Jamison said in a brief interview with this newspaper. "They're...
Kobe Bryant has been a high-volume shooter and scorer his whole career; nothing is about to change now If there is anything Kobe Bryant cannot do on a basketball court, it probably is back down. His bull-dog, constant effort mentality would never let him to do such a cowardly thing and has contributed greatly to what he has become as a basketball player, a future Hall-of...
Dwight Howard is three flagrant foul points away from an automatic one-game suspension.
Tweet   In addition to seeing the Los Angeles Lakers have a relatively easy time beating the Portland Trail Blazers 104-87 on Friday the crowd at Staples Center was able to witness a franchise legend take his rightful place among the greats to wear purple & gold. Jamaal Wilkes, who joined the likes of Jerry [...]
UPI/Lori SheplerKobe Passed! That's right, on Thursday it was announced that Kobe Bryant passed Lebron James as the top vote-getter for the 2013 All-Star game. While the initial ballot return announcements had Lebron ahead of Kobe by 1,929 votes, the second return now shows Kobe ahead of Lebron by 7,130. It's reasonable to assume that Kobe's current streak of games with over...
Celtics (28-8) vs. Lakers (26-13) December 28, 1979 Great Western Forum Just like in the NCAA championship, Larry Bird's team walked in with the better record. And, just like the national title game, Earvin Johnson's team walked out the winner. The Celtics would struggle all night to stop Los Angeles, allowing the Lakers to score at least 30 points in three of the four quarters...
NBA News

Delivered to your inbox

You'll also receive Yardbarker's daily Top 10, featuring the best sports stories from around the web. Customize your newsletter to get articles on your favorite sports and teams. And the best part? It's free!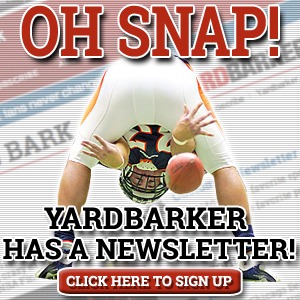 Latest Rumors
Best of Yardbarker

Today's Best Stuff

For Bloggers

Join the Yardbarker Network for more promotion, traffic, and money.

Company Info

Help

What is Yardbarker?

Yardbarker is the largest network of sports blogs and pro athlete blogs on the web. This site is the hub of the Yardbarker Network, where our editors and algorithms curate the best sports content from our network and beyond.