Found April 18, 2013 on Laker Nation:
PLAYERS:
James Harden
,
Dwight Howard
,
Pau Gasol
,
Kobe Bryant
,
Steve Blake
,
Jodie Meeks
,
Andrew Goudelock
,
Darius Morris
TEAMS:
Houston Rockets
,
Los Angeles Lakers
,
Memphis Grizzlies
,
San Antonio Spurs
,
Oklahoma City Thunder
Photo courtesy of Noah Graham, Getty Images In a pre-game interview, John Ireland asked Coach Mike D'Antoni what he planned to tell the team in order to get ready for tonight's game. "Bad things are gonna happen, " D'Antoni said. "But don't tie your troubles together." There were certainly troubles with which the Lakers had to face tonight. A team who averaged the second most points during the regular season (a mere .1 ppg difference to number one Denver), the Houston Rockets are filled with three-point shooters and one James Harden. And despite not being known for their defensive abilities, the Rockets doubled Dwight Howard and Pau Gasol effectively inside, hindering the Lakers' size advantage at scoring. So the home team couldn't stop James Harden from drawing fouls or hitting his shots, and the big men couldn't score themselves. Fortunately, instead of mulling over everything they'd done wrong in the first half (that is, "tying their troubles together"), the Lakers came out with a more courageous effort in the second half, and furthermore five minutes of overtime. In the end, they pulled out the 99-95 win. HIGH POINTS: Hello, New Big Three – With Kobe Bryant sidelined for the remainder of the season, a new steady hand has risen in his place. Steve Blake aka the Blake Mamba aka Vino Bianco, followed his exceptional 23-point game against the Spurs with another big contribution. 24 points (which included four three-pointers), 8-8 from the free throw line, seven rebounds, seven assists, and just a single turnover in almost 48 minutes of playing time. Yes, almost 48 minutes. When Blake stepped in for Bryant, he apparently also inherited the minutes, not to mention the fearlessness. Blake is not afraid of the moment. Quite a few of his shots were made during the final seconds of the shot clock and with chances to grab the offensive board, he was right there around the hoop with all the bigs, reaching for those rebounds. His final contribution of the night – two made free throws that sealed the win. Pau Gasol – 17 points, 20 rebounds, 11 assists and two blocks – That would be two triple-doubles in three games for the resident Spaniard. Gasol earned every point he scored, every board he grabbed, every pass he sent off to a teammate. If ever there was a game to signal a gut check for Gasol, it was tonight. Howard may be the future leader of this team (and he has shown many qualities of said leadership this week), but the seniority, for what it's worth, and the ultimate example of team-first mentality on this team, belongs to Gasol, who has the experience and that seemingly unshakable something that Howard is still in the process of earning – Kobe Bryant's ultimate trust. It was Gasol with whom Bryant wanted to speak during halftime in the last game. It's Gasol whom Bryant calls, "mi hermano," my brother, and it was Bryant who tweeted after the game, "Can the talk of trading Pau Gasol come to a cease now??" After a few more games like tonight, maybe they will. Dwight Howard – Along with Gasol, Howard was constantly surrounded by defenders around the rim, Photo courtesy of Stephen Dunn, Getty Images and was forced to pass it to an open shooter or force a shot up himself. As a result, he went just 2-9 from the field for his four first-half points. In the second half and overtime, however, Howard figured it out and hit 4-6 from the field. He finished with 16 points, but it wasn't his offense that helped get this win. Just as he was brought here to do, Howard exercised his defensive acumen, and brought his teammates with him. In the final 2:26 of overtime, and the Lakers nursing a 92-91 lead, Harden drove to the hoop and Howard simply grabbed the ball from his grasp. With under a minute left, Harden attempted a jumper, only to be met by a block from Howard. Where Kobe is clutch in the final minutes because of his prolific offensive abilities, Howard is clutch by way of his defense. Key On D – Defense was the buzzword of the last few Laker games. Tonight, it was the cause of their victory. After shooting just 37% from the field (!), the Lakers had to rely on their defense to save this game. After giving up 50 points in the first half to Houston, they gave up just 40 points in the final two quarters, and just five points in overtime. James Harden had 30 points, but needed 25 shots to get there. They also just held Houston to 95 points, nine points less than their season average. Rebounds – The Lakers outrebounded Houston 57-46. Blake, Howard and Gasol alone owned 45 of those 57 boards. With 17 offensive rebounds, the Lakers managed to score 24 second chance points to the Rockets' seven. Turnovers – The Lakers gave up just 13 turnovers, which led to 14 Houston points. Also a result of those turnovers, the Rockets beat them 19-0 in fast break scoring. Seventh Heaven – For weeks, the Lakers have been fighting for the coveted (not) eighth seed, and now they've got the seventh, which is probably the one item of "good fortune" they've received all season. They'll be matched up with the San Antonio Spurs, in what should be a (hopefully) competitive series. Excitement – Despite it being the final game of the regular season, tonight's contest had every bit of a playoff-type atmosphere than most games all season. Chandler Parson's three going in at the buzzer at the end of regulation, and forcing the game into overtime was the absolute icing on this exciting cake of a game. LOW POINTS: Offensive Eyesore – Oh it was so, so ugly. 33-90 from the field (37%) and 10-32 from three. Houston's defense really made it difficult for Howard and Gasol, or anyone, to score in the paint. They double-teamed the bigs each time they entered the area around the rim. Passes were sent out to shooters. Unfortunately, the Lakers didn't exactly shoot lights out from downtown. Jodie Meeks, who went just 1-7, has been in search of his stroke for quite awhile now. If the Spurs defend the Lakers as Houston did, Meeks has got to hit those open shots. Odd Rotations – With Bryant out,  the Lakers' coaching staff had to figure out their rotations. D'Antoni has been a creature of habit this second half of the season, sticking to eight, sometimes seven-men rotations. Tonight he played nine players, including Andrew Goudelock, who was just resigned by the Lakers up from the D-league. It seemed like a random trial, with Darius Morris getting some play as well, but at least Morris went 2-2 from the field. * * * Troubles – the Lakers have encountered it in bunches this season, and they've had every chance in the world to succumb to the constant criticism and doubt that resulted from the numerous injuries, trade rumors and frustration with trying to build chemistry on a team filled with new players. They went through losing streak after losing streak, hitting rock bottom at eight games under .500 and then falling in and out of playoff eligibility. Then the mother of all problems came in the 80th game of the regular season when their leader suffered a season-ending injury. The hits kept on coming, but the Lakers kept on fighting. With Utah losing to the Memphis Grizzlies, and taking themselves out of playoff contention, the Lakers could have just as easily mailed this game in and rested before starting a series with the Oklahoma City Thunder. Though a series with the San Antonio Spurs is a more desirable match-up, the Lakers weren't just going to play to get the last game of the regular season out of the way. "7th seed or 8th seed – we want to earn our way into the playoffs," D'Antoni said before the game to say. If the team couldn't win tonight, he went on, then they didn't deserve to be there. Well they did earn their way, in the most tumultuous and most challenging of seasons. And, according to Dwight Howard, they will more than just earn that position, "We won for each other and we're not done yet." Thank goodness for that. Box Score The post Lakers Rise to Seventh Seed With Overtime Victory Over Rockets appeared first on Laker Nation.
Original Story:
http://lakernation.com/lakers-rise-to...
THE BACKYARD
BEST OF MAXIM
RELATED ARTICLES
Always the cut up, Lakers' Dwight Howard was back at it again before they face the Rockets on the team's final home regular season game. Speaking to the media, Howard gave a rousing "300" movie-speech which including shout outs to Dr. Buss, injured Kobe Bryant, yelling for Pau Gasol to put his "big boy" pants on and of course, gave the infamous &quot...
It will be hard not to look back on the Orlando Magic's 2012-13 campaign as being similar to an expansion season. It certainly resembled one on paper. From a roster filled with first- and second-year players, to far too many lopsided losses to count, and ironically the exact same 12-29 home record as in their inaugural season, the only thing that seemed missing in Year 1 of...
The big news Wednesday night was that the Los Angeles Lakers earned the No. 7 seed in the Western Conference playoffs with a 99-95 overtime win against the Houston Rockets. But a story that largely went under the radar was that Lakers center Dwight Howard became the youngest player in NBA history to notch 9,000 rebounds The 27-year-old grabbed his 9,000th rebound in the first quarter...
Pau Gasol had 17 points, 20 rebounds and 11 assists, his second triple double of April.
Los Angeles Lakers general manager Mitch Kupchak said Wednesday that head coach Mike D'Antoni will be back next season, reports Mike Bresnahan of the LATimes.com. "Yeah, he's back.
Following the significant Achilles' injury suffered by Los Angeles Lakers All-Star Kobe Bryant, many question what the future Hall of Famer will be like if he's able to return. Bryant says he won't let the torn Achilles' end his career, but Sports Dr. Ray Solano believes that he doesn't expect him to return to play at 100 percent after undergoing surgery and...
This is not in reference to the Dwight Howard trade.
The playoff picture shifted on Monday night as the Houston Rockets (45-36) lost on the road in Phoenix to the Suns. The idle Lakers (44-37) have one game remaining - against the same Rockets who are now just one game ahead. By virtue of a better conference record, a Lakers' victory would secure the seventh seed in the Western Conference, much to the delight of Kobe Bryant, who...
JR The Bossman (@JRTheBossman) will be joined by Robert Littal (@BlkSportsOnline), CEO/Founder of BlackSportsOnline.com to talk about the top stories in sports and entertainment such as the Boston Bombings, Kobe Bryant and the LA Lakers Playoff Hopes, Royce White paying for abortions and educate the Dollarnaires on things that will ensure success in their everyday lives. Listen...
(Enter Aaron's giveaway with Captain Morgan, to win great prizes including an iPad mini and more!!) Although you may not be familiar with his name, there isn't anyone as well-respected in NBA circles than Tim Grover. The famed NBA trainer has been working with, and getting results from some of the league's best, including Michael Jordan, Kobe Bryant and Dwyane Wade since...
With the 2012-13 NBA season wrapping up and the playoffs just days away, the kind folks over at Fox Sports Radio 1037 The Game in Louisiana invited your truly to talk what else... the NBA. From Kobe Bryant's injury affecting the Lakers, the 2013 NBA Draft to the Spurs signing Tracy McGrady, we cover it all during this interview. Crossover would like to thanks the fellas...
NBA News

Delivered to your inbox

You'll also receive Yardbarker's daily Top 10, featuring the best sports stories from around the web. Customize your newsletter to get articles on your favorite sports and teams. And the best part? It's free!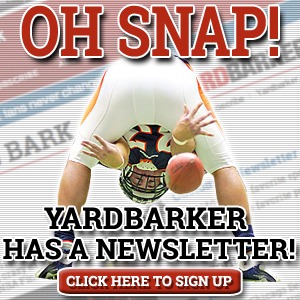 Latest Rumors
Best of Yardbarker

Today's Best Stuff

For Bloggers

Join the Yardbarker Network for more promotion, traffic, and money.

Company Info

Help

What is Yardbarker?

Yardbarker is the largest network of sports blogs and pro athlete blogs on the web. This site is the hub of the Yardbarker Network, where our editors and algorithms curate the best sports content from our network and beyond.