Found January 09, 2013 on NBA 24/7 365:
On Tuesday evening, the Indiana Pacers faced the Miami Heat for the first time since being knocked out of the playoffs last May.  They won… easily… for the 11th time in their last 14 games.  Paul George stole the show with his 29 points and 11 rebounds, outplaying the NBA's consensus best player and reigning MVP LeBron James by a considerable margin.  George is currently amidst a breakout into borderline All-Stardom — he posted eye-popping numbers over 15 games in December, and he's probably been the biggest reason why the Pacers haven't been doing things like lose to teams that scored five points in the fourth quarter anymore.  However, there have been other factors, too.  One pleasant Pacer surprise has been the much-improved play of Lance Stephenson. Lance Stephenson did not see the floor in the aforementioned loss to the Heat that eliminated last season's installment of the Pacers from the playoffs.  As a matter of fact, he made just two appearances in the entire six-game series, playing for a total of seven minutes and seven seconds, all of them meaningless.  He missed all five of his shot attempts, scored one point, and posted a pair of turnovers to his lone assist.  To the young man's credit, he did manage to make headlines.  Lance's choking gesture, which he made from the bench to taunt LeBron James, was all over the internet after Indiana's game-three victory.  James elected not to rip Stephenson to the press.  Rather, he responded with 40 points, 18 rebounds, and 9 assists in a pivotal game-four triumph.  If you clicked the link I threaded into the text above, you saw that I speculated that this incident may become a factor in whether or not Lance was still a member of the Pacers this season.  Back then, his contract wasn't guaranteed. Fortunately for Stephenson, Larry Bird held out more hope for him than I did.  Prior to this season, my primary criticism of the New York playground prodigy was his inability to perform next to players who are better than he is.  Having become familiar with Lance during his days at Coney Island's Lincoln High School, I knew damn well that the kid wasn't lacking in talent, nor was he short any confidence.  I watched him tear it up in various exhibitions, even professional ones such as the NBA Summer League.  Lance played particularly well in Orlando in the summer of 2012, but that came as no surprise to me; he was allowed to run the show, which put him in his comfort zone.  Problem is, he wasn't about to be running any shows come November.  Hell, he'd be lucky to see the floor on a regular basis, I figured.  That had been the case through the first two seasons of Stephenson's career, when he played only garbage time and displayed little promise.  With his questionable attitude, I thought there was a fair chance that this would be Lance Stephenson's final NBA season. On Tuesday night, Stephenson not only played in Indiana's 87-77 victory over Miami, but he started.  Not only did he start, but he contributed — significantly.  Early on, he helped his Pacers get off to a fantastic start by scoring seven of their first nine points.  He began by banging in a three-point shot from the top of the key, then hit another jumper from the baseline.  Next, he drove to the rack for a layup.  By the time the Pacers concluded their victory, Stephenson had 13 points to go along with 4 rebounds, 2 assists, 2 steals, and not a single turnover.  Ultimately, he'd been the third-best player on the floor for a team that beat the reigning champions.  Less than eight months ago he was spending entire games on the bench, vigorously waving his towel. It has truly been a dramatic turnaround for Lance, who moved into the starting lineup on November 10th.  That night, he dropped 12 in a slump-busting win over the Wizards.  He hasn't been back to the bench since.  Remarkably, Stephenson been able to transform himself from a man who couldn't function without the ball in his hands into an effective two guard who spends most of the game standing in a corner to space the floor.  And space the floor he has — Stephenson, who had been an 11% three-point shooter through his first two NBA seasons, is suddenly knocking down 40% of his attempts from long distance.  While that may not make him Kyle Korver, it does make him the most accurate Pacer, and certainly forces a defender to respect his range. In addition to an improved three-point shot, Stephenson has developed other methods to cope with playing off the ball.  One of the things he's done extremely well this season is push the ball in transition.  Stephenson, like a mini LeBron James, is something of a freight train in the open court.  He obviously handles and passes the ball with incredible precision, making him a great candidate to lead a break, but it's often his size and speed that really stand out when he takes off down the floor.  At 6'5" 228, Lance is a big guard who is awfully tough to stop once he's built up some momentum.  Though he isn't the league's highest leaper, he can finish above the rim with power or below with finesse. At the other end of the floor, Stephenson uses his size, length, and quickness to harass opposing guards.  While he's hardly a defensive mastermind with veteran understanding of various schemes and concepts, he has played hard enough and well enough individually on the flip side of the ball to earn the trust of his coach, Frank Vogel.  Here's what Vogel had to say about him after a recent victory over the Phoenix Suns, via Indy Corn Rows: "Defensively he continues to grow. His mistakes are being limited, he's becoming more solid. He actually made the play of the game defensively on a weak side sink. We've been on him for three years on his weak side and it was probably the best weak side play he's made all year, stopped a run, led to a transition bucket for George Hill. Just a big sign of growth." Oh, and I almost forgot: that questionable attitude?  Haven't heard a word about it.  Not since last spring. Certainly, Lance Stephenson remains a work in progress.  He still experiences lapses in judgment on a regular basis, mostly having to do with shot selection, over dribbling, or ball watching.  In Tuesday's big win over Miami, for instance, he fired a few questionable jumpers down the stretch.  Surely he'll continue to do such things as he forges along the learning curve, but that's just the normal growth process that most young players have to go through.  What's been so amazing to me about Stephenson's whole metamorphosis is that he literally looked like a soon-to-be NBA washout approximately 225 days ago.  Now, while he maintains some of his old flaws, he absolutely looks like a legitimate NBA player who'll be around for years to come.  To see such an unsuspecting prospect blossom so quickly, it's rather unusual. Rather enjoyable, too.  I doubted Lance hard — not hated, but doubted — and now he's become one of my favorite role players in the league.  In a short time, he certainly has come a long way.
Original Story:
http://nba247365.com/?p=9511
THE BACKYARD
BEST OF MAXIM
RELATED ARTICLES
Indiana Pacers coach Frank Vogel likes the message his new contract extension sends. He says it shows the Pacers' building process is gaining steam and there's no need to change directions. One day after the team announced it had given Vogel a new deal, he told reporters he was ''excited'' to coach this team beyond this season. The team has not released...
Watching Gerald Green brick his way through the 2012/13 season has become comparable to a drug addiction for yours truly (disclaimer: contrary to what my writing may lead you to believe, I am not currently nor have I ever been addicted to any drug; only NBA basketball) — I realize that it's a bad habit, that I'm doing nothing but hurting myself… yet I continue to do it anyway...
After being hired as the interim for Jim O'Brien in the 2010-11 season, Vogel led the Pacers to consecutive playoff appearances with a loss in the Eastern Conference semifinals last year. They've gotten off to a quick start in 2012-13. After a loss at Madison Square Garden on November 18th against the Knicks in which the Pacers only scored 76 points, the Pacers were...
INDIANAPOLIS -- It wasn't a playoff game, but the Indiana Pacers showed they can hang with the Miami Heat. The Pacers beat the defending NBA champions 87-77 at Bankers Life Fieldhouse on Tuesday night. The victory was the eighth straight at home for the Pacers. "A great team win, a real solid effort on the glass," Pacers coach Frank Vogel said. "We had great...
Indiana Pacers A tale of two extremes The Indiana Pacers are Currently 21-14 and coming off of a resounding win against the defending champion Heat.  They have been playing this season so far without leading scorer Danny Granger due to a knee injury.  In a Charmin soft eastern conference they currently sit in fourth place despite getting woefully inept offensive production from...
Knocking them out of a regular season game at home isn't quite the same as knocking them out of the playoffs, but the Pacers should nevertheless be very happy with their performance last tonight after topping the defending champs 87-77 in Indiana. They were able to do it without Danny Granger, the team's top scorer over the past five seasons (as well as with a sick and...
INDIANAPOLIS (AP) -- Paul George had 29 points and 11 rebounds, and the Indiana Pacers held Miami to a season-low point total in an 87-77 win over the Heat on Tuesday night. George made four 3-pointers to get the best of his matchup with LeBron James. David West added 14 points and 11 rebounds, and Lance Stephenson chipped in with 13 points for the Pacers (21-14), who have won 11...
GET UP THERE
Ladies and Gentleman, it looks like we have an early favorite for the "NBA Block Of The Year" coming courtesy of Indiana Pacers forward Gerald Green.During tonight's game against the Miami Heat, Mario Chalmers appeared to have an easy lay-up until Green rose well above the rim to deny him the basket:
Paul George had 29 points and 11 rebounds, and the Indiana Pacers held Miami to a season-low point total in an 87-77 win over the Heat on Tuesday night. George made four 3-pointers to get the best of his matchup with LeBron James. David West added 14 points and 11 rebounds, and Lance Stephenson chipped in with 13 points for the Pacers (21-14), who have won 11 of their last 13 games...
Every morning, we will give you five things from the night before in the NBA to start your day. 1: By George, he's hot The Pacers and Heat actually played an entertaining six-game series in last year's Playoffs. That can be hard to remember considering the Heat's run to the championship and the Pacers got off to such a slow start. It has taken a while...
On their way to an NBA title last season, the Miami Heat avoided an early scare and eliminated the Indiana Pacers in the second round. In their first meeting since that series, the Heat will try to snap the Pacers' longest home winning streak in nearly three years Tuesday night. Miami trailed Indiana 2-1 in an Eastern Conference semifinal series in 2012 before outscoring the...
NBA News

Delivered to your inbox

You'll also receive Yardbarker's daily Top 10, featuring the best sports stories from around the web. Customize your newsletter to get articles on your favorite sports and teams. And the best part? It's free!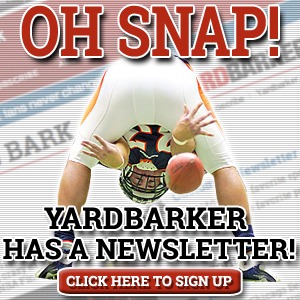 Latest Rumors
Best of Yardbarker

Today's Best Stuff

For Bloggers

Join the Yardbarker Network for more promotion, traffic, and money.

Company Info

Help

What is Yardbarker?

Yardbarker is the largest network of sports blogs and pro athlete blogs on the web. This site is the hub of the Yardbarker Network, where our editors and algorithms curate the best sports content from our network and beyond.