Found June 13, 2012 on Crossover Chronicles:
Miami came ready to play Tuesday night in Game One of the NBA Finals. The Heat jumped out to a 13-point lead and had everything going. They were forcing turnovers, they were getting out on the break and they were moving the ball. Mario Chalmers and Shane Battier were getting open shots and taking advantage of an Oklahoma City defense still getting its bearings. LeBron James was being LeBron James and there was not much the Thunder could do to stop him. As halftime approached, you could feel that lead slipping as Oklahoma City settled down and began running its offense. Once the defense found its footing, it was Miami's turn to adjust. The Heat couldn't, hoisting seemingly jumper after jumper as the Thunder took those misses and ran right by them with 24 fast break points and a Game One win. The Heat flamed out because the jumpers stopped falling and the Thunder packed the paint enough to keep the Heat on the outside. Figuring out how to crack the paint again...
Original Story:
http://bloguin.com/crossoverchronicle...
THE BACKYARD
BEST OF MAXIM
RELATED ARTICLES
Kevin Durant knows that whatever happens in the NBA Finals, he and LeBron James will be viewed as being at the center of it, for better or for worse. He recognizes that, he understands that, but he doesn't have to like that. Durant and James have more in common than chasing a championship starting Tuesday in Oklahoma City. Both have become hermits during the playoffs, with James...
Why aren't you rooting for LeBron James? Unless you're an Oklahoma City Thunder, Boston Celtic (Classy) or Indiana Pacer fan, it has no intellect at all. Aren't you tired of giving all your effort to hating LeBron? Or have you not reached your peak and plan on taking your disgust Facebook statuses to the next level? We get it, LeBron left you clinching your...
LeBron James has been criticized his whole career for not stepping up when it really matters. That's the price you pay when some call you the best in the world. His constant disappearing acts down the stretches of big games have now become part of his calling card. Last year's NBA Finals was no exception. James didn't play to the level he's capable of and the Heat lost to...
OKLAHOMA CITY- The Thunder won Game 1 of the NBA Finals much as how they have won a large percentage of their playoff games. To read the rest of this feature and watch post game videos,click the link below to visit playersview.net
Kevin Durant and LeBron James have reached another level in the postseason, but the 2012 NBA Finals will more likely be turned by one of their teammates.
The end of an NBA game typically is a time for the referees to swallow their whistles. Few fans like to see close games decided at the free throw line -- unless it is their team headed to the stripe, of course -- so except in the rare event that there is a mugging at the hoop, the hardwood in the waning seconds might as well be a New York City blacktop. Some fouls just need to be...
All you have to do is take one look at the picture above to understand what this is going to be. So we won't waste your time trying to convince you that this song in honor of LeBron James sung by Mike Tyson on Jimmy Kimmel Live is probably the craziest thing you'll see today. But what else can you expect when Mike Tyson is involved. [Slam]
I've heard rumors that there's some basketball game on tonight… but honestly, I'm not sure what it is.  I assume it's one of those crappy lockout exhibition things arranged by LeBron James and Kevin Durant because as far as I can remember, the NBA season ended Saturday. So instead of watching….. that….. watch the Gang in the latest episode of Gang Green. They go live...
                It's the finals every body wanted. LeBron James versus anti-LeBron James, aka Kevin Durant. The makeup of both the Oklahoma City Thunder and Miami Heat could not be any more different. Miami built their big-3 through free agency in the summer of 2010. James and Chris Bosh upped with Dwyane Wade, which of course prompted this.  Meanwhile, just days after...
Touching, poignant, and haunting. And that's just the afro wig and basketball outfit Iron Mike is sporting. Mike Tyson continues to reinvent himself as a master of comedy, and this latest appearance on Jimmy Kimmel Live only adds to his repertoire of hilarity.  Tyson sings the melodic "Lebron James" as only he can.  The only thing funnier than Tyson's so-called singing...
Game 1 off the NBA finals went to the Thunder. But what about the OTHER battle, the fashion one? Russell Westbrook wore a shirt from the 2012 Prada spring collection and of course, personality frames. KD opted for a slim cut suit in black. King James opted for a color mash featuring a berry shirt, [...]
NBA News

Delivered to your inbox

You'll also receive Yardbarker's daily Top 10, featuring the best sports stories from around the web. Customize your newsletter to get articles on your favorite sports and teams. And the best part? It's free!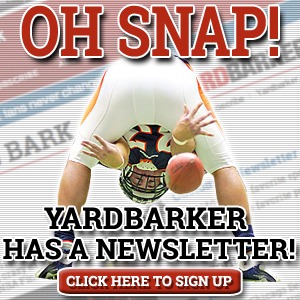 Latest Rumors
Best of Yardbarker

Today's Best Stuff

For Bloggers

Join the Yardbarker Network for more promotion, traffic, and money.

Company Info

Help

What is Yardbarker?

Yardbarker is the largest network of sports blogs and pro athlete blogs on the web. This site is the hub of the Yardbarker Network, where our editors and algorithms curate the best sports content from our network and beyond.