Found February 09, 2013 on Fox Sports Florida:
PLAYERS:
LeBron James
,
Dwyane Wade
,
DeAndre Jordan
,
Erik Spoelstra
,
Mario Chalmers
,
Chris Bosh
,
Ray Allen
,
Chris Paul
,
Blake Griffin
,
Jamal Crawford
,
Chauncey Billups
TEAMS:
Miami Heat
,
Los Angeles Clippers
MIAMI _ Michael Jordan starred in "Space Jam." Apparently, LeBron James now also is out of this world. After seeing what James has done this week, Miami Heat teammate Dwyane Wade only could gaze out at the universe to provide an adequate description. "He's off the planet right now," Wade said. "He's not even the best basketball player on the planet. He's surpassed the planet to somewhere else. He's in the galaxy right now." James had another game Friday night in which he was hanging around the Milky Way. In a 111-89 drubbing of the Los Angeles Clippers at AmericanAirlines Arena, he shot 9-of-11 for a game-high 30 points while not needing to play in the fourth quarter. Plug in what James has done in his past four games and the field-goal percentage that comes out makes it appear the calculator is in error. He has shot 43-of-59 for 72.9 percent. Considering James made his final four field-goal attempts last Sunday at Toronto, the first in the four-game stretch, he's drilled 37 of his last 47 shots for 78.7 percent. "You look at the numbers, it says that I haven't," James said when asked if he's ever had a shooting stretch like this, including in pee-wee ball. "You go by the numbers, I guess. Have I been in a grove where I felt like I can do so many things? Yeah, I've felt that way. But as far as the shooting percentages, the numbers don't lie. So I guess I haven't." James last Monday shot 13-of-14 against Charlotte, his 92.9 percent being the best shooting game of his 10-year career. James' 81.8-percent night Friday merely tied for the second-best effort of his career. So what's next for James? He was asked if he's striving for the perfect game in terms of not missing an attempt. "I would love to do it," James said. "Who wouldn't want to go a game without missing a shot? But I don't go putting pressure on myself, saying, Don't miss a shot.' I just go out and play and the results of going 13-or-14 or 9-for-11 or whatever the case may be, has happened." The 9-for-11 actually was more impressive than the 13-for-14. In the game against Charlotte, James shot every single attempt inside the paint. And the game was against the woebegone Bobcats. But Friday's outing was against the Clippers (35-17), who arrived with the fourth-best record in the NBA. And James shot 4-of-5 from 3-point range. James also should have gone 9-of-10. After starting out 6-of-6, he did not get a favorable hometown scoring ruling when tied up under the basket early in the third quarter by Clippers center DeAndre Jordan. It was ruled a blocked shot and a jump ball for James' first miss of the night. "No, I didn't," James said about whether it should have been regarded as a shot. "Whatever. It's cool." Baseball scorers sometimes make adjustments the next day on plays that either are or aren't errors. Maybe there will be late change and James will be credited for 9-of-10. Nevertheless, it seems as if one of the toughest aspects of Miami coach Erik Spoelstra's job now comes during the post-game interview. He must try to come up with new ways to describe James' play. "We try to come up with new superlatives every single game," Spoelstra said. "He's the best player in the game, and he's continuing to re-invent himself. If you had to grade shootaround today, he was specucutlar. This guy isn't trying to shy away from work ethic or preparation. He's getting after it. My film sessions, he treats them like he's a coach." So James on Friday was the MVP of the morning shootaround and of the game at night. It wasn't immediately clear if James missed any shots during the shootaround. But James had help at night in the superlative department. The Heat (33-14) played their best game of the season in blowing the Clippers out of the building. Miami led by as much as 80-57 late in the third quarter. James was given the night off after the third quarter, when the Heat were leading 93-68 and busy shooting 62.7 percent (they finished at 52.9 percent after mostly scrubs went 4-of-17 in the fourth quarter). Wade helped James out with 20 points and point guard Mario Chalmers had 18 while shooting 5-of-8 on 3-pointers. Wade played despite missing the shootaround with the flu. Center Chris Bosh and Ray Allen also stayed home due to similar illnesses, and both also missed the game. So the Heat were shorthanded and the Clippers had their entire team intact for the first time all season. Returning from injuries were All-Star starters Chris Paul, who had missed the previous nine games, and Blake Griffin, who had missed the previous two, along with Jamal Crawford and Chauncey Billups. "We didn't want them coming in and getting their rhythm back on us," Wade said. James made sure early that wouldn't happen. He shot 3-of-3 in both the first and second quarters and the Heat led 62-50 at halftime. James even had two blocks in the first half as well as the most crowd-pleasing moment of the night. When the ball went into the fifth row of the stands, a fan threw it back. James then tossed the ball back to the man, who who returned it James as the crowd roared its approval. There was plenty to cheer about all night for James. In fact, even Paul, who is a good friend, had to marvel at his showing. "LeBron is unbelievable," said Paul, who wasn't, shooting 1-of-5 for three points. "He can play. When he's shooting the ball like that, he's almost unguardable." Or simply out of this world. Chris Tomasson can be reached at christomasson@hotmail.com or on Twitter @christomasson
Original Story:
http://www.foxsportsflorida.com/02/09...
THE BACKYARD
BEST OF MAXIM
RELATED ARTICLES
LeBron James gave one fan a crash course on proper passing techniques during Friday's home game against the Clippers.The Heat star delighted the AmericanAirlines Arena just before halftime when he played a mini-game of catch with a fan in the stands.The moment came in the closing seconds of the second quarter when a ball bounced out of bounds and into the seats. James walked...
Professionals basketball players are busy--especially during games. That's why it is even more impressive that LeBron James took the time to teach a fan how to pass the ball properly during the first half of the Heat's game with the Clippers Friday night. Lebron-haters will be quick to say that this is another sign of the LeBron James-esque arrogance that has overtaken...
LeBron James has fun with a fan during an inbounds pass. In the second quarter on an inbounds during the Miami Heat and Los Angeles Clippers Friday night, the ball went to a fan wearing a LeBron jersey. LeBron then played catch with the fan. LeBron wasn't called for delay of game and why would [...]The post LeBron James Has FUN With Heat Fan (Video) appeared first on The NBA Mistress.
LeBron James takes a break from the Clippers game to play catch with a fan after the ball landed in his lap out of bounds:
This is the kind of moment that should linger. Mississippi comes from nowhere to land one of college football's top recruiting classes. Ole Miss playing with the big boys, beating them. Even LeBron James noticed, tweeting this: "Ole Miss ain't messing around today! Big time recruits coming in. SEC is crazy.'' It was testimony from coach Hugh Freeze that the...
Game time: Sunday at 3:30 p.m. TV: ABC The Miami Heat took down one Los Angeles team in their last game. They'll only wait two days to get a shot at the other one. If LeBron James continues his stellar stretch of play, the Heat have to like their chances to continue their recent domination of the visiting Los Angeles Lakers on Sunday. James is in the midst of another MVP-caliber...
MIAMI -- Remember Dwyane Wade? He's the guy who once made People magazine's list of the world's 50 most beautiful people, once starred in cell phone commercials with Charles Barkley and once was one of the best players in the NBA. Well, he's still one of the best. It's just he's dropped far enough behind Miami Heat teammate LeBron James that he sometimes...
McNeill and Mark chat about LeBron James' epic season, some of the NBA trades that might happen in the next two weeks, how things in Los Angeles have turned into another Dwightmare, if it's time to jump off the Clippers bandwagon and why the Celtics need to trade for a point guard.
More Snow, Please It's such a fun year in the Asso- ciation, people. LeBron James and Kevin Durant have both taken their games up another notch, which seemed more or less impossible last year; it's not too much of a stretch to say that they might be authoring the two best individual seasons in league history right now. The Knicks, of all teams, turned into a sharing and...
MIAMI (AP) -- LeBron James scored 32 points on 12-for-18 shooting in a record-setting show, Dwyane Wade scored 30 and the Miami Heat beat the Los Angeles Lakers 107-97 on Sunday for their fifth straight win. It was James' fifth straight game with at least 30 points, a franchise record. He's shot better than 60 percent in all five of those games. Mario Chalmers scored 13...
MIAMI (AP) -- LeBron James scored 32 points on 12-for-18 shooting in a record-setting show, Dwyane Wade scored 30 and the Miami Heat beat the Los Angeles Lakers 107-97 on Sunday for their fifth straight win. It was James' fifth straight game with at least 30 points, a franchise record. He's shot better than 60 percent in all five of those games. Mario Chalmers scored 13...
MIAMI (AP) -- LeBron James scored 30 points in another efficient performance, Dwyane Wade scored 20 and the Miami Heat dominated the middle two quarters on the way to an easy 111-89 win over the Los Angeles Clippers on Friday night. James shot 9 for 11, giving him 37 makes on his last 47 attempts, and sat out the fourth quarter. It was his fourth straight 30-point game, tying him...
NBA News

Delivered to your inbox

You'll also receive Yardbarker's daily Top 10, featuring the best sports stories from around the web. Customize your newsletter to get articles on your favorite sports and teams. And the best part? It's free!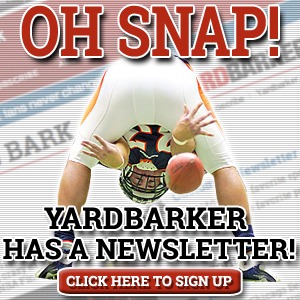 Latest Rumors
The Backyard

Today's Best Stuff

For Bloggers

Join the Yardbarker Network for more promotion, traffic, and money.

Company Info

Help

What is Yardbarker?

Yardbarker is the largest network of sports blogs and pro athlete blogs on the web. This site is the hub of the Yardbarker Network, where our editors and algorithms curate the best sports content from our network and beyond.