Found April 28, 2013 on Fox Sports Florida:
PLAYERS:
LeBron James
,
Ray Allen
,
Dwyane Wade
,
Udonis Haslem
,
Mario Chalmers
,
Jim Boylan
,
Monta Ellis
,
Larry Sanders
,
Brandon Jennings
,
J.J. Redick
,
Tim Hardaway
,
Shane Battier
,
David Stern
,
Kobe Bryant
,
Clay Matthews
TEAMS:
Miami Heat
,
Milwaukee Bucks
,
Los Angeles Lakers
,
Green Bay Packers
MILWAUKEE (AP) -- LeBron James can cross another item off his to-do list. James scored 30 points, Ray Allen had another big game against his old team and the Miami Heat got their first playoff sweep in the Big Three era, advancing to the Eastern Conference semifinals with an 88-77 victory over the Milwaukee Bucks on Sunday. "It was our next big step as far as our growth," James said. "It's so hard to win on the road in the playoffs, in someone's building -- especially when someone is playing for their last life. It's a big step for us." And now the Heat have some much-needed time to rest. Dwyane Wade sat out Sunday's game, only the second postseason game he's missed in his career, because of his aching right knee. But with Miami not playing until next Saturday, at the earliest, he'll have plenty of time to treat the three bone bruises that caused him to miss six games near the end of the regular season. Miami plays the winner of the Brooklyn-Chicago series. The Bulls lead that series 3-1, with Game 5 on Monday night in New York. "It's big," Wade said of the time off. "Obviously, we're one of the oldest teams in the league, maybe the oldest team in terms of rotation players. Guys have some bumps and bruises coming out of this series, so it's going to be great to get some rest. But also we have to take this time to continue to stay sharp, to continue to stay in shape as well." Judging by the clinical way in which the Heat dissected the Bucks in this series, that isn't likely to be a problem. The defending NBA champions won each game by double digits, getting contributions from their stars and subs alike. Allen finished with 16 points, the third time in the series he scored in double figures, and was 4 of 7 from 3-point range. Udonis Haslem added 13 points and five rebounds, and Mario Chalmers kicked in eight rebounds and six assists for Miami, which never trailed Sunday. "They had the whole package," Bucks coach Jim Boylan said. "When you can afford to sit guy like Dwyane Wade and perform at the level they performed at, that's a championship-caliber team." Monta Ellis led the Bucks with 21 points, and Larry Sanders had 11 rebounds to go with seven points. But Milwaukee got almost nothing again from Brandon Jennings, who didn't even play in the fourth quarter. Jennings, who had guaranteed the Bucks would win the series in six games, finished with three points on 1-of-7 shooting. After scoring 26 points in Game 1, Jennings had 27 total in the final three. "Frustrated, a little down because I came into this season with so much confidence," he said. "I thought we had a chance to steal a game in Game 1, Game 2. We let that slip away from us. Game 3, we came back home. Had a 10-point lead, lost that. I mean it's frustration all around." The Heat had chances to sweep their first-round series in each of the last two seasons, taking 3-0 leads on Philadelphia (2011) and New York (2012). But they couldn't close it out, losing Game 4 each year. That wasn't going to happen against the Bucks. Even with Wade reduced to a spectator. Wade got treatment "around the clock" the last two days in hopes of playing Sunday, and he tested his knee before the game. But he and the Heat decided it wasn't worth risking aggravating the injury further, and he spent the entire game on the bench in his warmups. "He gave me the nod saying he wasn't going to go, so I knew had to pick it up a little more and try to bring us home, bring this win home for us," James said. That he did, adding eight rebounds, seven assists and three steals to his 30 points. "We just space the floor and see if they can stop him. If not, he knows where we are," Allen said. "We just give him that room to operate." The Heat led by as many as 11 in the first half, only to see the Bucks steadily chip away at the lead. When Mike Dunleavy drained a 3 and Ellis scored on a floater, it cut Miami's lead to 69-67 with 9:34 to play. Ellis was fouled by Allen on the play, but he missed the free throw and James grabbed the rebound. He fed Allen, who knocked down -- what else, a 3. J.J. Redick missed a long 3 and James found an open Chalmers for another 3 that gave the Heat a 75-67 lead with 8:27 left. The 3 was Chalmers' 80th in the postseason, tying Tim Hardaway's franchise record. After Luc Richard Mbah a Moute made the second of two free throws, James scored on a layup. Redick made a jumper, but Shane Battier and Allen closed out the Bucks with a pair of 3s. James then converted a three-point play and added a layup to complete the 19-5 run -- a spurt in which he had a hand in every single Miami score. "At some point during that stretch right there, he decided he was going to put his imprint on the game and he did. In a big way," Boylan said. "When you're a superstar player like he is, that's what superstar players do." NOTES: The Heat have won eight straight postseason games dating to last season. That matches the franchise record. ... NBA Commissioner David Stern was in attendance. ... James scored 30 or more for the 54th time in the postseason, second only to Kobe Bryant among active players. ... Milwaukee had seven of its 16 turnovers in the first quarter. ... The Bucks are now 20-26 in elimination games. ... Packers LB Clay Matthews was at the game.
Original Story:
http://www.foxsportsflorida.com/nba/m...
THE BACKYARD
BEST OF MAXIM
RELATED ARTICLES
Was the Mike Brown rehiring made to bring back LeBron James? It's been three long years for Cleveland Cavalier fans as they have been tormented with watching  LeBron James morph into game's best player. After two straight Finals appearances for the Miami Heat, LeBron has them poised to make a third straight return. So what does the return of old head coach, Mike Brown have to...
In the NBA, the greats are always going to be compared to each other. While it can be simply unfair when you take a current player and compare them to 20 years ago, that does not stop the debates from happening. However, going off the numbers, Lebron James is showing the world a new level of smart, efficient basketball. In the first game of the NBA Playoffs, James put on a spectacular
With Jay-Z becoming a sports agent, speculation has risen that LeBron James could become a client. Jay-Z has partnered with CAA, where William 'Worldwide Wes' Wesley is also an agent. Wesley has long been thought of as having the ear of James, but a person with knowledge of the situation said that the two rarely speak anymore. Jay-Z and James are unquestionably friends, but...
MILWAUKEE In the end it probably won't really matter how the Miami Heat played Sunday afternoon in Game 4 of the Eastern Conference Quarterfinals because they have a bigger prize in mind. If the Heat somehow lost to the Milwaukee Bucks, they more than likely would have closed out the series back home on Tuesday. But for the time being, Sunday's 88-77 victory gave Miami...
Sure, Blake Griffin, LeBron James and DeAndre Jordan have had some very impressive dunks this season. But, let's be honest, most of those have been on the receiving end of an impressive pass to the rim. Kevin Durant, he likes to do things a little different. On Saturday night, Durant took an in-bounds pass after a made Houston Rockets basket the length of the court, weaving...
We have a great match-up here, as NBA superstars Kobe Bryant and Lebron James were recently spotted wearing similar attire off the court during the 2013 NBA Playoffs, first round. Both athletes look consisted of a trendy $565 Givenchy Paisley Print T-shirt, as they paired the crew neck with a solid blazer jacket, and rope chain. Kobe went for a more formal approach wearing his t...
What happened: The Miami Heat have recorded the first sweep of the Big Three era. Forward LeBron James scored a game-high 30 points as the Heat beat the Milwaukee Bucks 88-77 Sunday at the Bradley Center to win the Eastern Conference first-round series 4-0. The Heat, playing their third season with stars James, Dwyane Wade and Chris Bosh, were without Wade, who rested a sore right...
    When LeBron James finally captured his first NBA title, he had finally overcame all of the pressure that was heaped on him. If you remember, when the Heat found themselves down 3-2 in the Eastern Conference Finals against the Boston Celtics, speculation was running rampant about the changes that would be made if the Big 3 failed to deliver a championship. We all know how it...
Kobe Bryant appeared on the Lakers bench Sunday night in the third quarter. The goal of course was to provide moral support to a team that was clearly being swept out of the first round of the playoffs and not to make a sartorial statement in Givenchy and crutches but somehow, he managed to do both. Givenchy is the jock's go to look of the moment. Last summer you saw LeBron James...
Miami's Big Three finally have their sweep. LeBron James scored 30, Ray Allen had another big game against his old team and the Miami Heat advanced to the Eastern Conference semifinals with an 88-77 victory over the Milwaukee Bucks on Sunday. It's the first time the Heat have swept a playoff series since James and Chris Bosh joined Dwyane Wade in Miami three years ago. ...
LeBron James scored 30, Ray Allen had another big game against his old team and the Miami Heat advanced to the Eastern Conference semifinals with an 88-77 victory over the Milwaukee Bucks on Sunday., http://juicedsportsblog.com/sports-news/news/heat-complete-1st-playoff-sweep-of-big-3-era
Thankfully, we haven't heard too much noise lately from the Bristol underworld kingdom of First Take.  Tim Tebow's NFL career being on life support and the brilliant play of LeBron James have worked against two of the show's long-standing pillars - that Tebow is a winner and James is not.  Instead of building a show on a solid foundation of insight and analysis, ESPN...
NBA News

Delivered to your inbox

You'll also receive Yardbarker's daily Top 10, featuring the best sports stories from around the web. Customize your newsletter to get articles on your favorite sports and teams. And the best part? It's free!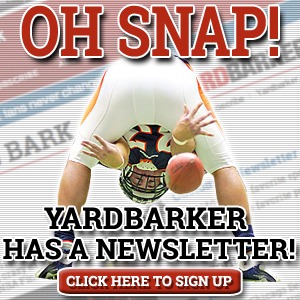 Latest Rumors
The Backyard

Today's Best Stuff

For Bloggers

Join the Yardbarker Network for more promotion, traffic, and money.

Company Info

Help

What is Yardbarker?

Yardbarker is the largest network of sports blogs and pro athlete blogs on the web. This site is the hub of the Yardbarker Network, where our editors and algorithms curate the best sports content from our network and beyond.