Found April 04, 2012 on Fox Sports Florida:
PLAYERS:
LeBron James
,
Dwyane Wade
,
Mario Chalmers
,
Chris Bosh
,
Russell Westbrook
,
Kevin Durant
,
James Harden
,
Kendrick Perkins
,
Scott Brooks
,
Erik Spoelstra
,
Pat Riley
,
Bob McAdoo
,
Tim Tebow
,
Julius Peppers
,
Jeremy Shockey
,
Michael Douglas
,
Derek Fisher
,
James Jones
TEAMS:
Miami Heat
,
Oklahoma City Thunder
,
New York Jets
,
Chicago Bears
MIAMI (AP) -- LeBron James had 34 points and 10 assists, Dwyane Wade scored 19 points and the Miami Heat avenged a loss at Oklahoma City last week, rallying to beat the Thunder 98-93 on Wednesday night for their 17th straight home victory. Mario Chalmers scored 13 points, and Chris Bosh had 12 for Miami, which trailed by 11 in the first half before a comeback fueled in part by Russell Westbrook pulling James down from behind on a fast break in the second quarter. Kevin Durant scored 30 points for Oklahoma City, and Westbrook added 28, but shot 9 for 26. James Harden had 12 for the Thunder, who lost despite holding Miami to 37 percent shooting. The win moved Miami (39-14) within two games of Chicago (42-13) in the race for the NBA's best record. Oklahoma City fell to 40-14. Durant could have given Oklahoma City the lead with 1:30 left, backing down James and then trying a turnaround from the left side. His shot was way off, hitting the top of the backboard. Bosh, who had been 3 for 13 to that point, made a jumper on the next Miami possession to make it 96-93. Kendrick Perkins then missed two free throws with 43.6 seconds left, the first Thunder misses from the line all night after starting 18 of 18. And after James couldn't connect on the ensuing Miami trip, it was still a one-possession game. The Thunder called a timeout with 19.5 seconds left and went for the quick 3, Durant's try hitting the front of the rim and going out of bounds. Wade made a pair of foul shots, stretching the lead to five, and it was soon over. Oklahoma City's win at home over Miami last week was largely one-sided. For a while, this one looked as if it would go the same way. There were some incidents that had big-deal potential in the opening minutes. Wade and James failed to score on a pair of early 2-on-1s, first against Westbrook, then against Durant. James tweaked his left ankle after falling over a courtside videographer, then grabbed at his back and winced after some unintentional and unexpected contact with referee Zach Zarba. By night's end, all that was forgotten. Westbrook's three-point play with 7:27 left in the second quarter gave Oklahoma City a 36-25 lead, and that sort of margin typically means a Thunder win -- they came into Wednesday 32-2 when they held a double-digit lead. Then the game's complexion changed. The first salvo came with 5:45 left in the half, when Perkins struck Wade in the head while trying to block a shot and both got called for a technical and personal fouls, much to the ire of both sides -- coach Scott Brooks couldn't understand why Perkins merited both, while Heat coach Erik Spoelstra asked why contact to the head wasn't worth a flagrant foul. The flagrant came 12 seconds later. Wade stole the ball from Westbrook, flipped it ahead to James, who leaped for a dunk. Westbrook came from behind James, wrapping his left hand over the Heat star's left shoulder and using his right hand to grab him around the waist. James fell to the court, and emotions started boiling over. Referees Bill Kennedy and Olandis Poole jumped into the fray, making sure players didn't go at one another. Heat President Pat Riley got out of his seat three rows from the court and took a long look at the scene, while normally mild-mannered Miami assistant coach Bob McAdoo had some choice words for anyone who would listen. The end result was a flagrant-1 for Westbrook. James swished a jumper as time in the half expired, and Miami led 50-49. The Heat closed the half on a 23-11 run. "Playoff basketball," James said at halftime in a TV interview. "I know Russ. I don't think he's a dirty player." He's right -- it certainly did have a playoff feel. Even new Jets quarterback Tim Tebow -- who James raves about -- was taking notice of the level of play. "Don't know who's gonna win," Tebow tweeted in the third quarter, "but KingJames isn't playing around." Neither were the Thunder. As soon as the Heat went up by nine late in the third, their biggest lead to that point, the Thunder came back with a 10-0 run to reclaim the lead. Durant started the burst with a 12-footer with 3 seconds left in the quarter, then Oklahoma City scored the first eight of the fourth to go back on top 81-80. By that point, it was clear this one was going to the wire. NOTES: Word that Wade would play -- he missed Tuesday's game against Philadelphia with a bruised left knee -- came down about 45 minutes before tip-off. ... NFL stars Julius Peppers and Jeremy Shockey were part of the sold-out crowd, as was actor Michael Douglas for the second straight night. ... About 57,000 people went to a pair of sold-out sports events three miles apart in Miami on Wednesday night, with Heat-Thunder going on not far from the first official baseball game in the history of Marlins Park. ... Thunder guard Derek Fisher and Heat guard James Jones -- both NBPA officers who spent much of the offseason dealing with the lockout -- exchanged greetings at halftime.
Original Story:
http://www.foxsportsflorida.com/04/04...
THE BACKYARD
BEST OF MAXIM
RELATED ARTICLES
MIAMI This was perhaps the most gifted basketball player in the world playing at his God-given best on defense. This was LeBron James, the oft-maligned and always-criticized Miami Heat forward, defending Kevin Durant, the Oklahoma City All-Star who is maybe the NBA's most talented scorer. And James took it personally. "Anytime you get an opportunity to go against one...
There is not really much to say about this picture except for the fact that the person who created might have done the single greatest thing in NBA fan history:(Courtesy of Off The Bench)
LeBron needs to just embrace the receding hairline look and make it his own. The NBA has a long line of all-star wings that have sported the look: Michael Jordan, Clyde Drexler, Mitch Richmond, and Ray Allen are three that come to mind off the bat (pics after the jump). Look Bron if you really were that self conscious about your hairline you wouldn't use Roids. Look what it did...
MIAMI -- If Tom Brady goes awhile without a 300-yard passing game, it's a slump. If Tim Lincecum has a stretch without a 10-strikeout game, one wonders what's wrong. It's the same with Miami forward LeBron James. When he had failed to reach 30 points for nine straight games, his longest such streak since early in his second season of 2004-05, it was a drought. Well...
In the midst of the busiest portion of their schedule, the Memphis Grizzlies seemed to tire down the stretch in their third game in as many nights. They won't get much respite with a visit to Miami. Coming off an impressive victory over the top team in the Western Conference, the Heat look to match a team record with their 18th straight home win Friday night when they face...
Last night I was asked to join John Russo on his radio show "Out of Bounds." We talked about the Miami Heat being the top team in the NBA, LeBron James' fourth quarter struggles, Derrick Rose's kryptonite, and the sneaky Spurs being poised for a deep playoff run. Here's the audio of my segment: Download audio file (OOB-452012-RyanMcNeil.mp3) sr_adspace_id...
The big game tonight will most likely decide who will be this year's MVP. I hope everyone is as excited as I am to see the Kevin Durant v.s. LeBron James showdown!! I'm taking Miami -2.5  
MIAMI It's simple. Either the Miami Heat are the Heat 2.0 hardened, emboldened and made better by all that's transpired since LeBron James uttered those words about South Beach. Or they're the same team that relentlessly showed signs all last season, to those willing to see, that their glorious trio came with a very real Achilles' heel the one that finally caught...
MIAMI (AP) -- LeBron James had 34 points and 10 assists, Dwyane Wade scored 19 points and the Miami Heat avenged a loss at Oklahoma City last week, rallying to beat the Thunder 98-93 on Wednesday night for their 17th straight home victory. Mario Chalmers scored 13 points, and Chris Bosh had 12 for Miami, which trailed by 11 in the first half before a comeback fueled in part by Russell...
Baseball is a mind game, most of all. It plays Yahtzee with your skull. Think too much, and you're toast. Blow off the details, and you're on the next bus back to Burlington. You seek the happy medium, accent on the happy part. Our time, they say. Our time. "If positive thinking always worked do you think you could beat LeBron James, 1-on-1?" Bob Weinberg asks...
Centers are at such a dearth in talent right now in today's NBA that the Miami Heat would be just fine in a series against the Orlando Magic or Los Angeles Lakers. The Heat have enough talent in enough places to succeed against an elite center. Last season's Eastern Conference Finals proved that the regular season is only good for seeding, and that in critical junctures...
NBA News

Delivered to your inbox

You'll also receive Yardbarker's daily Top 10, featuring the best sports stories from around the web. Customize your newsletter to get articles on your favorite sports and teams. And the best part? It's free!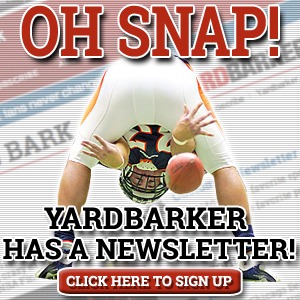 Latest Rumors
The Backyard

Today's Best Stuff

For Bloggers

Join the Yardbarker Network for more promotion, traffic, and money.

Company Info

Help

What is Yardbarker?

Yardbarker is the largest network of sports blogs and pro athlete blogs on the web. This site is the hub of the Yardbarker Network, where our editors and algorithms curate the best sports content from our network and beyond.