Found July 30, 2012 on roundballchat.com:
LeBron James might be the best passer in the NBA. He was the best player for the Americans and he didn't even score in double figures. James set the tone with his passing. James finished the game with 9 points, 8 assists and 5 rebounds. James has great vision for a player his size. In the win over France James had one of the best passes that you will ever see. Tyson Chandler rebounded the ball off the Tony Parker miss and passed the ball to James at the three point line. From there is what time for James instincts to take over. He threw a 50- foot bounce pass to Kevin Durant in stride. Durant finished the play with a dunk and a and-one. That's just ridiculous, that's not even fair. After a slow 1st quarter the USA cruised past France in their 1st game of the 2012 London Olympics. After the 1st quarter the US was only up by 1 point but they pulled away in the end winning the game 98-71. The US is seeking in second straight gold medal after winning in Beijing four year...
Original Story:
http://www.roundballchat.com/2012/07/...
THE BACKYARD
BEST OF MAXIM
RELATED ARTICLES
  It was nearly midway through the first quarter when Tyson Chandler rebounds the ball, passes to LeBron who in turn connected with Kevin Durant who ran on the fast-break by way of a 50-foot bounce pass by LeBron James. Did I mention it was a 50-foot bounce pass between players?? LeBron is just incredible.
LeBron James just got turned down from a dinner date.  Yes, LeBron is engaged to his high school girlfriend, but he still got the big red card from a fellow Olympian. U.S. swimmer Lauren Perdue tweeted that LeBron asked her to grab some dinner at the Olympic Village dining hall.  Perdue then said, He was kind of joking. But he was basically like, 'Would you like to come eat...
When Ray Allen left Boston for the Miami Heat, my first thought was: "Damn we're going to miss his clutch 3′s."  My second thought was: "Damn I'm really going to miss his sweet J's."  No..not those J's-his Jordans. During his time with the Celtics, Ray wore some sweet Air Jordan player exclusives. I doubt we will ever see a better selection of kicks than we did...
Slow Mo Olympic Video: LeBron James and Kevin Durant Get Bromantic In real life they looked at each other for one quick second. In Olympic slow motion, with the music behind it, their gaze had much more behind it. They got bromantic. The Miami vs Thunder stuff was left in the States. This is London [...]
LeBron James and Kobe Bryant took a seat, then the U.S. Olympic basketball team took control. The Americans got their expected blowout and fans got the show they came to see in the 110-63 win over Tunisia, but only after U.S. coach Mike Krzyzewski started his reserves to open the second half after a lackluster first 20 minutes. Finally pulling away behind the second unit's...
***Although he took just six shots, LeBron James left his fingerprints all over this game.  The King finished with eight assists, including a high-speed, no-look dish which whizzed past the head of Boris Diaw (video to be added if and when I can find it).  Oh, and then there was this one… I imagine James would've finished with at least 10 helpers had Team USA been able to...
Kevin Durant led Team USA with 22 points and nine rebounds, while LeBron James was also strong with nine points, eight assists and five rebounds.
The first game for the 2012 USA Men's Basketball team is in the books. They throttled their opponent, France, 98-71. Kevin Durant and LeBron James were brilliant for the US, leading them to an easy victory. Great defense led the way to the USA's blowout of France. Team USA seems destined for Gold. The game was closer than expected in the beginning. The US had only a one-point...
Before we get into this, let us just remind everyone that it is possible to be friendly and invite someone to dinner without having an ulterior motive. As we know, LeBron James is an engaged man. Last week before the Olympics began, LeBron met US swimmer Lauren Perdue, as the photo evidence above from Perdue's Twitter account proves. As it turns out, LeBron asked the 21-year...
It has been a subject of much debate. LeBron James and Kobe Bryant have made their feelings known. The question: Who would win if matched up; the 1992 Dream Team or their 2012 counterparts? And while this 2012 squad is unbelievably talented, and should win the gold medal without any real problems, the answer to the above is not even up for conversation. The Dream Team wins, and wins...
Again, another post that has nothing to do with fantasy basketball… But I think this is amusing. Since I'm vacationing in Paris (hence the 8 a Huit Blogiversary celebration and getting to see Tony Parker interviewed in French), I get to see a lot shirts with weird English phrases on them as well as the translations of movie titles… Now, I'm not really a connoisseur of the...
Heat News

Delivered to your inbox

You'll also receive Yardbarker's daily Top 10, featuring the best sports stories from around the web. Customize your newsletter to get articles on your favorite sports and teams. And the best part? It's free!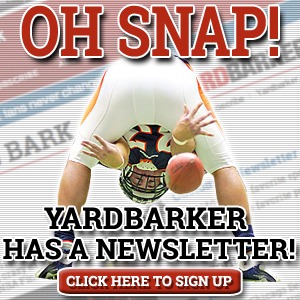 Latest Rumors
The Backyard

Today's Best Stuff

For Bloggers

Join the Yardbarker Network for more promotion, traffic, and money.

Company Info

Help

What is Yardbarker?

Yardbarker is the largest network of sports blogs and pro athlete blogs on the web. This site is the hub of the Yardbarker Network, where our editors and algorithms curate the best sports content from our network and beyond.