Found November 09, 2012 on Wizards Extreme:
The generation of social media we are living in today has bridged many connections between fans and the rest of the sports world, granting access to their favorite teams and athletes. The type of access our daddys would have only dreamed of attaining. So this year, WE are proud to offer Wizards fans a segment that will reveal the week's top three Wizards-related tweets, Facebook statuses, Instagram uploads, perhaps an AIM away message even. Whether it's posted by a Wizard or about a Wizard, we'll be sure to find it, and expose it. Jamal A. Smith kicks us off with this week's fun findings.. Tweet #1: Illustration of Seraphin dunking on Kobe  This is a very cool picture of Kevin Seraphin, post-dunk, swinging from the rim, looking down at a masked Kobe Bryant.  This is presumably a moment that actually occurred, but did Seraphin actually call Kobe "MAD"?  If so, what for?  Is Kobe envious of Kevin's Spongebob backseat passenger, or simply upset that he has a crotch swinging in his face? These are the questions. Tweet #2 – Michael Lee's tweet on Washington's draft history Michael Lee tweeted a sobering statistic from @roopstigo, stating that the 18 Wizards players drafted between Kwame Brown in 2001 and John Wall in 2010 are all no longer with the team. In my opinion, this fact illustrates a historical failure to not only evaluate talent, but to develop it.  While Kevin Seraphin is showing promise of breaking this trend, nearly all of his predecessors did not enjoy such success. Playoff years notwithstanding, I used to get very excited about lottery picks and the prospect of young players – any young players – coming in to be the franchise cornerstone the team has so desperately lacked for years. But this tweet reminds us that landing the talent is only a fraction of the work. Tweet #3 – Ted Leonsis's tweet about Wall & Bieber Justin Bieber played a show at the Verizon Center earlier this week, sending the hearts of many girls (and men) racing.  Ted Leonsis was excited, and according to his tweet, so too was John Wall. While I was hoping the tweet explained how Ted and John had an elaborate date night, Ted's blog entry instead guided us to a Washington Post write-up on how Bieber and Wall met in the Verizon Center before the concert.  There were pictures included, too.  And for some reason, Bieber's chosen mode of transportation was a Segway (a shot at Javale)? But seriously, can Bieber set up an offense?  What's his shot selection like?
Original Story:
http://www.wizardsextreme.com/2012-ar...
THE BACKYARD
BEST OF MAXIM
RELATED ARTICLES
Wiz Early Season Report (AP Photo/Elise Amendola)   Three games have come and gone and the Washington Wizards have yet to claim victory. So far this season it has been the same misery that happens to us Wizards fans year in and year out. But this misery actually has some promise and has us doing some wishful thinking to what we can accomplish when we can get our two best players...
• 2012 Victoria's Secret Fashion Show Outtakes • Samantha Steele in HUGE Twitter fight • NBA Back Tattoos: Kevin Seraphin gets this • Bro Move: Best Bodybuilder Troll Of The Day • VIDEO: Wild AHL WWE-style brawl • NEW! Nina Agdal bra/underwear overload! • Hottest Swedish Model Of The Day: Ms. Mattsson • Meet Brazilian bikini model Guisela Rhein Filed under: Daily Dump
What did Boston do to anger Kevin Seraphin so deeply?Overall, it's about the win; that's what we did.-Rajon RondoRondo is right. Kind of. Nothing negative about tonight will matter in the grand scheme of things. Nobody was injured. Nobody flipped out on anybody else. Nothing notably BAD came out of the Celtics' win tonight, and it WAS a win. So all's well that ends well,...
celtics 100 wizards 9411/7/2012 - TD Garden, Boston, MA ESPN BoxscoreNBA.com Game Highlights   Wizards Player of the GameFor the majority of the game I had Kevin Seraphin (lightly) penciled in for this section. But then the 4th quarter happened, when Chris Singleton unleashed himself on the floor as if he missed being a starter. Singleton finished with 14 points...
Wiz lose "must-win" game at Boston in OT, fall to 0-3. [Bullets Forever] Chris Singleton did have a pretty awesome game-tying dunk. [SB Nation] Kevin Seraphin must have one of the world's biggest back tattoos. [Bog] The Wiz are giving away replica 1978 NBA title rings in April. Want. [Bog] Silverback Williams is the NFL's 28th-best player. [Pro Football Focus] WaPo's KidsPost...
Tip: 7:30 PM     Court: TD Garden    Watch it: CSN  Hear it: WEEI Referees:   Monty McCutchen, Bennie Adams, Kevin Scott  Get your tickets here The Matchup     Record: 1-2 Record: 0-2 At Home: 1-1 On Road: 0-1 Streak: Won 1 Streak: Lost 2 Leaders Leaders Buckets: Pierce (20.0 ppg) Buckets: Kevin Seraphin (19.0 ppg) Boards: Garnett (7.7 rpg) Boards: Earl Barron...
At the beginning of the 2012-2013 season, which feels like a year ago given the poor play over the first four games, critics all acknowledged the fact that the Wizards were going to be hurting in the big-man department. Kevin Seraphin was injured, Nene is out for the indefinite future, Okafor had a poor preseason, Brian Cook was dropped, and the only player left was Earl Barron...
NBA News

Delivered to your inbox

You'll also receive Yardbarker's daily Top 10, featuring the best sports stories from around the web. Customize your newsletter to get articles on your favorite sports and teams. And the best part? It's free!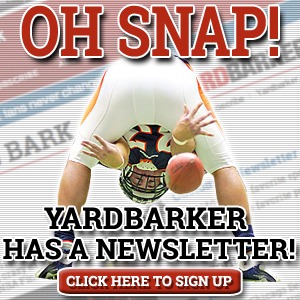 Latest Rumors
Best of Yardbarker

Today's Best Stuff

For Bloggers

Join the Yardbarker Network for more promotion, traffic, and money.

Company Info

Help

What is Yardbarker?

Yardbarker is the largest network of sports blogs and pro athlete blogs on the web. This site is the hub of the Yardbarker Network, where our editors and algorithms curate the best sports content from our network and beyond.