Found April 11, 2013 on NorthWest Sports Beat:
Lillard's Big Night Sitting 11 games under .500, and mathematically eliminated from playoff contention, the Portland Trail Blazers had very little to play for heading in to last night's contest against the rival Los Angeles Lakers. However, any time Portland hosts the Lakers at the Rose Garden, no matter the situation, there's always something to play for, and that something is pride. So even though Rip City was missing three starters (Nic Batum, Wes Matthews and JJ Hickson), they would attempt to derail Los Angeles' playoff push behind All-Star LaMarcus Aldridge and rookie sensation Damian Lillard. Even though Portland fell short at the end of the game, Damian Lillard put on a show, going head to head with Kobe Bryant, trading punches all the way until the final buzzer. Hot First Quarter Lillard got the game going strong by pacing the Blazers in the first quarter, scoring 17 of his career-best 38 points in the frame. Damian knocked down three deep threes, to go along with three mid-range jumpers, and a pair of free throws, to help Portland put up 41 points in the first quarter, staking the Blazers an 8 point lead. The rookie also got his teammates going by dishing out an amazing 7 assists in the first quarter alone. It was apparent from the tip-off that Portland wasn't going to go down without a fight, and the rising star that is Damian Lillard wasn't afraid of who the opponent was. Even if that opponent happened to be Kobe Bryant, who was keeping pace with the young kid, putting up 17, of his season-high 47 points, in the first quarter. Taking the Lead in to Halftime Lillard kept his shooting touch going in the second quarter, scoring 8 points, while keeping the Lakers, temporarily, at bay. Portland's second half performance looked nothing like the team that took to the court for the previous 24 minutes. Whether it be highlight reel type dunks, or his now signature step back jumpers, Damian Lillard was not going to be slowed by the Lakers sporadic defense Wednesday night, and was looking like the Rookie of the Year that he should be. With Bryant notching 11 more points in the 2nd quarter, and both teams putting up 28 in the frame, Portland headed in to the locker room up 8 points, and in full control. Stumbling through the 2nd Half Whether it be experience, or fatigue, or just plain getting out played, Portland's second half performance looked nothing like the team that took to the court for the previous 24 minutes. This lapse, however, did nothing to slow Damian Lillard's quest to keep the Lakers from the postseason, and his hot touch stayed with him well in to the second half. Scoring 9 of Portland's 21 third quarter points, Lillard seemed to be all the fight Portland had left. Needing just 4 points to record a new career high in points (previous career high was 36 points) the rookie seemed poised to add another accomplishment to his already impressive first season in Portland. A Career High or a Win? The bottom seemed to completely fall out on the Blazers in the fourth quarter, as Los Angeles methodically made their comeback, and created a comfortable lead heading in to the last few minutes of play. Lillard had tied his career high of 36 points with just under 7 minutes to play, but seemingly had more on his mind than just setting a personal record; he wanted to win. At this point in the game you could see where Bryant's veteran experience distanced himself from Damian Lillard's fresh faced first season. Bryant all but iced the game after a clear path violation was called against Damian Lillard that sent Kobe to the line for two free throws, and also gave LA the ball (where Kobe hit a long jumper on that ensuing possession). The Lakers ended up cruising to a 7 point victory, and kept their playoff hopes alive. Lillard's Accomplishment Lillard did end up scoring that final basket to give him 38 points on the night, good for the most points he's scored in a game during his career thus far, but the sting of defeat left a sour taste in his mouth. If any silver lining can be taken from his performance it's that Portland has a rising star on their hands, one who will dazzle fans on a nightly basis as long as he's donning the black and red of Rip City. Watching him go toe to toe with one of the game's best is a testament to his drive, and motivation, to be a superstar. His comments from the beginning of this month about his ability to be an All-Star, and a league MVP, seem less and less far-fetched each time he takes the court. His future is bright and Rip City will enjoy watching him light up the Rose Garden for years to come. Agree? Disagree? Hit me back below. I welcome your feedback. CLICK HERE TO CHECK OUT THE BLAZERS BLOG IN OUR CLUBHOUSE TODAY AT NWSB!
Original Story:
http://www.nwsportsbeat.com/trailblaz...
THE BACKYARD
BEST OF MAXIM
RELATED ARTICLES
The Portland Trail Blazers outstanding rookie (of the year), Damian Lillard, is offering his services to assist Portland in recruiting players to come play for the Trail Blazers. Lillard will look to attract the attention of free agent players that can help the Blazers take that next step. "It depends on what our team is going to need, but if I like a player that is on the market...
J.J. Hickson has been a productive player for the Portland Trail Blazers this season, but the team is expected to part ways with him over the offseason as they attempt to upgrade at the center position, according to Jason Quick of The Oregonian.In speaking with reporters, Blazers general manager Neil Olshey wouldn't rule out keeping Hickson, but he indicated that a return is...
This is the part of the NBA season when casual fans ask themselves if it's worth it. Your team stinks, the effort looks weak, and you start hearing about players' vacation plans. Blazer fans open the paper to find J.J. Hickson trade talk. You feel cheated, deceived, and look for reasons to turn away from basketball. Even D-Wade and the King are sitting it...
Portland Trail Blazers' rookie Will Barton took it to the rack and threw down a monster two-hander on Thunder guard Thabo Sefolosha during the second quarter of Friday night's game:
When you outscore your opponents 18-3, chances are you'll win a seven game series in 4.  The Portland Winterhawks did just that, setting and breaking yet more team and WHL records along the way. Now, they wait for just over a week before they play their first game for the Western Conference Championship. They will play the Kamloops Blazers who, similar to the Hawks, won their...
Playing Spoiler The Portland Trail Blazers suffered a tough loss the other night to the Los Angeles Lakers. Matchup: Portland (33-45) vs. Oklahoma City Thunder (58-21) Venue: Rose Garden Arena        Time: 7:00 PM PT             Date: Friday, April 12, 2013 In a season in which the Blazers will not make the playoffs, you may think, "how is losing to the Lakers...
A visit from the Oklahoma City Thunder might not present the ideal opportunity for the Portland Trail Blazers to avoid setting a club record for consecutive home losses. Mired in a nine-game overall skid, the Trail Blazers look to avoid a seventh straight home defeat and a season sweep at the hands of the Western Conference-leading Thunder on Friday night. If missing the playoffs...
NBA News

Delivered to your inbox

You'll also receive Yardbarker's daily Top 10, featuring the best sports stories from around the web. Customize your newsletter to get articles on your favorite sports and teams. And the best part? It's free!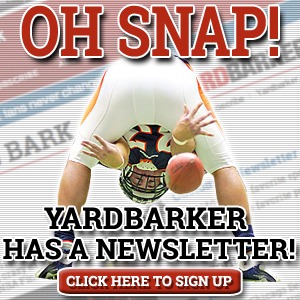 Latest Rumors
Best of Yardbarker

Today's Best Stuff

For Bloggers

Join the Yardbarker Network for more promotion, traffic, and money.

Company Info

Help

What is Yardbarker?

Yardbarker is the largest network of sports blogs and pro athlete blogs on the web. This site is the hub of the Yardbarker Network, where our editors and algorithms curate the best sports content from our network and beyond.