Posted October 16, 2012 on AP on Fox
Kevin Love had 24 points and eight rebounds and Brandon Roy chipped in 19 points in Minnesota's 114-81 victory over Maccabi Haifa on Tuesday night. Andrei Kirilenko had 13 points, seven rebounds and five assists after sitting out the previous game with a sore hamstring. Love also missed the previous game with a sore right elbow, but showed no ill effects on Tuesday. Pat Calathes had 17 points and 10 rebounds and Paul Stoll scored 17 for Haifa, a visiting team from Israel that came to the United States for two exhibitions. The Greens lost to Golden State on Thursday night. The Timberwolves shot 42 free throws to Haifa's 10. With a healthy Love and Kirilenko, Timberwolves coach Rick Adelman wanted to start looking at combinations that will be used extensively early in the season. The Timberwolves have six new players who figure to play major minutes this season, and Adelman gave them plenty of playing time on Tuesday night. The talent disparity turned the game into a glorified practice for the Wolves, which is just what they needed. Love, Kirilenko, Roy and Nikola Pekovic all played at least 25 minutes, with starting point guard Luke Ridnour playing 21 while he works his way back from a back injury that limited his ability to practice in training camp. Kirilenko's presence was immediate, infusing the starting group with deft passing and defensive tenacity that the Wolves will sorely need with Ricky Rubio expected miss at least the first six weeks while recovering from surgery to repair a torn ACL in his left knee. Dante Cunningham scored 11 points and JJ Barea added 11 point and seven assists off the bench for the Wolves, who made so many moves in the offseason to create a deeper team that might be able to weather the early portion of the season without Rubio. The key will be Roy, who is coming back after missing last season with chronic knee problems. He had a procedure this summer to try to relieve the bone-on-bone pain and signed with the Timberwolves in September after feeling much better in workouts. The former All-Star still winces when he's knocked to the floor, but he's been nothing but efficient and smooth offensively in the early going for the Wolves. Roy was 4 for 8 from the field, including 2 for 2 on 3s, hit nine of his 10 free throws and grabbed four boards as well in 25 minutes.
Original Story:
http://msn.foxsports.com/nba/story/Lo...
THE BACKYARD
BEST OF MAXIM
RELATED ARTICLES
SOME LOVE LOST
Terrible news for the T'Wolves and their fans, as it was announced on Wednesday that their star broke a bone in his hand at practice and could miss up to two months.
After a preseason game in when Kevin Love had a sick no look pass unfortunate for him the next day in practice he got hurt and will be out for 6 to 8 weeks. However, the day before in Minnesota's 114-81 win over Maccabi Haifa Love showed off his basketball skills. Nikola Pekrovic had a nice block , then the Timberwolves got the rebound an went on the break. They passed the ball...
For Minnesota Timberwolves fans, what's worse? Hearing that Kevin Love could be out up to 8 weeks after breaking his hand or hearing that Kevin Love broke his hand doing knuckle push-ups? Well, both of those things happened. And our vote is definitely for Love being injured doing knuckle push-ups. https://twitter.com/JerryZgoda/status/258989392776032256 The post Kevin Love broke...
MINNEAPOLIS For the Minnesota Timberwolves, hope has been a fickle mistress.Since last March, hope has hinged on one thing: the recovery of Ricky Rubio from his torn ACL. It's been growing in recent weeks, with the point guard's presence in Minneapolis and continued updates verifying that he is on schedule with his recovery. On Tuesday, it peaked when Rubio began shooting...
Minnesota Timberwolves star forward Kevin Love is suffering from a broken right hand. Royce Young of CBSSports reports that he is expected to be out for six to eight weeks.The Minnesota Timberwolves announced Wednesday that star forward Kevin Love will be out 6-8 weeks because of a broken right hand. The team says the injury happened Wednesday morning during a workout. This is...
Minnesota Timberwolves superstar forward Kevin Love fractured the
A THING OF BEAUTY
It may be just preseason, but the highlights are still coming in fast. Last night during The Minnesota Timberwolves 114-81 win victory over Maccabi Haifa Kevin Love rewarded Nikola Pekrovic for his good work on the defensive end of the court. Pekovic had a great block and the fast break began, Kevin Love took a long cross-court pass and without looking tipped it perfectly to a...
We all know that Minnesota Timberwolves forward Kevin Love is a pretty good passer but check out this behind-the-back effort against Maccabi Haifi.After a Love block, Andrei Kirilenko found Kevin on an outlet pass and that's when the magic happened:
If you had to bet on one NBA player not making it through the season healthy because of knee issues, it'd be Timberwolves guard Brandon Roy, right? He did have to retire because of some chronic knee problems and aside from a full year to rest them, there is not a ton of reason to be optimistic about the long term health of those wheels. Still, the former All-Star has been...
MINNEAPOLIS The Timberwolves are making Tuesday night about themselves. Its their second preseason game at the Target Center, and theyre facing off against Israeli team Maccabi Bazan Haifa (and their glaringly green uniforms). If this game mattered, it would have involved a ton of scouting and film work after all, the best exposure Haifa had came last week, when it nearly beat...
MINNEAPOLIS Leave it to the man who speaks English as a second language to explain this better than anyone has in the past three weeks.Ever since these new-look Timberwolves showed up in Minneapolis, the talk has been about chemistry and relationships, the intangible things that are supposed to translate and show on the court. Then, even more recently, there's been another emphasis...
Seeing as the state of Oregon is home to two of the top eight college football teams in the United States of America, the attention paid to the Portland Trail Blazers' buildup to the season has been reduced. The Blazers are coming off an apocalypse type of year - the once promising, consistent young team that Rip City fell in love with imploded, the steady head coach got fired...
NBA News

Delivered to your inbox

You'll also receive Yardbarker's daily Top 10, featuring the best sports stories from around the web. Customize your newsletter to get articles on your favorite sports and teams. And the best part? It's free!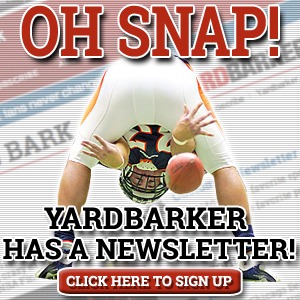 Latest Rumors
The Backyard

Today's Best Stuff

For Bloggers

Join the Yardbarker Network for more promotion, traffic, and money.

Company Info

Help

What is Yardbarker?

Yardbarker is the largest network of sports blogs and pro athlete blogs on the web. This site is the hub of the Yardbarker Network, where our editors and algorithms curate the best sports content from our network and beyond.