Found June 13, 2013 on Word On The Game:
Everyone has an opinion on Dwightmare 2. The latest to weigh in is former Lakers great Magic Johnson and surprisingly, seems to be pushing Dwight to sign with the Rockets. In terms of which teams gives Dwight the best chance to win immediately, its hard to not agree that signing with the Rockets is the [...]
Original Story:
http://wordonthegame.com/2013/06/magi...
THE BACKYARD
BEST OF MAXIM
RELATED ARTICLES
This isn't a breaking news story, we reported a couple of weeks ago about a rumor that Dwight and CP3 might be looking to play together. You don't have to be an insider to know this is a possibility, a remote possibility, but one that is out there. Chris Broussard's sources are telling him discussions have been taking place between Howard and CP3. Sources: CP3 & D12 hope...
The NBA season isn't even officially over and one of the main topics thus far has been this: where will Dwight Howard land in the offseason? The Lakers, Rockets, Mavericks, and even the Spurs are supposedly the places the star center is considering. Howard probably doesn't even know where he will land, but former Laker star Magic Johnson has his own option where he should...
Shaquille O'Neal has criticized Dwight Howard in the past and did so again on Tuesday when he said the Los Angeles Lakers' big man has been too nice in his career and must stiffen up. "He's too nice," O'Neal said. "I'm a connoisseur of giggling and playing and all that and making you laugh and playing with the fans, but when I cross that line,...
This is actually happening. Perceived as a "soft" big man, Dwight Howard will be voicing the character "Cold Turkey" in a movie about time-traveling turkeys.
When free agency begins on July 1, the most coveted free agents on the market, Dwight Howard and Chris Paul, reportedly want to play together and hope to land on the same team next season. According to Chris Broussard of ESPN.com: Chris Paul and Dwight Howard have been in consistent contact recently about the possibility of becoming teammates next season, according to league sources...
Dwight Howard and Chris Paul have been in contact with each other in an effort to play for the same team next season, according to sources. The Los Angeles Lakers and Los Angeles Clippers do not have the available cap space to allow Howard and Paul to team up, which would necessitate an unlikely trade scenario. The Houston Rockets, Dallas Mavericks and Atlanta Hawks all have cap...
Chris Paul and Dwight Howard have been talking recently about becoming teammates next season, according to ESPN's Chris Broussard. Because Broussard is reporting this, that means that it almost certainly won't happen, but that's beside the point. Any team that could put the best point guard and arguably the best center in the league on the court at the same time has a chance...
I always felt the chances of Dwight Howard and Chris Paul wanting to play together were extremely low, but if you trust Chris Broussard and his sources I have apparently been wrong. Sources: CP3 & D12 hope to team up next season. Have been texting back & forth to figure it out. Story up soon [...]
From ESPN's Chris Broussard. Sources: CP3 & D12 hope to team up next season. Have been texting back & forth to figure it out. Story up soon on http://t.co/IRyv1niwQm — Chris Broussard (@Chris_Broussard) June 14, 2013 Now before you say it, I know what you're thinking..it's Broussard. But the guy seems to be on top of the Doc story, and at the very least...
Tweet First, let me make a disclaimer: take this latest NBA free agency rumor as just that, a rumor. According to ESPN's Chris Broussard and his now infamous "sources", free agents Chris Paul and Dwight Howard have been texting each other about the possibility of them playing together: Paul and Howard will be the biggest [...]
That by the way is the funniest picture I could find of these two, even though it's 8 years old. But sources are saying Dwight Howard and Chris Paul have been talking about playing together, now that the two are free agents again. The team being thrown out there is Atlanta, even though Dwight doesn't want to play in his hometown and CP wants to stay in LA. So as of right now...
Hollywood and athletes isn't a new a mix up but it has seen a recent uptick with more and more jocks taking an interest in Hollywood. Relativity Sports is a division of Relativity Media, a film studio that also produces TV and develops scripts plus distribution. They recently put out a video that features clients such as Dwight Howard, Niners Michael Crabtree, Cowboys Dez Bryant...
Lakers News

Delivered to your inbox

You'll also receive Yardbarker's daily Top 10, featuring the best sports stories from around the web. Customize your newsletter to get articles on your favorite sports and teams. And the best part? It's free!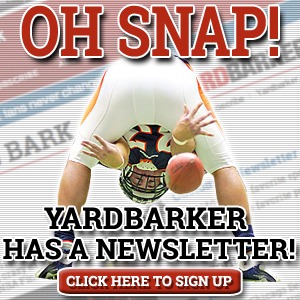 Latest Rumors
Best of Yardbarker

Today's Best Stuff

For Bloggers

Join the Yardbarker Network for more promotion, traffic, and money.

Company Info

Help

What is Yardbarker?

Yardbarker is the largest network of sports blogs and pro athlete blogs on the web. This site is the hub of the Yardbarker Network, where our editors and algorithms curate the best sports content from our network and beyond.