Found April 18, 2012 on Fox Sports Florida:
MIAMI The Big Cat will turn into a big Heat fan once the playoffs start. Toronto center Jamaal Magloire, who played for Miami the three previous seasons, hopes and expects the Heat to win the NBA championship. Magloire, who still has a home in South Florida, anticipates attending some playoff games. First, the hope part. Magloire admits it would bittersweet if the Heat win the title in his first season gone. But that won't change his allegiance. "My hope is that they do win it," Magloire said before Toronto's 96-72 loss Wednesday to the Heat to AmericanAirlines Arena. "I love (Miami president Pat) Riley for the opportunity he gave me and I'll never forget him for what he's done." Now, for the expecting part. The Big Cat believes the Heat will win it all in June. "I do think they have what it takes to win it," he said. "They have great players. Of course, the big three (of LeBron James, Dwyane Wade and Chris Bosh), (Udonis) Haslem's a soldier. (Joel) Anthony is continuing to improve every year and they have key (reserves) in (Shane) Battier, (James) Jones and (Mike) Miller." Magloire, who turns 34 next month, might be watching from the stands during the playoffs but he doesn't expect to be doing that next season. Even though he's played sparingly this season, he said he's not thinking at all about retiring. "There's no chance of that," said Magloire, a free agent this summer after this season becoming the first native of Canada to play for the 17-year-old Raptors. "As long as they'll have me, (Magloire still wants to pay). I have fun playing basketball. I enjoy the camaraderie. I enjoy the competition. I have a lot of gas left in the tank." Toronto coach Dwane Casey doesn't disagree. He wants Magloire back with the Raptors next season. "That's our plan," Casey said. "We haven't really sat down and talked about it. We haven't made an offer to him. But that's my hope and my plan." Casey said the final decision will be up to the organization as a whole. But he will push for Magloire to return because of his value to the team even when not playing. "He's helped me tremendously," said Casey, who hopes Magloire next season can be a valuable mentor when center Jonas Valanciunas joins the Raptors after being taken No. 5 in last year's draft and spending this season in his native Lithuania. "He's set the tone in the locker room. He's helped me deal with players. He's set the tone defensively for us. "He's invaluable to me as coach, and not only that, as a friend. When things get rough, he's always there, he's always positive And I want him as part of our foundation (for the future)." In 33 games, Magloire has averaged just 1.2 points and 3.3 rebounds over 11.2 minutes and is shooting a that's-not-a-misprint 7-of-27 (25.9 percent) from the foul line. He hasn't played in Toronto's past five games, including Wednesday's, but that's because Casey said he wants to look at younger players down the stretch with his team out of the playoff race. Magloire said it remains be seen where he might play next season. As for who he'll be cheering for in the playoffs, there's no mystery there. And Magloire, who was very popular in the Miami locker room, shouldn't have any problem getting Heat tickets. "If he wants them, every guy in here will accommodate him," said Miami guard James Jones, a teammate during all three of Magloire's seasons with the team. "Whatever he needs, he's got it." Chris Tomasson can be reached at christomasson@hotmail.com or on Twitter @christomasson
Original Story:
http://www.foxsportsflorida.com/04/18...
THE BACKYARD
BEST OF MAXIM
RELATED ARTICLES
A MAN OF THE PEOPLE
Following a big win on Sunday for the Miami Heat against the Knicks, Dwyane Wade made it about New York and even found time to play some pick up ball against some lucky kids. According to the NY Post: Miami Heat star Dwyane Wade's post-victory celebration Sunday included a chat with Anna Wintour, shopping for socks and a pickup game in Tompkins Square Park. After the Heat...
FLOATING AIR BISCUITS
Haha. When caught downwind, there is nothing more disgusting than the odor of someone else's gas. When you are nowhere near the affected area — fart zero, as it were — but can still witness the stinky aftermath, there is nothing more amusing. When a professional basketball team's bench is captured in a screengrab attempting [...]
Dwyane Wade is a man of the people. Not only did Wade attend the Yankees-Angels game last Sunday following his team's win over the Knicks, but he also found some time to play a little pickup basketball with some kids at the park. The New York Post reported on Tuesday that Wade was out buying clothing with his stylist in SoHo after the game when he spotted some kids playing at...
MIAMI-- If there's a more heated rivalry in the NBA now than Heat-Bulls, name it. Thursday night's slugfest between the teams produced two flagrant fouls, one resulting in an ejection, and four individual technicals. It had Miami's Dwyane Wade and Chicago's Richard Hamilton going at it the way the two did when Hamilton played for Detorit in the hotly contested 2005...
MIAMI-- Erik Spoesltra obviously has nothing against Miami fans. Not even the guy who shows up every game dressed as a banana. The Heat coach loves the homecourt advantage his team has at AmericanAirlines Arena, where it is 26-4 this season. But Spoelstra would rather not be in Miami on Thursday night. "We would probably prefer this one was on the road again and have that...
Here are some recent noteworthy Toronto Raptors related stories, links, and opinion pieces from around the web that you may have missed:--Stylist Megan Ann Wilson wrote a detailed piece on why she felt the Raptors camo uniforms fell short of the mark.--Toronto Raptor Amir Johnson treated 50 Raptors fans to an amazing night of food, basketball, and socializing for a 2nd year.--D-Leaguers...
Last night, Miami Heat star Lebron James scored the last 17 points to beat the New Jersey Nets and after the game, he helped introduce Heat guard Norris Cole to rapper Jay-Z.After introducing the two, James gave a high-five to Jay Z's nephew and also decided to give him his headband.Lebron decided to put it on his head but accidentally placed the sweaty band over his eyes:(Courtesy...
LeBron James led the way with 27 points and 11 rebounds as the host Miami Heat pulled to within a game and a half of Chicago for the top spot in the Eastern Conference with an 83-72 victory over the Bulls. Dwyane Wade returned to the lineup and put up 18 points and five assists while Mario Chalmers scored 16 points for the Heat, who were without Chris Bosh. Derrick Rose did not...
The NBA MVP debate has heated up, then cooled down. Then it heated up again, and then it cooled down, again. It seems that the MVP has come down to two players: Miami Heat forward LeBron James and Oklahoma City Thunder forward Kevin Durant. Durant also has an argument for the award. He is averaging 27.8 ppg and 8 rpg. While he doesn't boast the same assists per game like LeBron...
Tensions between the top two teams out in the East are escalating at the perfect time with the Miami Heat striking the latest blow with an 83-72 decision over the Chicago Bulls and pulling within a game and a half for the top seed with just five games left in the schedule. LeBron James and Dwyane Wade played one of their more "emotional" games of the season (while Chris...
NBA News

Delivered to your inbox

You'll also receive Yardbarker's daily Top 10, featuring the best sports stories from around the web. Customize your newsletter to get articles on your favorite sports and teams. And the best part? It's free!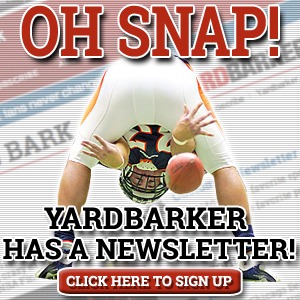 Latest Rumors
The Backyard

Today's Best Stuff

For Bloggers

Join the Yardbarker Network for more promotion, traffic, and money.

Company Info

Help

What is Yardbarker?

Yardbarker is the largest network of sports blogs and pro athlete blogs on the web. This site is the hub of the Yardbarker Network, where our editors and algorithms curate the best sports content from our network and beyond.