Found June 12, 2013 on Project Spurs:
During the 2013 NBA Finals, Philip Rossman-Reich of Orlando Magic Daily will be contributing to Project Spurs, covering the San Antonio Spurs' march to title No. 5. When Manu Ginobili first received the ball in the San Antonio Spurs' Game Three victory over the Heat, he gave a quick pump fake that got Dwyane Wade off his feet and he aggressively attacked the basket, finishing with a two-handed jam. Later on in the game, Ginobili was on the fast break and received a nice helper from Kawhi Leonard to secure two more points. Those scores are nice and have to be part of Ginobili's arsenal. The question for San Antonio as this series – and the next few seasons – move forward is whether these kind of plays are going to be the norm for Ginobili's contributions. Because when it comes to providing jump shooting or floor spacing of any kind, Ginobili simply is not providing much. In Game Three, Ginobili scored seven points on 3-for-7 shooting. Most notable in his stat line was that all four of his misses came from beyond the arc and he went to the line for only two free throws (and made just one). For the Finals, Ginobili is averaging 8.3 points per game and shooting 9 for 24 (37.5 percent) and just 3 for 13 from beyond the arc. Ginobili, for all the good he can do, is still a scorer at heart and his value for the Spurs is created in his ability to create off the dribble and be a threat to score from anywhere. Ginobili's struggles from beyond the arc takes away a major part of his game, especially as his athleticism has gone with age. According to Basketball-Reference, Ginobili is 35 for 109 (32.1 percent) on all shots of at least 10 feet or more in the Playoffs. This includes his 30.9 percent shooting from beyond the arc and 81 of his 109 field goal attempts from beyond 10 feet have been for three. In the regular season, Ginobili shot 33.7 percent from this distance. This regular season marked the first time in his career he was below 34 percent on all shots beyond 10 feet and was just the third time worse than 35 percent, the first since 2004. Ginobili is 25 for 48 (52.1 percent) on shots less than 10 feet this postseason. He is averaging 3.0 shots within 10 feet per game this postseason, compared to 4.5 per game last season in the Playoffs and 5.4 per game in 2011. During the regular season, Ginobili made 55.9 percent of his shots within 10 feet, averaging 3.9 shots within 10 feet per game. Last year he took 3.5 per game within 10 feet and the year before he took 4.9. You can see a precipitous decline in Ginobili's ability to get to the rim. However, you do not see any increase in efficiency on shots beyond the 10 foot mark (admittedly an arbitrary dividing line, but one that does help illustrate the point). Ginobili's free throw attempts per game this season also dropped to the lowest mark of his career at 2.5 per game. Even in the Playoffs, he is shooting a career postseason worst 3.1 per game. These numbers seem to be drawing us to one conclusion. Manu Ginobili is not the player he used to be – at least in half court sets with the defense set up to stop him. He is getting to the rim less and scoring more inefficiently from the perimeter. He is no longer the threat he used to be. The question is for San Antonio, at least as far as this series is concerned, is how much the team can get from him in the championship run. The Spurs need fewer turnovers – Ginobili has turned the ball over six times in three games – and more smarter plays from him. That means Ginobili has to find a way to get to the basket more and not settle for so many of the long-range shots he seems to be struggling with right now.
Original Story:
http://www.projectspurs.com/2013-arti...
THE BACKYARD
BEST OF MAXIM
RELATED ARTICLES
Manu Ginobili has not had the greatest NBA Finals thus far. While his Spurs do lead the Heat, two games to none, in the best-of-seven series, the 35-year-old guard has looked every bit his age. He nearly cost the Spurs a win in Game 1, and he was dreadful in Game 2. Game 3 was more of a mixed bag. Ginobili's seven points on 3-for-7 shooting were nothing special, but he did record...
The San Antonio Spurs have some of the most passionate and dedicated fans in the NBA, and probably all of professional sports. Apparently they also know some skilled barbers. Case in point, this fan who wears his love for Spurs guard Manu Ginobili on the back of his head: Manu, in hair. Photo from Reddit. I'd be interested in finding out if this guy goes to the same barber as...
Manu Ginobili provided a nice spark off the bench for San Antonio in the first quarter of Game 3. Along with his 4 points and 2 assists, the Spurs veteran threw down this two-handed jam after hitting D Wade with the pump fake.
Their names belong on the marquee because of who they are. Dwyane Wade and Manu Ginobili are headliners in the NBA Finals series full of headliners. Their pedigrees and championship histories tell us so. Name two shooting guards other than Kobe Bryant with a bigger impact on the game over the last decade than D-Wade or Manu. The Heat and Spurs don't have multiple banners in...
SAN ANTONIO (AP) -- Manu Ginobili isn't scoring. He's played a careless game instead of his famously creative one. So far in these NBA Finals, where LeBron James and Dwyane Wade just delivered a forceful reminder in Game 4 about stars deciding this series, the San Antonio Spurs are still waiting on one of their biggest. Spurs coach Gregg Popovich said Friday that Ginobili...
We all know that San Antonio Spurs fans are some of the most dedicated within the Association and one Spurs fan decided to show his love for Manu Ginobili with a fancy haircut. Check out this image from last night's game three and check out the Manu likeness shaved into the back of his head: Kudos to you, Manu haircut guy! *** Spurs fan shaves Manu image in the back of his head...
REJECTED!
In Game 4 of the NBA Finals Thursday night there was a sequence of basketball-deliciousness that needs to be seen to be believed. Stephen Douglas of The Big Lead referred to it as "basketball porn" and I really can't argue with that assessment. Late in the third quarter, San Antonio Spurs guard Manu Ginobili drove into the lane and threw a behind-the-head pass to Tim Duncan...
AT&T Center – Going into the fourth quarter of Game 4 on Thursday, the San Antonio Spurs found themselves trailing 81-76 to the Miami Heat. With Tony Parker losing his aggressiveness due to fatigue, Tim Duncan, Danny Green, and Kawhi Leonard, who all scored more than five points in the third quarter needed help to make a final push in the fourth. The logical move would...
SAN ANTONIO (AP) -- Tim Duncan, Tony Parker and Manu Ginobili sat in mostly stunned silence, all that playoff experience not preparing them for how they felt after two games. They were satisfied, yet shaken. The San Antonio Spurs had taken home-court advantage away from the Miami Heat, but then the reigning champions took them apart. So as they prepared to bring the NBA Finals back...
SAN ANTONIO (AP) -- Tim Duncan, Tony Parker and Manu Ginobili sat in mostly stunned silence, all that playoff experience not preparing them for how they felt after two games. They were satisfied, yet shaken. The San Antonio Spurs had taken home-court advantage away from the Miami Heat, but then the reigning champions took them apart. So as they prepared to bring the NBA Finals...
It absolutely blows my mind to think that the San Antonio Spurs' core players and coach once looked like that. Tony Parker once had a super-smooth face. Manu Ginobili used to have hair. Tim Duncan once rocked a 'fro. Gregg Popovich had a sweet combover. How great would this GIF look if the Spurs somehow [...]
Eat a dick, Chris Bosh. The league also fined Manu Ginobili for general floppiness in the Finals. But he's European, that's expected. Cuban Funding Flop Study Bron Flopping Vine Is Great
NBA News

Delivered to your inbox

You'll also receive Yardbarker's daily Top 10, featuring the best sports stories from around the web. Customize your newsletter to get articles on your favorite sports and teams. And the best part? It's free!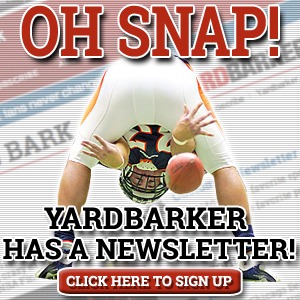 Latest Rumors
Best of Yardbarker

Today's Best Stuff

For Bloggers

Join the Yardbarker Network for more promotion, traffic, and money.

Company Info

Help

What is Yardbarker?

Yardbarker is the largest network of sports blogs and pro athlete blogs on the web. This site is the hub of the Yardbarker Network, where our editors and algorithms curate the best sports content from our network and beyond.