Found March 14, 2012 on Project Spurs:
Former San Antonio Spurs guard Roger Mason Jr. played two years in San Antonio, resuscitating a career that landed him everywhere from Washington to Chicago to Toronto to Jerusalem.
After acquiring Mason in what many called a free agent steal before the 2008-09 season, the Spurs gave Mason the biggest role he had ever had and a 10 minute playing time increase, something Mason says isn't easily forgotten. "One of the best basketball experiences of my life playing here with Coach Pop and the guys Tony, Tim and Manu," Mason told me before Monday's Spurs vs. Wizards game. "I learned a lot. With a young team like this, I definitely try to teach them some of the things they taught me."
After a career year with the Spurs, averaging 11.8 points per game and shooting 42 percent beyond the arch, Mason saw a considerable drop in minutes, role and production, Mason opted to test the free agent waters in the summer of 2010 and later joined the New York Knicks.
Now with the Washington Wizards for a second stint, Mason is adjusting to playing for a younger team. "We're a bit like Dr. Jekyll and Mr.Hyde. There's games where we've beaten Oklahoma City and the Lakers and there's games where we've lost to anybody so for us it's about which team shows up," Mason said. "Is it gonna be about the team that plays unselfish, that defends and rebounds or is it going to be the team that plays one-on-one basketball."
Mason, who was known for a trademark hip slap and pointing up after hitting big shots in San Antonio is also adjusting to playing inconsistent minutes from night to night.
"My role goes beyond just playing physically," he said. "Being in the locker room. Being a good example and just explaining to them what it means to be a professional."
And as for his former team, Mason says the Spurs are definitely a contender.
"Absolutely. Tim's healthy. I think the biggest thing for them is to stay healthy," Mason said. "Healthy Manu, Tim and Tony. You can't count them out."
Speaking of counting the Spurs out, Mason had a front row seat to Tim Duncan going coast-to-coast for a dunk, something he said he wasn't surprised to see.
"Looking at film and watching him (Duncan) play, his body looks great. He looks like he can continue to play at a high level for a couple more years."
Before the Wizards' current three-game skid, they had one of their best games against the Los Angeles Lakers. In just 12 minutes, Mason relived one of his best moments as a Spur by knocking down four of seven three-pointers for 14 points. "It was good to get an opportunity to play and to show that I can still do what I do," Mason said.
It's easy to see that Mason is a leader in a Wizards locker room that needs a ton of guidance. And while he waits for his chance to get into a game to make a difference, he'll continue to make a difference for his team off the court. 
Project Spurs' Paul Garcia contributed to this interview.
Original Story:
http://www.projectspurs.com/2012-arti...
THE BACKYARD
BEST OF MAXIM
RELATED ARTICLES
San Antonio Spurs' Tony Parker is having an amazing season. I'd like to call it an MVP season because he's definitely putting up the numbers (20.1 points, and 8 assists per game) for it, but I think the odds of Parker winning the MVP trophy are slim to none. Of course, that's not for his lack of ability but more because of the competition he's going up against, but we...
Most San Antonio Spurs fans know about Tony Parker's journey to the NBA, being selected as a little-known 19-year old point guard from Paris Basket Racing in the 2001 NBA Draft. But as the 2012 NCAA Tournament starts today with the first four, one has to wonder what college teams Parker was considering playing for if he chose to forgo the NBA for a few years. Luckily for us...
A play-by-play for this sequence from Monday night: The Wizards are on a fast break. JaVale McGee runs up the middle of the court. JaVale McGee doesn't know where the ball is, gets hit in the face on a pass intended for him, turns ball over. JaVale McGee sulks and doesn't bother getting back on defense. The Wizards force another turnover. JaVale McGee, still on the other end...
As Trevor Zickgraf just reported for Project Spurs, the San Antonio Spurs were active in trade talks just hours before the end of the trade deadline.While early rumors had them dangling Danny Green for Josh Howard and some interest in Jonny Flynn, ESPN's Ric Bucher reported heavy talks between the Spurs and the Golden State Warriors to swap Richard Jefferson and newly-acquired...
SAN ANTONIO (AP) -- Tony Parker scored 31 points in his return from a one-game absence to lead the San Antonio Spurs to a 112-97 victory over the Washington Wizards on Monday. Parker, who missed Friday's loss to the Los Angeles Clippers with a strained right quadriceps, hit 13 of 18 shots and had seven assists. Tiago Splitter scored 17 points, Tim Duncan added 14, and DeJuan...
With the writing on the wall the Bobcats' Boris Diaw will be on his way out of Charlotte soon, one thing is for sure, San Antonio Spurs' Tony Parker wouldn't mind seeing Diaw wearing a Spurs uniform. Parker on his radio show, The TP Show, said he would like to see his fellow countryman join San Antonio (via sport24.fr). "Tony Parker indicated Monday night in his...
Javale McGee informed the Wizards that he will be seeking a contract this offseason that pays him an annual average of approximately $14 million.
Veteran swing-man Stephen Jackson's whirlwind tour of the Association, as he was the member of three different teams in just two days; has come to an end and he has ended up in a familiar spot, as the "San Antonio Express" reported Thursday that the San Antonio Spurs have traded Richard Jefferson to the Golden State Warriors to get him back on the roster. Jackson never actually...
Before Wednesday night's home game against the Orlando Magic, the NBA was buzzing with Dwight Howard trade rumors, reports that he would and wouldn't sign his early termination option. Magic coach Stan Van Gundy and Howard deflected or denied answering any questions regarding the trade deadline to the scrum of media in the visiting locker room. But in the Spurs' locker...
DALLAS (AP) -- Dirk Nowtizki scored 27 points, Jason Terry had 24 and the Dallas Mavericks got a much-needed victory, beating the Washington Wizards 107-98 on Tuesday night. The defending NBA champions had lost eight of their previous 10 games. That included three road losses in three nights before a welcome two-day break leading into consecutive home games against the league'...
DENVER (AP) - A person with knowledge of the trade says the Nuggets are sending Nene to the Wizards in a three-team deal, with Washington sending JaVale McGee and Ronny Turiaf to Denver and Nick Young to the Los Angeles Clippers. The person told The Associated Press on Thursday that Washington also picked up forward Brian Cook. The person spoke on the condition of anonymity because...
Join Jeff Garcia, Trevor Zickgraf and I live as we discuss and analyze the Spurs' trade deadline deal that sent Richard Jefferson to the Golden State Warriors for former Spurs Stephen Jackson. We will go live at 6:30 p.m. CST, so click play on the ustream player below to listen live and jump into the discussion via the cover it live chat below that we'll be using throughout...
NBA News

Delivered to your inbox

You'll also receive Yardbarker's daily Top 10, featuring the best sports stories from around the web. Customize your newsletter to get articles on your favorite sports and teams. And the best part? It's free!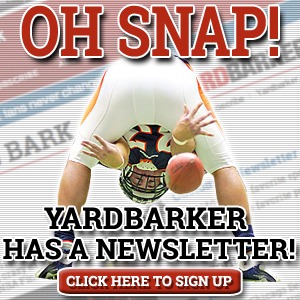 Latest Rumors
Best of Yardbarker

Today's Best Stuff

For Bloggers

Join the Yardbarker Network for more promotion, traffic, and money.

Company Info

Help

What is Yardbarker?

Yardbarker is the largest network of sports blogs and pro athlete blogs on the web. This site is the hub of the Yardbarker Network, where our editors and algorithms curate the best sports content from our network and beyond.