Found March 06, 2013 on Project Spurs:
The matchup for the game tonight between the Chicago Bulls and the hosting San Antonio Spurs will be between Bulls' forward Carlos Boozer and Spurs' forward Tim Duncan. In their first meeting of the season during the Rodeo Road Trip, the Spurs easily defeated the Bulls in a 103-89 victory. Duncan was out for that game with a knee injury, but the team didn't need him as they easily handled the Bulls. Boozer had a good game with 14 points (7-15 shooting) and 8 rebounds in 29 minutes. While he had a good game, the team had a +/- of -24 with him on the floor and he'll be sure to make up for that this game. What Duncan must do on offense: He has to keep attacking Boozer every chance he gets. Carlos Boozer is very passive on defense and probably a worse help defender than man. With Duncan picking and rolling or popping for most of the time, he'll be leaving Boozer thinking twice about his defensive assignments. That will help the Spurs break the Bulls' defense early and may give San Antonio an early lead they won't give up later on. What Duncan must do on defense: He has to keep watch of Boozer in the mid range area. Carlos Boozer is shooting a good 63% (198-316) from the restricted area, but he's taking the majority of his shots from mid range where he's shooting just 38% (129-342). This tells you of Boozer's "soft" game as he's not the physical type of player. If Duncan can keep tabs on him in mid range, the Spurs will be ok. He can't let Boozer get in the paint since the big man is a savvy vet who can find a way to score inside. While Duncan may not want to give him an open mid range jumper, it'd be the best option between the two shots as Boozer is preferring to shoot farther away from the basket even if he isn't shooting it well.
Original Story:
http://www.projectspurs.com/2013-arti...
THE BACKYARD
BEST OF MAXIM
RELATED ARTICLES
For all those riding along on the Tony Parker MVP Bandwagon, the road to the Maurice Podoloff Trophy has hit a few potholes. And it's not because Parker is out for a month with a bum ankle. No, because the Spurs never seem to hit any potholes. San Antonio just keeps winning, moving to 2-0 without Parker after rolling over the Chicago Bulls in the second half in Wednesday...
Nando De Colo's rookie season has been somewhat quiet. Even on a low-key team as the San Antonio Spurs, you probably haven't heard much about De Colo's interests or tapped into his personality. In a recent interview with BasketUSA.com, De Colo discusses various random subjects and you also can get the feel for how his teammates are off the court in San Antonio. ...
Prior to his ankle injury, San Antonio Spurs' Tony Parker was playing on a whole other level this season which has garnered him some consideration as a possible NBA MVP for this season. As if that wasn't enough for TP, he also signed on with PEAK (leaving Nike) and will now sport their basketball sneakers on the court. In the video below, Parker talks about why he...
Tony Parker turned 30 this season, just two days prior to the San Antonio Spurs' 86-84 victory over the Oklahoma City Thunder. Parker drained the game-winning bucket -- a wide-open mid-range shot, created  by both pristine offensive execution and Russell Westbrook's costly defensive mishap. It was a sign of things to come. Since then, the Frenchman has produced his finest...
In an interview with BeatsTV, Stephen Jackson discusses various subjects that San Antonio Spurs fans may not know about him. He discusses about the first time he played basketball, what his childhood, basketball nickname was (which might surprise you), and who were his basketball heroes he tried to model his on-court game after. He also reveals what kind of music he listens to...
Thibs is all business, all game long, even in blowouts It's widely-known around the NBA that the head coach of the Chicago Bulls, former Celtics assistant Tom Thibodeau, doesn't take crap from very many people and also doesn't care very much about what others think of him team, himself, or even his actions as coach. Thusly, his practice of playing his best...
I'll admit it. I was wrong about San Antonio Spurs' Matt Bonner in the three-point contest this year. He wasn't too slow, his form didn't hinder his performance and if it wasn't for the special "clutch gene" flowing in Kyrie Irving's blood, Bonner would have probably taken home the trophy. Recently, Bonner joined Paul Shirley and Justin Halpern on their podcast...
That's the kind of **** that was coming from my nose two weeks ago while battling a sinus infection. Seriously, I used 2.5 rolls of toilet paper over three days during that war. And the snot was canary yellow. As for Boris Diaw's snot issues, it just seems that the Spurs big guy was fine last night after clearing this hog. He finished with five points on 2-3 shooting in the Spurs...
It is a cruel-but-ironic twist that nobody outside of LeBron James has done more damage to Tony Parker's long-shot MVP candidacy than Parker's own teammates. The Spurs point guard out hurt. An ankle injury is expected to keep him away four weeks. "The Spurs hardly even realize he's gone" is saying too much, but they did crush the Chicago Bulls on Wednesday...
In today's NBA with such a prevalent "me" first attitude it is refreshing when you get a player who works hard but still embraces the team first attitude and his role.  In an Sports Illustrated article written in 1994, David Robinson stated that players get paid handsomely to sit on the bench but when you look at them, they look like someone kicked their dog.  He went...
During last month's All-Star Weekend, Bill Simmons, conducted another excellent interview with San Antonio Spurs point guard Tony Parker who is currently injured with a sprained ankle. They discussed a variety of topics including the 2001 NBA Draft when Parker said he was told that the Boston Celtics were going to draft him before they opted instead to go with Joseph Forte who...
San Antonio Spurs' Tony Parker joined Bill Simmons in an exclusive interview of the "B.S. Report". Parker talks about being underrated in the league, which he shrugs off saying it's because he plays for the San Antonio Spurs. Parker also discusses the Western Conference Finals loss to the Oklahoma City Thunder and James Harden being traded. Needless to say he...
NBA News

Delivered to your inbox

You'll also receive Yardbarker's daily Top 10, featuring the best sports stories from around the web. Customize your newsletter to get articles on your favorite sports and teams. And the best part? It's free!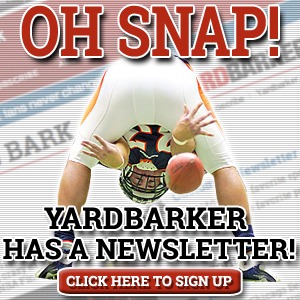 Latest Rumors
Best of Yardbarker

Today's Best Stuff

For Bloggers

Join the Yardbarker Network for more promotion, traffic, and money.

Company Info

Help

What is Yardbarker?

Yardbarker is the largest network of sports blogs and pro athlete blogs on the web. This site is the hub of the Yardbarker Network, where our editors and algorithms curate the best sports content from our network and beyond.