Found February 13, 2013 on Project Spurs:
The matchup for tonight's game when the San Antonio Spurs visit the Cleveland Cavaliers before the All-Star break will be between Tony Parker and Kyrie Irving. The last time these two players faced off against each other was last season during a lockout shortened season. The Spurs took care of the Cavaliers easily in a 125-90 victory. The game saw Parker only play 23 minutes while chipping in 19 points on 9-12 shooting. Irving had 13 points but only shot 5-15 in 30 minutes. Parker may not see many minutes tonight as Gregg Popovich will likely rest his stars if the game gets out of hand, but look for Parker to try to attack early and earn an even shorter night than his coach intends. What Parker must do on offense: The Cavaliers are 26th (101.4ppg) in points allowed in the league and Anderson Varejao's injury hasn't helped much either. Triston Thompson has been a staple alongside Irving this season, but look for Parker to exploit Cleveland missing their big man with pick and rolls with Tiago Splitter and possibly DeJuan Blair. Cleveland is still a young team and Parker's veteran savvy will play a huge role with his drive and kick outs. What Parker must do on defense: Although the Cavaliers are a disappointment this season, irving is having an incredible year individually. He's shooting 51% in the painted area while shooting 46% from mid range, a spot he's taken more shots than any other place on the court. He's shooting 43% from the wing and 39% from the corner three point area, so he's a very good overall shooter and driver. Parker must keep in front of Irving one on one and during pick and rolls. Irving might score the majority of the points himself, but that might be in the best interest of Parker and the Spurs and shut everyone else down for the entire game. Kyrie Irving will have to play hard on both sides of the floor and as long as Parker stays in front of Irving and gives him the hardest possible shots, Parker will give the Spurs a great chance to come out on top.
Original Story:
http://www.projectspurs.com/2013-arti...
THE BACKYARD
BEST OF MAXIM
RELATED ARTICLES
Tony Parker of the San Antonio Spurs has three NBA championships, one NBA Finals MVP and five NBA All-Star appearances. One thing is missing from the impressive resume, an MVP award. How much more can Tony Parker be ignored as a great player and possibly an MVP candidate for 2013. Named the Western Conference player of the month for January, Parker responded "I don't care about...
As we reported, San Antonio Spurs' Tony Parker signed a new endorsement deal with the Chinese sportswear brand PEAK (leaving Nike) to now sport their basketball sneakers on the court. TP recently revealed his signature PEAK sneakers and from the looks of them, they aren't too bad. They sport the Spurs' color scheme and has Parker jersey number "9" on the...
He is lightning fast. Capable of getting from one point to another in a blink of an eye leaving opponents baffled as to how he gets to where he wants to be with minimal effort. That description sounds like the character "Nightcrawler" from Marvel's comic book series "X-Men" who has the mutant-ability to teleport. However, it can also describe San Antonio...
There is no doubting the fact that Kyrie Irving is one of the rising superstars in this league and that he should become one of the greatest players of this generation. At 19, he has already won the Rookie of the Year award and is already an All-Star. He is the highest scoring point guard in the NBA and sixth overall and has it been mentioned that he is only 19? He has not yet reached...
Metaphors are a funny thing. In the National Basketball Association, seven seconds can turn a prince in to a pauper. It was the "seven seconds or less" offense that ultimately earned Mike D'Antoni two large market jobs. Reggie Miller used the large part of seven seconds when he drained two consecutive three-pointers against the New York Knicks in 1995. And it was the same seven...
TAKE THAT, SONNY BOY
Cavaliers coach Byron Scott has challenged the team's point guard, Kyrie Irving, to a three-point shooting contest in a competition that will take place on Tuesday.
As suspected by many leading up to this weekend's festivities, Miami Heat forward Chris Bosh will start in the All-Star game in place of injured point guard Rajon Rondo. Miami Heat head coach Eric Spolestra was given the final decision and chose one of his players over other point guards in Cleveland' s Kyrie Irving and Philadelphia's Jrue Holiday. Bosh will start alongside...
Yesterday afternoon I caught up with our old friend and former co-host of the Wine and Gold Podcast Glenn Moore from Cleveland.com. Mr. Moore and I discussed the chances of Kyrie Irving winning the 3-point shoot-out, the article  I wrote comparing Irving to Mark Price last week and the trade possibilities surrounding Big Mo Speights. The link to that episode of Cleveland...
ESPN's Stephen A. Smith is no stranger to hate from fans of the San Antonio Spurs. When discussing about the NBA MVP, Skip Bayless picked Tony Parker as his pick for league MVP while Smith picked Lebron James. To some, it might be a surprise that Smith did give Parker some props on his play, but it may be seen as a "back handed" compliment. He goes on saying that the...
Talk about a strange game. The Cleveland Cavaliers played the San Antonio Spurs about as tough as you could possibly hope, and they did it on a night in which Kyrie Irving arguably played the worst game of his career since his debut game against the Raptors last season. The Cavaliers came out strong and rose a combination of impressive bench play (especially on defense) and an unexpected...
Fast forward to next year and nights like Monday, hopefully, will be unacceptable. As for right now, a loss to a hobbled and reeling Minnesota Timberwolves is one that can be taken, reluctantly, with a grain of salt. Chalk it up to the growing pains of a young and inexperienced basketball team. It's hard to tell if that eases the pain or enhances it--that the Cavs have...
The San Antonio Spurs (41-12) will face the Cleveland Cavaliers (16-36) tonight in Cleveland for game five of their annual Rodeo Road Trip (3-1). Tonight will be the first time these two teams meet this season. It will also be the Spurs' final game before the All-Star break. The Spurs are coming off a 103-89 win over the Bulls in Chicago despite not having Tony Parker, Tim...
NBA News

Delivered to your inbox

You'll also receive Yardbarker's daily Top 10, featuring the best sports stories from around the web. Customize your newsletter to get articles on your favorite sports and teams. And the best part? It's free!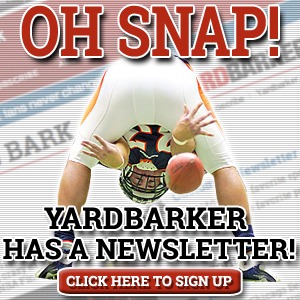 Latest Rumors
Best of Yardbarker

Today's Best Stuff

For Bloggers

Join the Yardbarker Network for more promotion, traffic, and money.

Company Info

Help

What is Yardbarker?

Yardbarker is the largest network of sports blogs and pro athlete blogs on the web. This site is the hub of the Yardbarker Network, where our editors and algorithms curate the best sports content from our network and beyond.