Posted December 11, 2012 on AP on Fox
PLAYERS:
O.J. Mayo
,
Chris Kaman
,
Darren Collison
,
Francisco Garcia
,
DeMarcus Cousins
,
Jason Thompson
,
Shawn Marion
,
Rick Carlisle
,
Vince Carter
,
Brandan Wright
,
Tyreke Evans
,
Dirk Nowitzki
TEAMS:
Dallas Mavericks
,
Sacramento Kings
O.J. Mayo scored 19 points and the Dallas Mavericks took control with a 31-3 run in the first half to win their 17th straight regular-season home game against Sacramento with a 119-96 victory over the Kings on Monday night. Chris Kaman, playing on a sprained left ankle he suffered last week, scored 16 of his 18 points in the first half and reserve Darren Collison added 15 points for the Mavericks, who won their third in a row. Francisco Garcia, who was 7 of 12 from 3-point range, and DeMarcus Cousins scored 25 points apiece for the Kings, who haven't won in Dallas during the regular season since Feb. 27, 2003. Jason Thompson added 11 points and 12 rebounds. Mayo hit a jumper late in the first quarter to kick off the game-turning run for the Mavs, who led by as many as 28 in the first half and were up 65-43 at halftime. Dallas starting forward Shawn Marion missed his second straight game with a strained right groin. Kaman played 21 minutes on a gimpy ankle which coach Rick Carlisle described as ''a glowing purple'' before the game. Sacramento, which picked up its first road win of the season Saturday at Portland, opened the game by hitting 5 of 6 from 3-point range. The Kings took a 28-27 lead with 2:26 remaining in the first quarter on Thompson's tip-in basket. But the Kings scored only three points over the next 10:52 - all on free throws. They missed 12 straight shots from the floor and had nine turnovers in that span. Thompson's basket broke the drought with 3:34 left in the first half. Mayo started Dallas' run with a 20-footer and Vince Carter closed the opening quarter with a steal and dunk that gave the Mavericks a 36-29 lead. Brandan Wright capped the big spurt with a dunk, putting the Mavericks up 58-31. The Kings hit 9 of 13 shots to open the second half and went on a 23-12 run, cutting the deficit to 77-66 on Garcia's 3-pointer. Garcia started in place of an injured Tyreke Evans, who missed his third straight with a sore left knee. The Mavericks closed the third with an 11-4 spurt. Mayo's 3-pointer with 26.7 seconds left made it 88-70. Dallas stretched its advantage to as much as 26 in the fourth, and Sacramento got no closer than 17 in the final 12 minutes. NOTES: Dallas F Dirk Nowitzki received the Naismith Legacy Award at halftime. The award goes to players or coaches who further the values of the sport. Nowitzki is the first international player to receive the honor. . The Kings haven't had a four-game winning streak since March 23-29, 2011. . Sacramento has won two playoff games in Dallas since last beating the Mavericks on the road in the regular season. The Kings won in Dallas during the 2003 conference semifinals and again in a 2004 first-round matchup.
Original Story:
http://msn.foxsports.com/nba/story/Ma...
THE BACKYARD
BEST OF MAXIM
RELATED ARTICLES
This past week has been a trying one for the City of Dallas, the Texas Rangers traded the face of their franchise, Michael Young, to the Philadelphia Phillies, the Dallas Cowboys had tragedy to hit the team with the death of one of their own and another facing charges in the accident and our thoughts and prayers go out to both families effected by the accident. We are now 20 games...
INTERESTING DIAGNOSIS
Commenting on an incident during the Kings-Mavericks game when DeMarcus Cousins hit him in the groin, O.J. Mayo said, "Man, that guy has mental issues."
Mayo's entire career has been turned around by his moving to Dallas Drafted third overall in the 2008 NBA Draft by the Minnesota Timberwolves and traded on draft night to Memphis out of USC, O.J. Mayo's future career in the NBA seemed to be headed in a direction like that of other shooting guards with a similar skill set to his, such as Kobe Bryant, Dwyane Wade, or...
With 3:25 left in the first half of Dallas Mavericks' 119-96 blowout win over the Sacramento Kings, Mavs guard OJ Mayo appeared to be the recipient of a closed-fist punch to the groin from DeMarcus Cousins. The two exchanged words and were both handed the standard NBA cop-out double-technical foul. When asked about the altercation after the game, Mayo summed up exactly how everyone...
The Mavericks have won three straight games, which is all anybody seems to be talking about as they prepare to take on the Celtics on Wednesday. That streak would be a sign of a team on a roll, if not for the four losses in five games that preceded the current streak or the fact that they have the same number of three-game losing streaks — two — as three-game winning streaks...
DALLAS (AP) -- O.J. Mayo scored 19 points and the Dallas Mavericks took control with 31-3 run in the first half to win their 17th straight regular-season home game against Sacramento with a 119-96 victory over the Kings on Monday night. Chris Kaman, playing on a sprained left ankle he suffered last week, scored 16 of his 18 points in the first half for Dallas. Francisco Garcia...
Sacramento Kings center DeMarcus Cousins claims his below-the-belt shot on Dallas Mavericks guard O.J. Mayo was an accident. "Man, I was so pissed," Mayo said after his 19-point, seven-rebound performance in the rout. "It's just, where does that come in in the game, you know what I mean? He's a talented player, has a chance to be an All-Star. But you do stuff like...
You can't go too long without hearing another complaint about Sacramento Kings forward DeMarcus Cousins. The latest one comes courtesy of Dallas Mavericks guard O.J. Mayo who called out Cousins for punching him in the groin during their game on Monday. The incident was caught on tape and confirmed.Just minutes later, the two were called for a double-technical foul after mixing...
OJ Mayo and James Harden maintain a friendly rivalry that dates back to high school.  On Saturday night, they had their most exciting duel to date.  As Mayo's Mavericks edged Harden's Rockets in a narrow 116-109 victory, the two sixth-men-turned-starters combined for 79 points — 52 of which came in the first 24 minutes, and 19 of which came in the last 12 minutes.  Unfortunately...
Dallas Mavericks guard OJ Mayo was rumored to be a locker room headache when he was with the Grizzlies. So it seems rather fitting that he would have advice for Kings big man DeMarcus Cousins. During Monday night's match up between the Mavs and Kings, Mayo was called for a technical after confronting Cousins because [...]
Every morning, we will give you five things from the night before in the NBA to start your day. 1: Hold the Mayo There were two players that were seeing a major increase in role entering this season and a chance to really find their way in the NBA. James Harden went from the best player off the bench for the Thunder to the lead player for a young Rockets team with Playoff dreams...
Tip: 8PM     Court: TD Garden     Watch it: CSN, ESPN     Hear it: WEEI Referees:  Joe Crawford, Derrick Collins and Mark Lindsay Get your tickets here: Boston Celtics Tickets The Matchup Record: 11-9 Record: 11-10 At Home: 7-4 On Road: 4-7 Streak: Won 1 Streak: Won 3 Leaders Leaders Buckets: Pierce (19.2 ppg) Buckets: OJ Mayo (20.8 ppg) Boards: Garnett...
NBA News

Delivered to your inbox

You'll also receive Yardbarker's daily Top 10, featuring the best sports stories from around the web. Customize your newsletter to get articles on your favorite sports and teams. And the best part? It's free!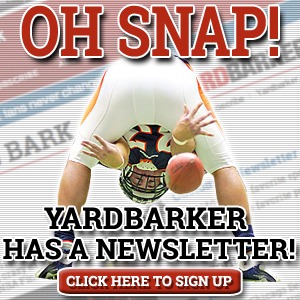 Latest Rumors
The Backyard

Today's Best Stuff

For Bloggers

Join the Yardbarker Network for more promotion, traffic, and money.

Company Info

Help

What is Yardbarker?

Yardbarker is the largest network of sports blogs and pro athlete blogs on the web. This site is the hub of the Yardbarker Network, where our editors and algorithms curate the best sports content from our network and beyond.