Found July 10, 2012 on Fox Sports Southwest:
DALLAS -- The three members of the Dallas Mavericks' 2012 NBA Draft class are definitely a diverse group. One, first-round pick Jared Cunningham, is an early-entry player from Oregon State who is from the hoops-rich area of Oakland, California, an area which also produced former Mavs point guard Jason Kidd among others. Another, second-rounder Jae Crowder, has bounced around a bit, playing at two different junior colleges, including one highly successful year at Howard JC in Big Spring before finishing his college career at Marquette. And the final member of the class, Bernard James, spent six years in the U.S. Air Force before starring collegiately at Florida State his final two seasons. In short, it's a group with plenty of upside. "Well, we're just proud and happy to welcome the newest Mavericks to the Metroplex and looking forward to working with these young men in the future," Mavericks General Manager and President of Basketball Operations Donnie Nelson said at a press conference to introduce Dallas' 2012 draft class on Tuesday. "They're not only great young talents with upside, but they're all quality young individuals." And considering that the Mavs' roster situation is currently in limbo, there's no doubt this talented trio is coming into a great situation as far as possibly getting an opportunity to play substantial minutes as rookies. "These are great kids," Mavericks head coach Rick Carlisle said. "Got a chance to spend some time with them this morning on the court and this is the beginning of a long journey for them. And there's going to be opportunity here. I think that's pretty obvious. We've got a lot of work ahead of us. These next few weeks are going to be important." It won't take long for this group of rookies to see what life is truly like in the NBA as the Vegas Summer League starts on July 15 and all but Cunningham, who is currently bothered by a hamstring issue, figure to be big components of the Mavs' summer league roster. "Jared's got a couple of little physical issues that we're working through. He's got a hamstring that we're working on getting better and so we're going to be able to do some things on the floor with him in terms of footwork, shooting, those kinds of things but how much he actually plays in the summer league games or if he actually plays at all is to be determined," Carlisle said. "But the important thing is that we get him completely healthy and ready for September 28, when veteran's camp starts and we're excited to have these guys here." Cunningham played both at the point and at the two while at Oregon State and no matter what spot he plays at, he knows that being a first-round pick doesn't guarantee that he's going to come in and play right away as a rookie. "It's something I have to earn. I'm a rookie coming in with my work ethic, just hard work and just determination," he said. "There's a couple guys in front of me so I'm just going to go in, compete every day and try to make myself better." As for Crowder, he is a 6-foot-6 forward who was the 2012 Big East Conference Player of the Year as a senior at Marquette. Carlisle loves the Georgia native's energy and how hard he plays the game, something he feels no NBA team can ever have too much of, energy. He's also previously spent time in the Lone Star State after a short stint at Howard JC and he's definitely happy about being back in Texas. "Last time I was in Texas a lot of good things happened for me. I loved it out there," Crowder said. "This where I flew out of, I used to come to Dallas. It's a great situation and I look forward to it. I look forward to the heat. I look forward to the good food. I look forward to the fans here in Dallas. It's a great situation for me." Carlisle is also pretty stoked about working with James, a player with as interesting of a back story as he's ever seen in all his years in basketball. "To me, 27-years-old is young," he said. "We viewed his age as a positive. This is a special guy. So we're excited to have him here from a basketball standpoint but we're honored to have him as part of our organization for what he's done for us and our country and all those things. So that's a big deal and you don't get an opportunity to draft a guy like that every day." All told, James, a 6-10 forwardcenter, spent six years in the Air Force and admits he never really thought playing in the NBA was an option until his senior year at Florida State. His original plan was to finish his degree and return to the military as a commissioned officer. But even though he's no longer enlisted, he carries two huge traits from his time serving our great nation, determination and perseverance with him every time he hits the hardwood. "Just those traits being key to success is the biggest thing I take away from being in the service," he said. "The military kind of hinges on that-just having perseverance, toughness and all that translates into basketball perfectly because the military's just a big team. Just going to basketball, you're on another team and you've got to work together. You've got to figure out what your job is, do it, do it well and do it every day. Even when there's distractions or obstacles pop up, you still have to get your job done. So that's where perseverance comes in and all of it directly translates over to basketball." The stories of the three newest members of the Dallas Maverick organization are definitely intriguing ones and it will be interesting to see how Jared Cunningham, Jae Crowder and Bernard James develop as NBA rookies. All three hit the Association with solid basketball resumes but their new head coach might have offered the biggest ringing endorsement about the incredible potential this talented group presents. "When you draft nowadays in the NBA you want to get guys that have skill, that have talent. But for us, hard play and that kind of toughness is one of the talents that we look for," Carlisle said. "And so we like these guys a lot and we know that our fans will be very proud of the kind of guys that we've brought in here in this draft. To get three guys like this is a coup for us we really feel."
Original Story:
http://www.foxsportssouthwest.com/07/...
THE BACKYARD
BEST OF MAXIM
RELATED ARTICLES
Donnie Nelson talked about the future Monday. Following a disastrous week for the Mavericks, he obviously didn't have much to be positive about. The Mavericks president of basketball operations attempted to sound upbeat when talking about fielding a playoff contender for the upcoming season. But disappointment overshadowed all. Not landing Deron Williams has left the Mavericks...
The Dallas Mavericks were once seen as one of the more aggressive franchises in the NBA when it came to free agent signings. Almost every summer they would be busy landing players in an attempt to bolster their lineup. But curiously, this offseason hasn't gone quite that way. They missed out on signing Deron Willams and Jason Kidd decided to spurn them to head to the Knicks, mainly...
Mark Cuban is not the type of guy to sit back and twiddle his thumbs during free agency. In fact, from what I've heard and seen, Cuban just has trouble sitting in one place in general; a wiggle worm if you will. Interestingly enough, that same "wiggle worm" mentality that keeps him out of his first row chair during Mavericks games is the same mentality that Cuban's consistently...
Veteran shooting guard Jason Terry was ready to stick with the Mavericks, his team of the last eight years. But one very persuading call from Celtics coach Doc Rivers -- and a lackluster response from Dallas -- apparently changed the situation. "Boston was the first to call me, and Doc Rivers got on the phone and said, 'We need you. You're the No. 1 priority," Terry...
ESPN "I was in Dallas eight years, played with some great teammates and had a great coach and a great owner," said Terry, who averaged 15.1 points last season and shot 37.8 percent from beyond the arc. "But what the city meant to me is priceless. Without them, I'm nothing. The Jet was born in Dallas, right there in Dallas. So, I always have a home in Dallas and...
DALLAS You were hoping for "Howard'' but you might have to settle for "Hettsheimeir." One potential Dallas Mavericks transaction has nothing to do with the other, really. But while the Orlando Magic's possible move of Dwight Howard to a new destination is the talk of the NBA and while the Mavs continue to be a longshot in such a pipedream acquisition...
A bright spot in what has otherwise been a dismal offseason for the Dallas Mavericks came Tuesday. On the day before NBA free-agent deals can become official, the Mavericks welcomed their three draft picks to Dallas before they start prepping for the summer league in Las Vegas. Coach Rick Carlisle says the three rookies - guard Jared Cunningham, post player Bernard James and forward...
Jason Terry helped the Dallas Mavericks win their first ever NBA championship. Aside from Dirk Nowitzki (and probably Mark Cuban), he's been the face of their franchise for the last decade. I wasn't surprised that Dallas let him go to the Boston Celtics, they're a team that needs to get younger rather than clinging to the past, but apparently Terry expected more of an effort...
The Dallas Mavericks struck out on free agent priority Deron Williams, a loss that set back the franchise's hopes of contending for another title in the twilight years of Dirk Nowitzki's career. Then Dallas opted not to match a contract offer the Boston Celtics made to Jason Terry, and days later, Jason Kidd stunned the franchise by passing on the Mavericks' offer to...
The Dallas Mavericks are set to sign free agent center Chris Kaman, reports The Dallas Morning News. The deal is expected to be for one season. Kaman confirmed the news himself via Twitter. "Partnering up with @swish41 (Dirk Nowitzki) and heading to the Mavs..." Kaman posted on @ChrisKaman. Kaman spent last season in New Orleans, playing in 47 games and averaging 13...
At one point, it was believed that the Dallas Mavericks were heavy favorites to sign both Deron Williams. And with Williams in the fold, they instantly became a favorite to land Dwight Howard. But things didn't work out quite like that. In fact, the Mavericks have lost more than they've gained. Williams decided to re-sign in Brooklyn, Howard wants to follow, and the Mavs have...
  The Dallas Mavericks finally delivered something to their fans this offseason. And while rifle-wielding, deer-hunting Chris Kaman clearly isn't Deron Williams, Steve Nash, Dwight Howard, or even Jason Kidd, he still is a decent consolation prize. Kaman confirmed the signing on Twitter, then expressed his excitement for Texas' gun laws (or lack there of).   Something...
NBA News

Delivered to your inbox

You'll also receive Yardbarker's daily Top 10, featuring the best sports stories from around the web. Customize your newsletter to get articles on your favorite sports and teams. And the best part? It's free!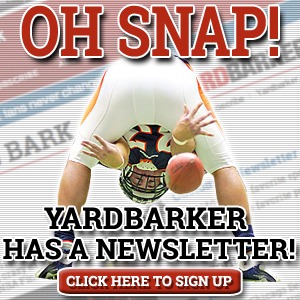 Latest Rumors
The Backyard

Today's Best Stuff

For Bloggers

Join the Yardbarker Network for more promotion, traffic, and money.

Company Info

Help

What is Yardbarker?

Yardbarker is the largest network of sports blogs and pro athlete blogs on the web. This site is the hub of the Yardbarker Network, where our editors and algorithms curate the best sports content from our network and beyond.