Found December 20, 2012 on Wizards Extreme:
PLAYERS:
Doug Collins
,
Richard Hamilton
,
Brendan Haywood
,
Kwame Brown
,
Charles Oakley
,
Jerry Stackhouse
,
Brian Cardinal
TEAMS:
Philadelphia 76ers
,
Detroit Pistons
,
Chicago Bulls
,
Charlotte Hornets
,
Brooklyn Nets
,
Dallas Mavericks
This series follows management's head coaching missteps that have inevitably cost the Wizards adequate franchise development. Next up...   Doug CollinsPrevious tunes:Leonard Hamilton, Gar Heard With the (forced) resignation of Leonard Hamilton in April 2001, then President of Basketball Operations Michael Jordan would have a second opportunity to choose a head coach that would guide his team to success.  That selection would be Doug Collins, who when hired by the Wizards, had been out of coaching since being fired by the Detroit Pistons in April 1998. Collins would be offered a four-year contract by the Wizards. Collins was hand-picked by Jordan primarily because of their previous experience.  Collins began his head coaching career with the Bulls in 1986, where he'd have a successful run with the team, making several playoff appearances, including an appearance in the 1989 Eastern Conference Finals.   Collins's rosters during his tenure as Wizards head coach were largely the same as those from previous seasons, lacking balance and overall sustained production.  One key difference, however, was the presence of Jordan, who'd stepped down from his front office role to take to the court once again.  During the 2001 – 2002 season, Jordan would lead the Wizards in scoring with 22.9 points per game, followed closely by budding superstar Richard Hamilton, who averaged 20.0 points per game.  In the front court, however, the Wizards would continue to struggle, with its most efficient player being Christian Laettner, who posted a meager 7.1 points per game and 5.3 rebounds per game. On the other side of the ball, the Wizards would show their sharpest improvement, holding their opponents to 94.3 points per game – their best average since the 1993 – 1994 season.  Rookie Brendan Haywood averaged a very solid 1.5 blocks per game, and fourth year player Jahidi White averaged 1.1 blocks per game.  The Wizards' big men, too, while severely offensively challenged, would prove to have some utility on the rebounding end. During the 2002 – 2003 season, the Wizards would continue to enjoy success, ranking 10th overall in opponents' points per game.  Brendan Haywood continued to anchor the paint and continue to develop into a solid overall player, albeit in very limited minutes.  Second year player, Kwame Brown, too, would show some promise, averaging 1.1 blocks per game and 5.3 rebounds per game. The Wizards' defensive turnaround can be attributed to Collins's historical coaching philosophy and his penchant for getting the most out of his rosters.  In addition, Collins had the benefit of several veterans on his team during the 2002-2003 season, who while limited offensively, were able to dispense valuable instruction on the team's young players.  These veterans included Charles Oakley and Bryon Russell, who brought a combined 26 years of experience to the roster. Regarding roster development, Collins's time as head coach can be viewed with very mixed opinions.  Neck-deep in doldrums following the failed Gar Heard and Leonard Hamilton coaching stints, the city of Washington was desperate to find some excitement in what was essentially a dead franchise.  That uplift would come in the form of arguably the best player in NBA history (albeit 38 years old at the time) joining the roster.  The city was abuzz, too, at the prospect of Kwame Brown, the team's number 1 overall selection in the 2001 draft, becoming perhaps the franchise's building block for the future.  For the first time in the team's recent history, the Wizards sold out each home game following Jordan's comeback announcement. Hopes were dashed, however, when several plans did not round into shape.  Kwame Brown would struggle to develop his offensive game, averaging 4.5 and 7.4 points per game over his first two seasons.  Off the court, the local media publicized Brown's struggles adapting to adult life, as well as his clashes with Jordan, who verbally lambasted Brown due to his lack of toughness and aptitude.  One can only surmise the impact of having a player of Jordan's stature berate a player just out of high school.  Collins, in this context, was likely viewed as a mere an extension of Jordan. Richard Hamilton, another Wizards core young player, would vanish from the team's plans when he was traded before the start of the 2001 – 2002 season.  Hamilton was shipped to Detroit as the center of a six player deal, for which the Wizards would receive in return from the Pistons Jerry Stackhouse, Brian Cardinal, and Ratko Varda.  It would become yet another "youth for age" transaction for which the franchise had become infamous. Collins was fired by the Wizards in May 2003, less than one month after Wizards owner Abe Pollin relieved Michael Jordan of his duties in a watershed moment for the team.  The termination did not come as a surprise to Collins, as he expected to be eradicated to officially mark the end of Jordan's tenure. During the 2001 – 2002 season, the Wizards under Collins were 21st in points per game and 11th in points allowed per game.  During the 2002 – 2003 season, the team was 24th in points per game and 10th in points allowed per game.
Original Story:
http://www.wizardsextreme.com/2012-ar...
THE BACKYARD
BEST OF MAXIM
RELATED ARTICLES
BRAID IT UP
Andrew Bynum's return to the court has been pushed back more times than Dr. Dre's Detox album.  The saga began back in October, when Bynum was diagnosed with a simple bone bruise in his left knee.  The injury wasn't supposed to be serious, and it was reported that he was being held out of preseason games on an indefinite, precautionary basis.  As the regular season crept...
Since Philadelphia 76ers center Andrew Bynum hasn't played a single NBA game this season, the only news we get on him is when he is out in the wild of Philadelphia.Check out this photo of Andrew at the Penthouse Club found earlier in the week where he rocks some slippers with no socks at the bar:
Philadelphia guard Jrue Holiday will return to action Friday night after missing four games with a sprained foot. Holiday and Evan Turner told CSNPhilly.com after a Friday morning shootaround that would be available for the home game against Atlanta. The 76ers have lost each of the four games that Holiday has missed. In 22 games this season, the four-year veteran leads the team...
Tweet Although Philadelphia 76ers big man Andrew Bynum has yet to play a game this season, he has successfully found a way to stay in the viral headlines. earlier this season it was for his outrageous hairdos. Then it was for the revelation that he injured his knee bowling, while rehabbing the other knee. The [...]
Andrew Bynum's Hair has been out of the news for too long — or, at least too long in his eyes — so practically on cue, the injured center showed up to the Wells Fargo Center Friday evening rockin' some sweet French braids. So, how do we know they're not cornrows? Because the AP's Dan Gelston asked: @the700level I asked him about his "cornrows." He said it's French...
Jrue Holiday's foot is not recovering as fast as he'd like.  Rather than the pain subsiding, it is getting worse.  Holiday missed last night's game against the Dallas Mavericks and the Philadelphia 76ers fell, 107-100 with Holiday on the bench. According to Dei Lynam of CSN Philly, Holiday said his foot hurt worse Tuesday than it did on Monday.  Holiday injured the...
Andrew Bynum's knees are keeping him from playing this season, but his hair is keeping him relevant. Here he is Friday night with his latest braided 'do:
Andrew Bynum remains out indefinitely but has been approved to increase his activity level.
PHILADELPHIA -- Evan Turner scored 21 points and Thaddeus Young had 18 points and 11 rebounds Friday night as the Philadelphia 76ers snapped a five-game losing streak with a 99-80 victory over the Atlanta Hawks. Jason Richardson added 17 points, his most in the last 11 games, for the Sixers (13-14). He also contributed eight rebounds and seven assists. Jrue Holiday, who returned...
• Um, Hottest Texas St. Cheerleader – EVER • Andrew Bynum carrying tiger around mall • Samantha Steele STILL fighting on Twitter • NFL Buys Mark Sanchez Christmas Gifts • Miss Universe pigs out after victory • 29 Lucy Pinder GIFs For Christmas • YES! Kelly Brook holding a banana   This should keep you busy before leaving work at Noon. Click image for larger version...
League sources indicate that veteran shooting guard Richard Hamilton has been offered in trade scenarios, efforts that could intensity as the Feb. 21 trade deadline nears. With a minimal guarantee on a team option for next season, Hamilton's salary is in essence an expiring contract, which could make him attractive to teams looking to add scoring punch near the deadline. via Chicago Tribune
(Photo Credit: Mark Ehrmann/Getty Images) Shawn Marion had a milestone moment on his way to helping the Mavs end a 3 game losing streak. The Matrix eclipsed the 16,000 point mark as he scored 14 points and pulled down 9 rebounds on the night. He's the 95th player in NBA history to reach 16,000 points. [...] Related posts: Mavericks beat the Kings 119-96 Mavericks Sign Chris Kaman...
NBA News

Delivered to your inbox

You'll also receive Yardbarker's daily Top 10, featuring the best sports stories from around the web. Customize your newsletter to get articles on your favorite sports and teams. And the best part? It's free!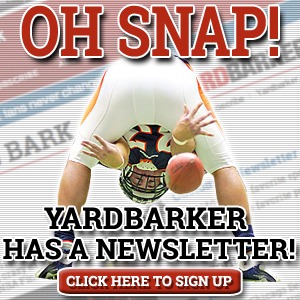 Latest Rumors
Best of Yardbarker

Today's Best Stuff

For Bloggers

Join the Yardbarker Network for more promotion, traffic, and money.

Company Info

Help

What is Yardbarker?

Yardbarker is the largest network of sports blogs and pro athlete blogs on the web. This site is the hub of the Yardbarker Network, where our editors and algorithms curate the best sports content from our network and beyond.